The Best Pet Hair Resistant Bedding in 2022 -

Pet Friendly Blankets, Comforters, and Sheets
Because nobody likes pet hair that sticks to the bedding and refuses to let go
Updated By Matt Clayton 1 Week Ago
Pet Hair Problem #3: How do I make my bed dog and cat-proof?
The solution: Choose bedding, blankets, and comforters that are made from pet hair resisting fabrics.

When it comes to minimizing the amount of pet hair on your bed, it's all about finding the right fabrics for the job.
Keep reading, and you'll find all the essential information you'll need to know about the best (and worst) fabrics to use in pet households.
Also, we've gathered some grooming tips that may come handy if you don't want to find pet hair on your pillow first thing in the morning.
Let's get started.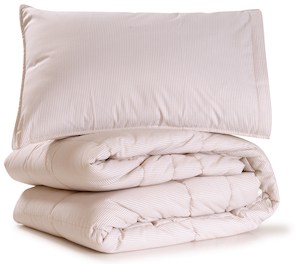 Add a header to begin generating the table of contents
PetHairPatrol selects and reviews all products independently; however, we may earn a small commission on purchases made through our links with no extra cost to you. Learn more.
Best Cat And Dog Hair Resistant 
Bedding Options
Quick Tips
This is what you need to take into account when choosing pet hair resistant bedding:
High thread count ensures the surface is smooth and tightly woven to prevent pet hair from sticking.
The best materials are silky and smooth, so the pet hair doesn't stick and slides right of. Good materials include microfiber, cotton, linen, satin, and silk.
Essentially, what you are looking for is a smooth and tight surface. Nothing will prevent your pet from shedding if you share a bed, but pet hair-resistant bedding makes the hair easier to remove by shaking it off or washing it.
Below are our hand-picked 7 best options that actually work, followed by full reviews from our dedicated reviewing team.
Best Pet hair resistant bedding options -
Editor's Choice
Pet hair resistant sheets -
Best Sheets for dog and cat hair
Best Sheets to repel dog and cat hair:

Mellanni Sheet Set
Wildly popular sheets with a luxurious feel and excellent price-quality ratio. These sheets will help you keep your bed clean, fresh, and free of pet hair.
100% brushed microfiber
Deep pockets for the best fit
Breathable
Hypoallergenic
Resistant to dust mites
Machine washable
Can be dried in the dryer
Durable and high-quality materials
Stylish design and many colors
These silky soft sheets have an incredibly luxurious feel to them. They will keep you comfortable in all temperatures and guarantee a good nights sleep.
There is elastic all the way around the sheet and deep pockets making sure the sheet fits perfectly and is kept in place. The material is wrinkle-, shrink-, and stain-resistant, and the colors won't fade in use.
Because the material is silky and tightly woven, these sheets are an excellent choice for pet hair resistant bedding. Because of the high thread count, pet hair won't stick to the surface, and the smooth surface makes sure all cat and dog hair slips right of when you shake or wash the sheets.
You can machine wash these sheets which is essential for pet owners, and of course, it's important that you can use the dryer for removing even the last hairs as well.
These sheets will enable you to keep your bed pet hair-free, clean, and hygienic even with some furry friends sharing it with you.
Pet hair resistant blankets -
Best Blanket For Cat And Dog Hair
This warm and durable cotton blanket is a favorite of pet owners because of its pet hair resisting qualities and easy maintenance. It is stylish and easy to keep clean, making it a perfect choice for pet homes.
100% cotton
Tightly woven to resist pet hair
Medium weight to keep you warm
Machine washable
Can be dried in the dryer
Durable and high-quality materials
Stylish design and many colors
Many blankets are made of fleece or flannel, making them a nightmare when it comes to pet hair. These materials attract hair and make it much harder to keep the blanket pet hair-free, fresh and clean.
The Cotton Craft Thermal Blanket, however, is made of 100% cotton which is not just a soft and comfortable material for blankets but also makes it easier for pet owners to keep their bedding free of pet hair. This blanket is also tightly woven, which doesn't allow dog or cat hair to stick to the surface.
Being medium-weight, it will keep you cozy throughout the year: it is breathable yet warm. It is also machine washable which allows you to keep it clean by simply washing it with the laundry. To remove all the remaining pet hair after washing, you can also pop it into the dryer for finishing touches.
Also, the herringbone twill design is stylish, and you have many colors you can choose from to make sure the blanket fits in with the decor of your bedroom.
This pet hair and stain-resistant lightweight blanket is perfect for pet homes. It's easy to keep clean, long-lasting, and available in many elegant colors.
Pet hair -resistant
Hypoallergenic
Stain-resistant
Durable material
3M Scotchgard Moisture Management Treatment
Soft, high-quality feel
Machine washable
Can be dried in the dryer
Excellent value for money
This Madison Park lightweight blanket is another excellent choice for a pet hair-resistant blanket for a home with a heavy-shedding pet. The brushed microfiber surface is soft and silky, and any pet hair will easily come off. The material is also durable to ensure it resists wear and tear caused by your pet's claws.
This soft and luxurious quilted blanket is made for 100% microfiber with an alternative down filling that keeps you warm during any season. The double-sided box-quilting will keep the filling in its place– even when you put it through the washer and dryer numerous times.
It's always comfy as it uses a 3M Scotchgard Moisture Management Treatment that absorbs moisture and lets it evaporate to keep you dry and comfortable throughout the night. This same treatment makes the surface stain-resistant and helps stain come off easily, which is an excellent feature in pet homes. 
Because it's machine washable, it will be easy to keep hygienic and wash when needed. And since you can also put it into the dryer, you can be sure to remove any pet hair remaining after washing. To make caring for the blanket even easier, it is wrinkle-resistant and always looking fresh and stylish.
Pet hair resistant comforter -
Best Comforter For Dog And Cat Hair
A fluffy and warm comforter with excellent user ratings. Being machine washable and having a pet hair resistant microfiber surface makes this comforter a perfect choice for pet owners. 
Pet hair resistant microfiber surface
Anti-microbial and anti-allergic finish
Fluffy and warm siliconized fiberfill
With 350 gsm filling
Box stitching to prevent the filling from shifting
Machine washable
Can be dried in the dryer
Stylish reversible design
With corner loops
This reversible comforter from Utopia is soft and fluffy to keep you comfortable through the night. The siliconized fiberfill will keep you warm and cozy, while the microfiber surface is pet hair resistant and easy to keep clean. It is a great alternative for down-filled duvets as it has the same plush feel and comfort.
The box stitching will keep the filling in its place and keep it from clumping while the piped edges make the comforter durable. It also has a stylish reversible design to fit your decor perfectly.
These Utopia comforters give you year-round comfort by offering products with different densities for the filing. Depending on how you like your comforter, you can choose an all-season or a super warm version.
This comforter is machine washable, but as a pet owner, you may want to use pet hair resistant duvet covers for further protection. If your pet uses your bed for napping or sleeps with you, your comforter is probably infested with pet hair, and it may have a nasty smell. A duvet cover can be washed every week, keeping your bed clean and hygienic.
Best hypoallergenic comforter
A highly popular hypoallergenic comforter that won't make you sneeze. Comfortable, lightweight, and easy to keep clean and hygienic.
Hypoallergenic microfiber filling
Durable with high-quality materials
Comfortable and lightweight
Reversible design
8 duvet loops
Machine washable
Can be dried in the dryer
This Linenspa quilted comforter has an extra-soft down alternative microfiber filling, which is hypoallergenic. It won't give you those adverse symptoms if you're sensitive to materials like goose down.
It provides the fluffy comfort you need for a good night's sleep without down, feathers, musty odor, or sharp quills. It's the perfect choice if you're looking for a fluffy comforter without an allergy-causing down filling.
The comforter has eight loops for securely attaching it to a duvet cover, and it comes with a reversible design so you can easily match it with a changing decor.
Because it's machine washable, you can easily keep this comforter clean and hygienic, and popping it in the dryer after washing will remove even more allergens like dust and dander. Box-stitching ensures the filling doesn't shift or clump even if it's washed frequently in a home with allergies or asthma.
Pet hair resistant duvet covers
- Best Duvet Cover For Cat And Dog Hair
These pet-friendly and pet hair resistant duvet covers from Nestl are a pet owner favorite. The high-quality material is comfortable, durable, and machine washable, making it easy for you to keep your bed clean and free of pet hair.
100% microfiber
Tightly woven
Pet hair resistant
Pet-friendly
Lightweight and soft
Breathable and cool to the touch
Hypoallergic and dust resistant
Machine washable
Can be dried in the dryer
Durable and high-quality materials
Many colors to choose from
These popular duvet covers from Nestl are incredibly soft and made of high-quality material. They are also tightly woven to prevent dust mites and pet hair from accumulating.
The double-brushed microfiber is not only soft and comfortable, but it is also resistant to pet hair and an excellent choice for pet homes. And if there is pet hair, the silky surface makes them easy to clean since the hair will slide right off. The material is also cool to touch and breathable, but it will keep you warm and cozy all night.
This duvet cover will protect your expensive duvet and keep it clean and hygienic. You won't have to wash the whole duvet, because you can simply slip off the cover and wash it instead. Your duvet will last longer since it won't have to endure repeated washing. Also, you will always have a clean and hygienic bed by washing the cover once a week.
It is just like a pillow cover but for your duvet, and a whole lot easier to use when compared to a top sheet. It is secured with buttons and easily removed for washing - and pet owners will love the fact that their bed is kept clean and free of pet hair.
Just use a washer and dryer to remove any stains, pet hair, and other dirt that accumulates on your bedding. The material is machine washable and wrinkle-resistant with colors that won't fade with use. The covers are also hypoallergenic because they are dust resistant – another great feature for pet homes.
Bonus: Mattress protector for pet hair and stains
A very popular high-quality mattress protector with amazing ratings. This product will safeguard your expensive mattress from urine, vomit, pet hair, and other pet-related messes keeping it hygienic, fresh, and clean.
Soft cotton terry surface
Waterproof membrane
Breathable
Noiseless
Machine washable
Can be dried in the dryer
Will not change the feel of your mattress
No phthalates, vinyl or PVCs
Registered as a class 1 medical device with the FDA
10-year warranty
Just one pee or vomit accident from your pet may ruin your valuable mattress, which is why mattress protectors are highly recommended for pet owners with pets that use the bed for resting or sleep in the bed with their owner.
SafeRest products are a popular choice for high-quality mattress protectors. This waterproof yet breathable cotton mattress protector protects your bed against not only nasty fluids like urine and sweat (and the odors caused by them), but it also guards your mattress against pet hair, allergens, dust mites, and bacteria.
The surface is made of soft hypoallergenic terry cloth cotton, and it has a waterproof membrane back coating. It is noiseless and breathable to make it comfortable, and it won't change the way your mattress feels. If you have an expensive high-quality mattress you want to protect from your pet, then this mattress protector should be what you opt for.
And it's not just the occasional urine or vomit accident. Dust mites breed, feed on dead skin cells and defecate in beds causing allergy symptoms. A mattress can be challenging to clean, but a mattress protector will prevent the dust mites from passing through to the mattress – and it's easily washed in the washing machine keeping your bed clean and hygienic.
A Guide For Pet Owners -

Features to consider when looking for dog proof bedding
Using a pet hair resistant blanket, comforter or sheet that has the following features will help make your pet-hair-ridding quest more successful.
How to Remove
Pet Hair from Bedding
Even though a pet hair friendly duvet cover or pet hair resistant bedding can work its magic, you might have to put in a little more extra effort in truly repelling all that pet hair.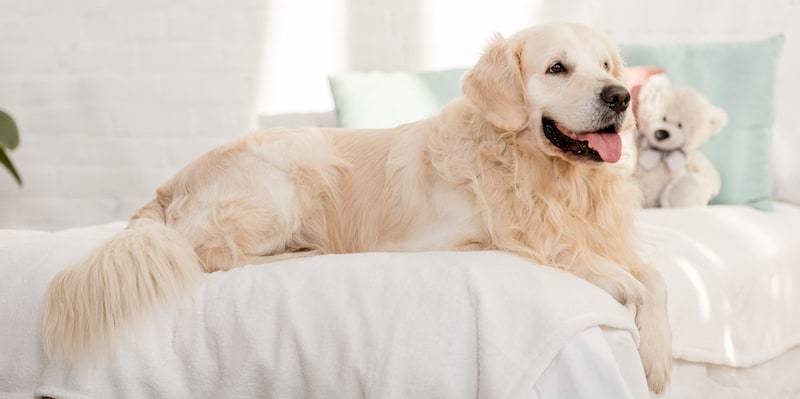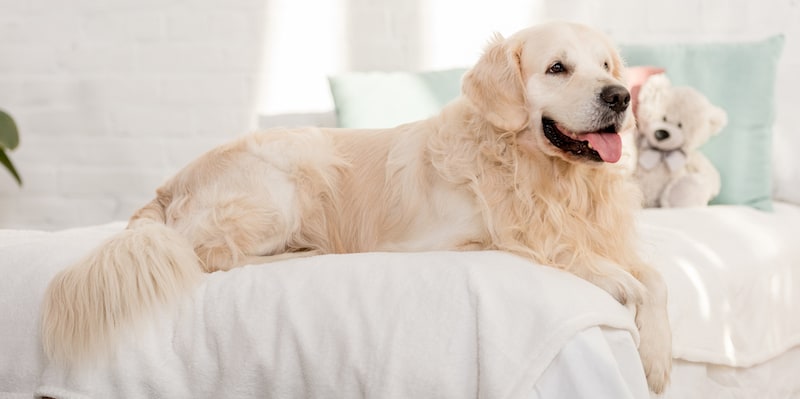 3. Invest in some lint rollers
For one of the easiest ways to get rid of pet hair as a problem, lodged into your blankets and sheets, you can try sifting through them with a lint roller. These Scotch-Brite rollers are extra sticky and effective.
Alternatively, you could get lint rollers that don't use sticky paper to roll the hair up. These are more cost-effective and also reusable. The newest craze is the ChomChom Roller which is 100% Reusable, Eco-Friendly and excellent at removing pet hair on all kinds of fabrics. And you don't even need to buy refills!
4. Try pet hair sponges
If you are really working on a budget (those bags of dog food don't buy themselves, you know!), you can try pet hair sponges. They usually are cheaper than lint rollers and are pet hair magnets for those furry bed sheets. When you want to clean the sponge, all you have to do is wash the hair off and let it dry.
5. Use rubber gloves
If you're willing to go out on a limb and try some other ways, you can put on a damp rubber glove and run your hand down your bedding or blankets. This will work sort of like the wet sponge.
6. Wash your bedding regularly in the washing machine
Next, we're going to move on to how you should wash your bedding when the washing day is around the corner.
Washing Your Bedding

to Get Rid of Dog Hair
1. First and foremost, remove the bedding from your bed with care—the last thing you would want is for the pet hair that was on the bedding to actually get onto the floor, in the air, and litter your bedroom.
2. Once you've done that, toss it into the dryer and let it tumble for 10 minutes to get as much hair off as possible before washing it. If you're trying to get wet clumps of dog hair off of your sheets, it will be even harder and can actually lead to clogs in your machine's drain system.
3. Before putting them in the washing machine, add a half-cup of white vinegar to help the fabric relax while it's in the wash. The relaxing of fabric will help the pet hair slide off.
4. To prevent the spread of pet hair from going to your next wash, run an empty cycle of your washer to clear everything before washing another load of laundry.
We hope that this pet hair bedding guide has helped you get rid of unwanted pet hair on your bed once and for all!