* PetHairPatrol strives to be a valuable resource for pet owners. We select and review all products independently; however, we may earn affiliate commissions when you buy through links on our site.
Are you looking for the best lightweight vacuum cleaner to help you in your mission to get rid of all that annoying pet hair?
Do your pets spill food pellets on the floor and drag dirt and grass inside? Do you need a handheld vacuum to help you with small cleanups?
You're in the right place! And let me be clear about something:
This is NOT a lame listing of available hand vacs in the market. Instead, I've analyzed hundreds of user reviews and interviewed pet owners to discover the best handheld vacuums for pet hair right now.
Let's dive in!
Handheld pet vacuums – comparison chart
*star rating by PetHairPatrol
*star rating by PetHairPatrol
*star rating by PetHairPatrol
7 Best Handheld Vacuums for Pet Hair Removal
The best cordless handheld vacuum cleaner for pet hair with guaranteed Bissell quality and performance. The editors pick in this category, and most versatile of all vacuums reviewed in this category. Click here to see the latest price.
Bissell Multi 19851 (the older green model 1985 is the same vacuum aside from the color) is versatile, and it delivers excellent results. It has several innovative and practical features that will benefit pet owners dealing with nasty pet hair, and other messes pets can cause.
It is moderately priced and well worth the investment with its capable and easy-to-use engineering.
Performance and ease of use
When it comes to performance, the Bissell Multi 19851 gets high ratings. It offers strong suction for up to 15 minutes with its powerful 22V Lithium-Ion battery, and therefore it can efficiently clean up all sorts of dirt.
Smart attachments designed for different purposes make sure this vacuum cleaner performs well in many areas of your home...
The vacuums itself weighs 3.9 pounds and comes in a compact and sleek design, with a Comfort Soft Grip to add to the comfortable feel when cleaning. Extension hose gives you more reach and LED headlights offer visibility in those tight spots.
The dirt cup is adequate at 0.4L but it may need emptying mid vacuuming to prevent clogging if you are dealing with large quantities of shed pet hair. The emptying is done by simply detaching the dirt cup and releasing the bottom above a trash can. Easy and hygienic. The dirt container is washable as is the foam filter inside it.
The overall feel of this vacuum is that it is reliable and easy to use. Users report that they have been satisfied with the cleaning results and performance of this product.
Attachments
The Bissell Multi 19851 Handheld Cordless vacuum comes with quite a versatile set of attachments: Dusting Brush, Crevice Tool, Extension Wand With Duster, Flexible Built-in Extension Hose and a Motorized Brush Roll.
Some of the attachments are stored onboard the vacuum, which is handy and enables quick changing of tools when needed.
You can use the soft Dusting Brush for dust and debris on delicate surfaces, and the Crevice Tool for tight spots. There is also an Extension Wand With Duster, which allows you to reach surfaces high up and clean baseboards without having to bend down.
For even more adaptability, you have the Flexible Built-in Extension Hose, which you can use for those hard-to-reach places the extension wand or crevice tool can't reach.
Pros
+  Compact, lightweight and easy-to-use design
+  Powerful 22 V battery to power a strong suction
+  15 minutes of runtime with second battery available
+  Motorized Brush Roll Tool for cleaning upholstered items
+  Extension hose  and wand for more reach
+  Washable Easy Empty dirt cup
+  Washable foam filter
+  LED headlights offer visibility in tight spots
Cons
-  The crevice tool is fairly narrow
-  May clog with big piles of pet hair
-  Detaching of attachments is a bit awkward
Summed up

The Bissell Multi 19851 is the editor's pick in this category for some very good reasons. If you want to beat that pet hair building up everywhere, you need a vacuum cleaner that can manage all surfaces and cracks up high and down low.
It has strong suction and good filtration, as well as an easy-to-empty dirt cup.
With functional attachments and practical features, this Bissell hand vac is something I can recommend for any pet owner.
A fantastic little vacuum for small cleanups all around the house. Works great on pet hair and offers some nice versatility for its price point. With this cordless vacuum, you can take care of all the small messes your pets make.
Performance and ease of use
Numerous pet owners compliment the performance of the Shark PetPerfect II. It is quite powerful for its size, and the battery has a nice run time at 10-20 minutes depending on the attachments you use. After vacuuming it is easily stored away in its mountable charging station...
The charging time is long, but this doesn't create a problem in normal at-home use.
The Twister Cyclonic Technology makes sure the suction stays strong even when the dirt cup keeps filling up with pet hair, and the dirt cup is easy to empty and clean when needed.
This appliance is not the lightest vacuum in this category, and some users have reported that a swivel head would improve maneuverability, but with this price and performance level, the Pet Perfect II vacuum is a good purchase.
Attachments
Comes with three attachments: the TruePet motorized brush, a brush tool, and a crevice tool. It is not the most versatile of hand vacuums, but it does handle most cleanups without any difficulty.
The motorized brush is very efficient when it comes to removing pet hair, dust and dander from carpets, fabrics and also hard surface areas. Stiff bristles lift up the hair from the fabric, and the powerful suction picks it up.
The crevice tool can be used to reach all those hard-to-reach places and clean up sand, grass, food pellets or cat litter.
Pros
+ Good performance on all surfaces
+  Thoroughly cleans pet hair off carpets and fabrics
+  Suction is strong and steady
+  Easily stored away with a charging stand
+  Emptying and cleaning is quick and easy
+  Three attachments offer versatility
Cons
-  Long charging time
-  On the heavy side
-  No swivel head
-  No HEPA filtration
Summed up

The Shark Pet Perfect II handheld vacuum is a great helper in small daily cleanups.
Particularly designed with pet owners in mind, it has some great features that will make cleaning up after pets easier and quicker. This vacuum is functional and durable, and at this price, it is good value for your money.
An affordable yet adaptable and functional handheld vacuum that helps you keep your house tidy despite the messy pets. Lightweight and easy-to-use design make daily cleanups less of a chore.
Performance and ease of use
The cordless Pet Hair Eraser from Bissell is a compact and lightweight vacuum at only 3 pounds. It has an ergonomically designed easy-grip handle with switches conveniently at your fingertips...
Because of its lightness, this vacuum is easy to maneuver around furniture and floors – anything from floor to ceiling. And it's cordless, so you don't have to worry about plugging it in.
The dirt container is huge for a handheld vacuum, meaning it will be a good fit for pet owners with pets that have long hair.
The dirt cup is easy to detach for emptying, and you can rinse it with water. This vacuum also has a dual filter with a washable filter screen to protect the paper filter from being clogged by dirt and pet hair. We wish the filter itself were washable, but hey, that's a pretty small flaw.
The detachable motorized foot offers a good strong suction and keeps the vacuum running for 15 minutes on average depending on the tools you use.
With a strong suction and three useful attachments, the Pet Hair Eraser is well worth its price.
Attachments
This hand vac comes with three attachments: motorized brush roll, upholstery tool, and crevice tool. These three attachments provide some excellent versatility and allow you to take care of all kinds of small messes no matter what the surface and kind of dirt vacuumed.
The brush roll is especially useful at thoroughly cleaning fabrics from dust, dander and pet hair embedded in them. 
The crevice tool enables you to reach small crevices or vacuum debris such as scattered cat litter and pet food from the floor.
You also get the upholstery tool, which has a felt edge that attracts pet hair. This attachment you can use for more delicate fabrics that don't particularly need the power of the brush roll.
Pros
+  Cordless with a good 15 minutes of runtime
+  Offers strong suction through its motorized foot
+  Lightweight and easy to use
+  Motorized brush removes pet hair from all surfaces
+  Crevice tool for difficult-to-reach areas
+  Upholstery tool with felt edge to attract pet hair
+  Dual-action filtration system with washable filter screen
+  A big and easy to use dirt bin
Cons
-  You can wash the filter screen, but you need to replace the filter  periodically
-  Some users have had problems with charging, but the two-year warranty covers malfunctioning products
-  NiMH-battery should not be left attached to charger longer than needed
-  No HEPA filtration
Summed up

The Pet Hair Eraser cordless hand vacuum from Bissell is a functional tool for a pet owner wanting a compact vacuum for small cleanups.
It is a pretty basic appliance, but well worth its low price. With this vacuum, you can expect well-known Bissell quality and some nice features for a pet owner.
It is a simple yet adaptable and practical vacuum for all those pet-related cleanups and much more.
4. Holife Handheld Cordless Vacuum
This newcomer is quickly gaining popularity and excellent reviews. It has a fantastic price-quality ratio with all the essential features combined in a compact package with a reasonable price. Click here to see the latest price.
This vacuum is one of our top pics because it has a strong suction for picking up pet hair and a reasonably large dirt cup to hold it. It's lightweight, it has a long runtime, and the dirt cup is easy to empty.
This vacuum even cleans up liquids which can be useful if you need to spot clean carpets with liquid detergents after your pet has had an accident inside.
Performance and ease of use
The 100W motor provides a strong 6000 PA cyclonic suction, which is powerful enough to pick up even heavier debris like large food pellets and small pieces of gravel...
This makes it quick and easy to clean up scattered cat litter, dirt brought inside by your pet, or spilled pet food.
This Holife handheld vacuum comes with a 2200 mAh battery that provides up to 30 minutes of battery life.
It's cordless which makes it convenient for quick cleanups, and it takes 3-4 hours for it to charge fully which is pretty standard for handheld vacuums.
Because the vacuum is cordless and lightweight, it offers excellent usability and convenience in cleaning. The design is ergonomic, and users compliment the vacuum on easy-to-use design.
The vacuum is easily emptied by releasing the dust cup, taking out the filter and pouring the contents into the trash bin. The dirt bin is washable as is the filter.
The fabric filter is somewhat flimsy but pretty standard in this price range. You do get one spare filter with the package, and more filters are available for purchase online. Just remember to use only water to wash the filter, as detergents may cause damage.
The filter is not a HEPA filter, butHolife does have another handheld vacuum that does if you suffer from allergies and need more efficient filtering. The suction in this HEPA vacuum is not as strong, and it can't vacuum liquids, but otherwise, it is an excellent purchase for pet owners that need that HEPA filter.
Although the suction is strong, the Holife vacuum produces only 78dB. This noise reduction feature is great for pet owners because vacuuming often causes stress to sensitive pets.
Attachments
What we love about this vacuum is the fact that in addition to vacuuming dry dirt and debris, it can also clean up liquids. With the special liquid nozzle called the Rubber Jar Tool, the hand vac can vacuum up to 100ml in one go.
This feature is useful for pet owners that want to use their hand vac for spot-cleaning carpets after their pet had an accident, or cleaning up spilled water and other wet messes.
The vacuum also comes with
a crevice tool for tight corners and narrow spaces
a dusting brush for dusting surfaces and delicate objects
We would like to see a motorized brush roll tool for pet hair as well, but understandably that would quickly affect the pricing. If you have surfaces like carpeted stairs or suede furniture, you might want to invest in a handheld vacuum that comes with a motorized brush roll. Bissell Multi 1985 and Shark Pet Perfect II are great options for that.
That being said the dusting brush and strong suction are able to clean pet hair well, and numerous users give this vacuum excellent ratings as a pet hair vacuum.
Finally, the vacuum comes with a charging base which keeps the vacuum at hand and ready to go at all times.
Pros
+ Strong suction
+ 30-minute runtime
+ Large dirt cup
+ Lightweight
+ Dry and wet vacuuming
+ Noise reduction
+ Fast charging
Cons
- No HEPA filter
- No brush roll attachment
Summed up

This Holife handheld vacuum is a new product in this product category, but it has quickly gained popularity.
Users give it excellent ratings and highly praising reviews. It's not a top-end product, as you probably figured out by the very reasonable pricing, but if you're looking for a reliable product with all the necessary features and a moderate price, this is the one to go with.
5. BLACK+DECKER MAX Lithium Flex
A powerful portable vacuum with strong suction, innovative design, and clever attachments that enable you to clean your home from floor to ceiling. A compact powerhouse that will wipe out that pet hair. Check the latest price here.
The Black+Decker MAX Lithium Flex handheld vacuum is an excellent choice for pet homes because like pet hair, this vacuum will go everywhere.
The innovative design and handy attachments allow you to use it on all surfaces of your home, which is pretty rare for a vacuum of this size.
Performance and ease of use
What makes this vacuum an ideal vacuum for pet hair is the powerful suction combined with usability and adaptability. The 20V lithium-ion battery provides a strong suction that is capable of picking up even the most persistent pet hair, and because of the smart design, you can use this vacuum on all surfaces...
The lightweight and portable set-up enables you to carry the vacuum everywhere while also using all kinds of attachments. This vacuum is not just for picking up a few crumbs in the kitchen, you can use it for cleaning anything from floors and furniture to curtains and vents.
The 20-minute runtime is pretty good for a vacuum of this size, and without the hassle with a power cord, you can use this vacuum all around your house and also in your car where many pet owners definitely need help battling that pet hair.
The dirt din has a large capacity of 0.5 liters, which is perfect for owners of pets that shed a lot. Because the bin is large, pet hair won't fill it up and block the suction while cleaning. The container is easy to empty and washable, which means easy maintenance.
The cyclonic action feature separates hair and dirt from the air after which it is guided through a pleated filter. The filter is not a HEPA filter, but it does provide clean exhaust air, and it's washable which saves you the cost of replacing filters.
Although pet owners find this vacuum very capable and give it excellent ratings, some users have reported issues with the battery. However, Black+Decker is known for their high-quality products, and they do offer a 2-year limited warranty, so if you do find yourself with a faulty vacuum, you can just ask for a replacement.
Attachments
The 4-foot flexible hose is a fantastic feature because it allows you to reach all those tight spots easily. You don't have to lift up the entire vacuum when cleaning areas up high, and it will enable you to turn this vacuum into a portable canister vacuum for vacuuming floors, carpets, and stairs.
This unique design is something pet owners will find highly useful because the Stick Vac Attachment with the pivoting floor head enables you to do that quick cleanup for not just above-floor areas and furniture, but floors and carpets too. You don't have to lug out the huge upright vacuum if you just want to tidy up quickly.
Of course, to get a thorough cleanup on your plush high-pile carpets, you will need to use your full-sized vacuum. But when compared to other handheld vacuums the Black+Decker Flex does offer pretty amazing versatility. It will easily get to those hard-to-reach areas and make sure every inch of your home is kept clean.
You also get a convenient charging base (that will store all the tools as well), a flip-up dusting brush, a crevice tool and, of course, a pet hair attachment. We would love to see this vacuum with a motorized brush roll tool for pet hair, but the rubberized pet hair attachment combined with strong suction does offer excellent performance when cleaning furniture, pet beds, and other such areas.
Pros
+ Powerful motor for strong suction
+ Lightweight at 3.2 pounds
+ 20-minute fade-free runtime
+ Innovative design that offers adaptability
+ Exceptional adaptability with the extension hose
+ Excellent attachments
+ Rubberized pet hair tool
+ Comes with a wand and floor head
+ Large washable 0.5-liter dirt cup
+ Washable filter
Cons
- No HEPA filter
- No motorized brush roll tool
Summed up

The Black+Decker MAX Lithium Flex is a big vacuum in a small body. It is compact and portable, but it is also easily converted to adapt to larger cleanups than just picking up a few spills in the kitchen.
Unlike most handheld vacuums, the Flex has an extension hose you can use with the wand and floor head. With this feature, you can clean not only above-floor surfaces but floors and hard-to-reach corners as well – basically everywhere where you can find that annoying pet hair.
The runtime is good for a vacuum in this price range, and the set of attachments is great as well. It's lightweight, easy to use, and it handles pet hair well. What else do you need?
The Black+Decker Flex is not just a handheld vacuum, it is a versatile and multi-functional vacuum with smart design. And it's always ready to tackle messes – big or small.
The Shark ION W1 cordless hand vac is very functional and easy to use, and it's always at hand for small touchups. It will help you keep your house in tip-top shape.
Performance and ease of use
The Ion W1 s incredibly lightweight at only 1.4 pounds, but even with its compact design this cordless vacuum still delivers up to 80 air watts of powerful suction with its brushless motor...
The runtime is up to 15 minutes which is pretty standard, although this can go down to 5-9 minutes when using tools on tough surfaces. The charge time for a full charge is only 2.5 hours, which is considerably less than on most other cordless handheld vacuums.
The new design is entirely different from traditional compact handheld vacuums. Although the vacuum is very lightweight, it may feel heavier due to its weight distribution. However, with on only 1.4 pounds of weight, this is hardly something that should stop you from choosing this vacuum.
The dirt cup is smallish, but on the upside, it is effortless to empty with a push of a button. The single-touch emptying system is quick, easy to use and hygienic.
What we also love is the fact that the filter is washable, which saves you the cost and trouble of buying new filters. The lack of a HEPA filter may make people with severe allergies want to consider another hand vac, but for most households, the filtration should be adequate enough.
Attachments
The Ion W1 comes with two attachments: Duster Crevice Tool for dusting and tight spots, and Multi-Surface Tool for upholstery carpets and pet hair.
The Crevice Tool adds even better reach for tight spots and attaching the dusting nozzle allows you to carefully dust delicate surfaces and baseboards without crouching over.
The Multi-Surface Tool is designed to pick up that persistent pet hair from upholstered furniture and other surfaces. The tool works well on low-pile carpets and most fabrics, but we would recommend a vacuum with a motorized brush roll tool if you have long-haired pets and you need to vacuum thick carpets or furniture with plush upholstery.
The vacuum also comes with an ION charging dock which takes care of the fast charging and keeping the vacuum cleaner ready and at hand.
Pros
+  A functional vacuum at a reasonable price
+ Easy to use and maneuver
+ Performs well on most surfaces
+ Powerful suction for a handheld vacuum
+ Lightweight design at 1.4 pounds
+ Up to 15 minutes of battery life
+ Duster Crevice Tool and Multi-Surface Tool included
+ ION dock for easy storage, fast charging, and quick access
+ Simple one-touch emptying
+ Washable fabric filter
Cons
- The dirt cup is small
- The filter is adequate but not HEPA level
- May feel heavier than its actual weight
- Fairly basic features
- Doesn't come with a brush roll tool
Summed up

The Shark ION W1 is a new addition to the diverse mix of handheld vacuums currently on the market.
Its new sleek design sets it apart from other vacuums, and although it is compact and streamlined in design, it offers excellent suction and good performance. It was just recently released, but it has already gained high ratings from pleased users.
W1 doesn't come with a brush roll, so it's not ideal for you if you have several long-haired pets. However, if you have cats or small short-haired dogs, and you often use your handheld vacuum for spilled food pellets or other small messes, this vacuum could be ideal for you. 
What we love most about this vacuum is the easy-to-use design. The idea of this vacuum is always to be ready for use, and that's a very important feature. Only a user-friendly vacuum that is accessible and easily operated will encourage you to get those messes cleaned up.
A highly popular handheld pet hair vacuum for upholstery, bedding, and other fabrics. This compact and affordable yet powerful vacuum is the updated version of one of the all-time bestselling pet hair vacuums.
Click here to see the latest prices.
If you are looking for a small handheld vacuum for vacuuming your furniture, bedding, and carpeted stairs, this vacuum is a great choice. It performs reasonably well on other small jobs too, though mainly aimed for vacuuming fabrics. Hose and additional attachments add to the adaptability of this vacuum, making it an excellent choice for cleaning cars as well.
Performance and ease of use
This hand vac has an ergonomic and compact design combined with a low weight, which makes it easy to use and handle. The vacuum is corded, which can be...
a pro or a con depending on your preferences. Luckily the 18-foot cord offers a broad reach and strong suction if you just have power outlets in crucial locations.
The corded Pet Hair Eraser has a HEPA filter and a washable dirt cup. There is also a washable filter screen to separate pet hair and larger debris and to keep them from clogging the filter. The screen protects the filter from dirt lengthening the lifespan of the replaceable HEPA filter.
Attachments
This updated version of the popular Bissell Pet Hair Eraser vacuum has two added attachments and a hose making it more adaptable compared to the previous version. It may not be the most versatile handheld vacuum, but for small messes your pet makes, this is an excellent choice.
The Flexible Contour Nozzle is made of rubber which attracts pet hair and pulls it up from fabrics for the suction to pick up. This feature is praised by numerous pet owners using this product.
You also have a hose-adapter nozzle and a 2-foot hose which allows you to reach those awkward places like between appliances or under the car seats. There are also two tools you can attach to the hose making it even more versatile. The wide-mouth tool is excellent for picking up larger debris like spilled pet food, and the crevice tool allows you to reach those tight spaces. 
These attachments combined with a powerful suction do a good job in picking up sand, grass, pet food and such. With the capability to handle pet hair as well as other small messes, the Bissell Cleanview Deluxe is a popular choice for many pet owners.
Pros
+  Compact size and easy to maneuver
+  Strong suction and powerful motor
+  Rubber nozzle is excellent at removing pet hair
+  Hose-adapter nozzle and a 2-foot hose
+  Wide-mouth tool and crevice tool
+  Lightweight
+  HEPA filter
+  18-foot cord
+  Dirt cup easily emptied and washed
Cons
-  Mainly designed for removing pet hair from fabrics and therefore lacks some versatility
-  Small dirt container
-  Corded
Summed up

The Bissell CleanView Deluxe is a corded handheld vacuum designed for small cleanups in pet homes. It is an ideal choice for anyone looking for an appliance that can remove pet hair from upholstery and bedding.
The CleanView Deluxe is easily maneuvered across the furniture effectively picking up pet hair. With a change of attachments, it is ready to pick up for example scattered food pellets, wood shavings, sand, and dirt, making it a handy tool for cleaning up after the messes your pets make.
Combine all this with a very low price point, and you have yourself an excellent vacuum for small cleaning jobs.
Runners-up
Other great products we reviewed but which didn't quite make it to the top 7.
The best handheld pet hair vacuum for cleaning carpeted stairs and large pieces of furniture. It is an affordable all-rounder for pet owners and Amazon's choice in the handheld vacuum category. Click here to see the latest prices.
The Eureka EasyClean is not the smallest of handheld vacuums, but it does come with some great power and performance. It can be especially useful for pet owners with carpeted stairs or large pieces of furniture that need efficient pet hair removal.
Performance and ease of use
This hand vac is powered by a 5,5 amp motor generating strong suction and delivering great cleaning results. The motorized brush roll is very effective on all surfaces...
Although a handheld vacuum and a pretty functional all-rounder as such, I did find some criticism aimed at the somewhat bulky design.
There are sleeker products in this category, but on the other hand, the wide design allows you to vacuum broader areas with one pass, and that is one of the features that make this vacuum such a handy tool for cleaning furniture and stairs.
The dirt cup is easily removed and emptied, and the vacuum comes with a washable and replaceable filter. It also has a very long 20-foot power cord that allows you to move from one room to another without having to unplug.
When not used, just wrap the cord around the vacuum and store it away. Some users did wish the cord would have an automatic rewind feature, but the compact design of handheld vacuums doesn't allow rewind feature space wise.
Attachments
What makes this vacuum a great pet hair vacuum is the strong suction and powerful brush roll, which can also be turned off when needed.
The brush roll is powered with its own motor and has stiff bristles making it very efficient in picking up dirt. The flexible hose and crevice tool allows you to reach all corners that need cleaning – may it be on the floor level or in the corners of the ceiling.
This vacuum specializes in vertical surfaces with it's Riser Visor Nozzle Cover feature that allows you to flip the visor of the brush roll depending on whether you're cleaning horizontal or vertical surfaces. This feature is what makes this vacuum handy with carpeted stairs, couches and other furniture.
Pros
+  Two powerful motors  - one to provide strong suction and one to keep the brush rolling
+  Brush roll can be switched on and off
+  20-foot power cord and ultra flexible hose give you 23-foot reach
+  Riser Visor feature for cleaning vertical surfaces, such as stairs and backs of furniture
+  Easy to empty dust cup and a washable and replaceable filter
+  Easy to store with wrapping hose and power cord around the vacuum
+  Convenient fingertip controls for easy use
Cons
-  Power cord is not retractable
-  No HEPA filtration
-  Bulky design and can be found heavy to use
Summed up

Not the smallest and lightest of the top products in this category, but with a strong motor it does deliver great results.
I would recommend this vacuum to any pet owner looking for a handheld vacuum to use when cleaning carpeted stairs, couches, recliners and picking up dirt left behind by their pets.
Affordable yet versatile product with excellent user reviews.
Why should I choose a handheld vacuum for pet hair?
Owners of furry pets know that pet hair can be a real pain in the rear. Most cats and dogs shed, and many shed heaps. All that pet hair clings onto your carpets and furniture and lands on the floor from where it gets wafted into the air.
You can look like a Yeti after sitting down on the couch for just a few minutes, and don't even get me started on the embarrassment that comes with asking some friends over. After a quick ride in your car, your friends are covered in nasty hair and visiting your home will leave them with a coat of pet hair on their clothes. Sometimes you feel you should start giving out lint rollers as party favors after a get together at your house!
You know what I'm talking about and you want to solve your pet hair problem. You love your pets, but sometimes you'd just want a clean home free of pet hair.

You might already have a bulky upright vacuum - which might do a fantastic job at getting rid of pet hair – but the problem is that getting out the vacuum is a chore in itself. After a long day at work, you just don't have the time and energy.
Or you might have a little dust buster at hand, but when it comes to pet hair, the thing is useless and picks up nothing.
What you need is a handheld vacuum for pet hair.
To keep your upholstered furniture, bed, car seats, drapes and carpeted stairs clean, you need a compact yet powerful handheld vacuum that will efficiently remove pet hair.
A handheld vacuum is excellent for those quick cleanups between your thorough vacuuming sessions in the weekends. It is a great choice for keeping those high-traffic areas clean during the week and not letting the pet hair accumulate on your furniture. And when you do some of the upkeep vacuuming every day, you will have an easier task at hand when it's time for your weekly cleanup.
To be able to handle that pet hair your handheld vacuum needs to have strong suction. Also, having a brush roll attachment is a huge bonus, because it can dig deep into the surface pulling up pet hair, dander, dust, and other dirt.
The runtime doesn't need to be very long for small cleanups, but it does need to be adequate for you to be able to finish your job. Also, a lightweight and ergonomic design will make the job more comfortable.
The most important aspect is whether you feel comfortable with the product. The handvac will only be useful if you actually use it, so you should choose the one that fits your needs.
If the vacuum is always at hand, and you love how easily it is maneuvered, you are much more likely to grab it to take care of small messes before they accumulate.
A handheld vacuum is an ideal solution for keeping the loose pet hair under control. With a convenient and easy-to-use vacuum ready for a quick spin, you can easily get that couch cleaned or pick up those wads of pet hair piling up in the corners. Any pet owners that want a pet hair-free home will find owning one useful.
And that is why you should choose a handheld vacuum to solve your problem with persistent pet hair.
What should I expect to pay for a handheld vacuum for pet hair?
Ok, so you're looking for a handheld vacuum for pet hair, and you're not sure how much you should pay for one. You don't want to spend more than you need to, but you don't want to waste your money on a cheap product that doesn't work.
How much does a functional, easy-to-use, and well-performing handheld vacuum cost?
Often you see these very cheap handheld vacuums on the market, but with 20-30 bucks you can't expect to get anything fancy. Most often these low-cost vacuums don't have a powerful motor that could provide strong suction, or they don't have the accessories you need to use the vacuum on all those different surfaces you find pet hair on.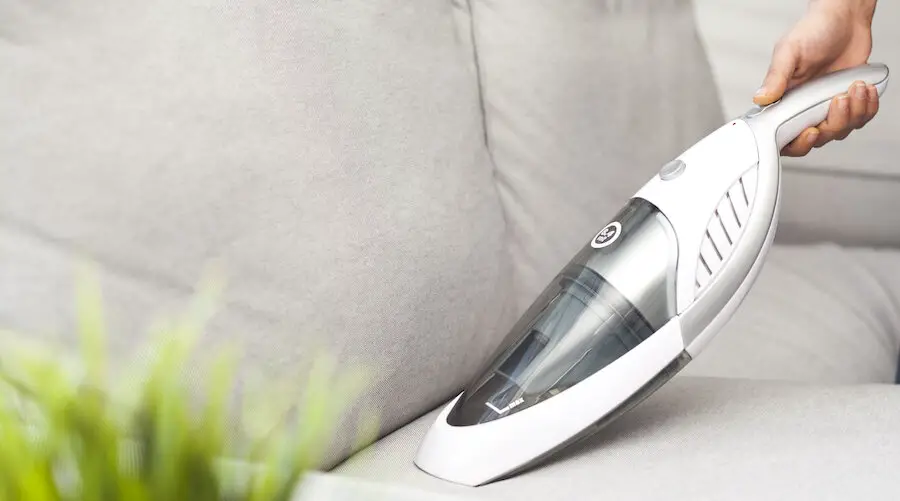 With about 50 dollars, you will be able to find a handheld vacuum that is capable of removing pet hair – if you know what you're looking for. At this price point, many vacuums still don't have attachments like a motorized brush roll tool, or they lack the suction power needed to pick up persistent pet hair. However, there are a few good products on the market at this price, and the good news is we have them reviewed above.
You can expect to pay 50-100US for a handheld vacuum that can truly handle pet hair and will be a highly useful addition to your cleaning equipment. If you want even more suction power, more advanced features, and a more extensive array of attachments, you can go up to a few hundred bucks.
If you're not on a tight budget and you're looking for a high-end handheld vacuum cleaner, you should opt for one of the Dyson or Tineco stick vacuums. They are easily converted to a handheld vacuum, but with the wand and a large selection of attachments, these vacuums are exceptionally adaptable. These amazingly useful vacuums are definitely worth the investment.
If you're on a tight budget, make sure you don't skimp and end up buying a vacuum that will be a waste of your money. This is a mistake many people make, and all they end up with is spending money on something that doesn't work, and their home is still covered with pet hair.
You will find a few excellent budget options above. These vacuums will help you wipe out pet hair while not costing you too much.