* PetHairPatrol strives to be a valuable resource for pet owners. We select and review all products independently; however, we may earn affiliate commissions when you buy through links on our site.
Don't you just hate fleas and ticks? We love the outdoors, and so do our dogs, but these tiny little pests give us the creeps.
You can't really avoid them out in nature, but removing them is gross, and they carry many diseases as well (1.). Yuck! With the weather warming up it's the time to find out the best flea and tick control products that effectively protect you and your pets.
If you don't want to waste time and money on products that simply don't work read on to find out the top 3 recommended flea and tick prevention and control products on the market!
A flea and tick control product should be safe, effective and easy to use.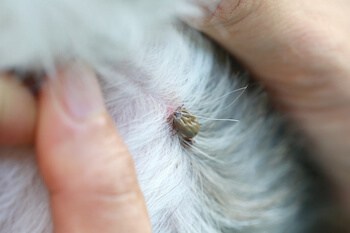 We consulted three veterinarians, 20 experienced dog owners and did some in-depth research to find out which dog flea and tick control is the best. And here are the results to answer the question what is the best flea and tick prevention for dogs in 2020…
All dogs have the occasional itch, but with the number on ticks rising in the US, you have to be on the look-out for those annoying little creatures that cling on to you and your dog when you're enjoying the warm weather outside.
Fleas and ticks are small and wingless parasites that survive by finding a host and ingesting their blood. They are nasty and irritating, but they can also be a very serious health hazard for you and your pets! It is essential to take measures to avoid ticks and fleas – especially if you have pets that can carry these pests to your home.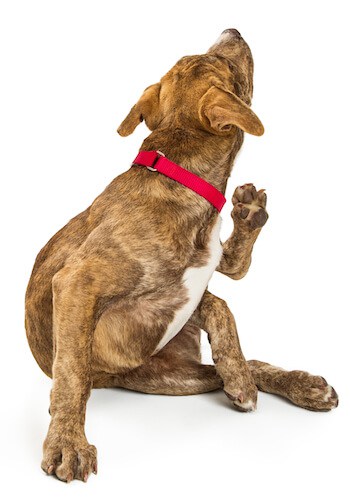 Although fleas are mostly just irritating and cause itchy bite marks, you probably don't want to share your home with any. Ticks, on the other hand, spread many diseases that can seriously harm you and your pets. There are many tickborne diseases, and actually, diseases spread by ticks, mosquitoes, and fleas have more than tripled in the U.S. since 2004. (2.,3.)
This is serious stuff. For example, more than 300,000 Americans are diagnosed with Lyme disease each year. And Lyme disease can cause symptoms such as severe headaches, facial palsy, inflammation of the brain and spinal cord, cognitive difficulties, chronic fatigue, arthritis in the joints, etc.(4.)
But you shouldn't be afraid to take your dog out for a nice walk and enjoy the nature. By using effective prevention methods, you can reduce the risk of flea and tick bites. There are many ways you can try to steer clear of them.
You can have a well-kept yard as ticks mainly thrive in dense, wooded and lush areas with tall grass. You could also consider asking a pest control company to treat your yard, but many people want to avoid using these harsh chemicals in their backyard. If you have lush vegetation surrounding your trimmed garden, you can use a wireless dog fence to keep your dog away from ticks.
You can also check your dog every day and comb out any unwanted company, or consider avoiding tick-friendly ecosystems altogether – which might mean moving to another state and staying a mile away from all forms of greenery, which is probably not the solution you are looking for…
We're happy to say there are some easy, effective and safe ways you can protect your pet from ticks and fleas – and help protect yourself and your family as well. We have used the same product (Frontline) with our dogs for years because it has proven its effectiveness and we've been very happy with the product. But for this article, we did some thorough research to find out if there were other more powerful yet safe products on the market that would top the product we felt was the ultimate flea and tick prevention method. And actually we found Frontline to be one of the top products worldwide, but there are other excellent products as well.
You can read more about the research process and tick and flea prevention as a treatment below, but first let's dive into the top three products to answer your question: which dog flea and tick control is the best?
3 dog flea and tick control products that won't let you down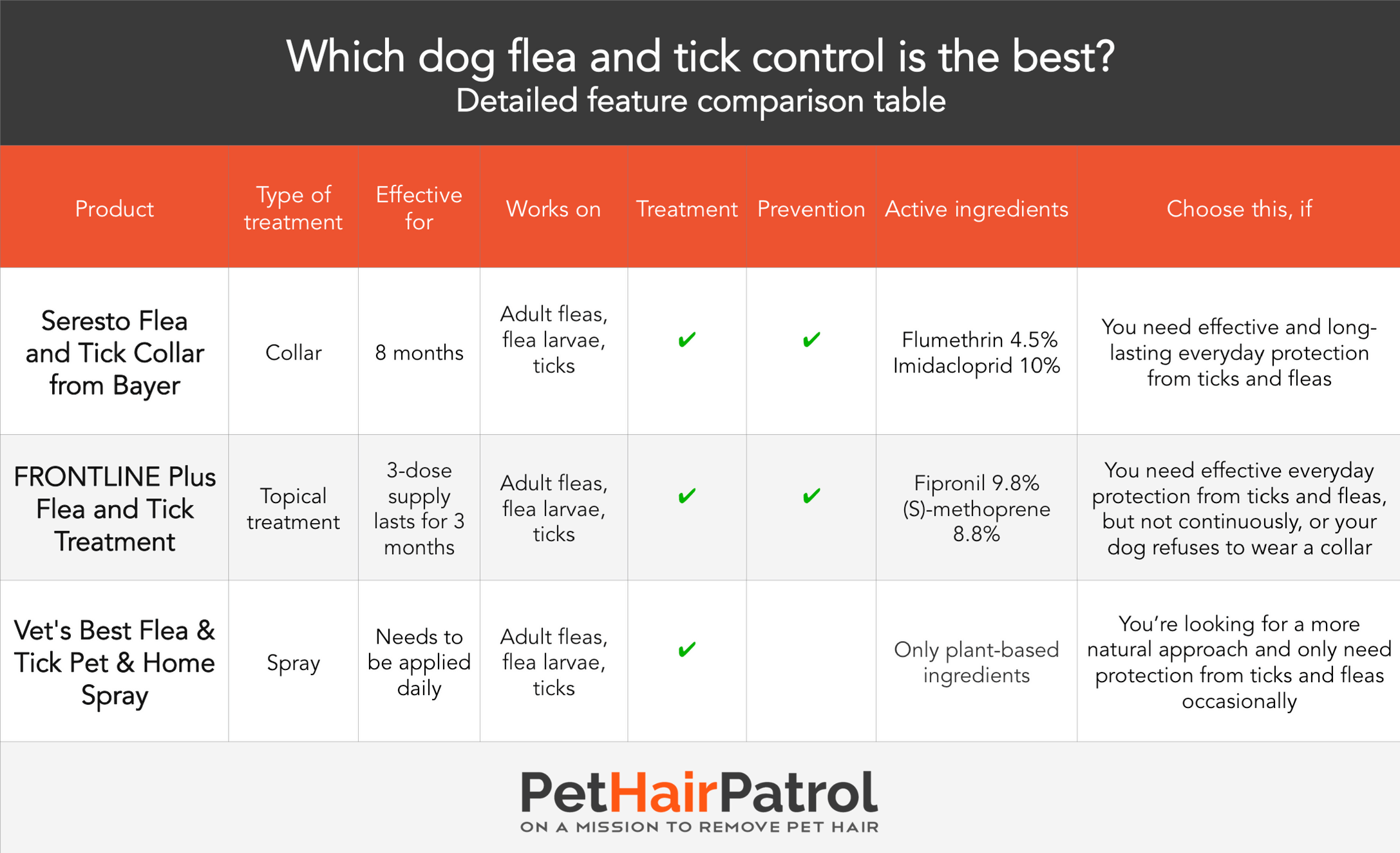 Effective, easy-to-use and the bestselling pet supply product on Amazon! That's three great reasons to trust this product.
It comes in two sizes: for a small dog (up to 18lbs) and a large dog (over 18lbs)
Active ingredients: imidacloprid and flumethrin
The Seresto Flea and Tick Collar uses innovative technology to protect your dog from ticks and fleas – even without direct contact and or bites. It is recommended by vets, easy to use, safe and effective. No wonder so many pet owners trust this product! It get's excellent reviews from pet owners using it and also from professionals dealing with parasite treatments and prevention daily.
Using a tick and flea collar saves you from the hassle of applying monthly topical treatments. And it gives your dog protection from fleas and ticks for up to 8 continuous months! It's non-greasy, odorless and you don't have to remember the monthly applications. It can also be worn together with leash collars.
As opposed to monthly administered oral products, it does not require a prescription, and it kills fleas and ticks before they even bite. Many pet owners also say that although these kinds of products are pesticides and therefore naturally contain strong chemicals, they don't want their pet ingesting these harmful substances and would rather use a collar.
In this product, the polymer matrix collar stores the two active ingredients (Imidacloprid and Flumethrin) slowly releasing them in low concentrations and distributing them evenly on your dog's hair and skin. This technology continuously renews the protection against ticks and fleas for eight months, which makes it very easy to use. Fleas and ticks are killed through contact with these substances which means no biting is required and no diseases are transferred.
However, if you're looking for an instant treatment for fleas and ticks, this may not be the ideal solution for you. Spot-on treatments will kill all parasites within hours, but it takes a few days for the Seresto collar to reach its efficiency. On the other hand, if you're looking for a long-term solution, once the collar is fully effective it will work for eight months straight.
The collar can be removed for bathing and swimming, and you should do so to maximize the lifetime of the collar. But otherwise, it is recommended to keep the collar on 24/7.
The product is safe for use on puppies seven weeks of age and older. You should consult a veterinarian before using it on pregnant or nursing bitches.
Personal experience with two golden retrievers:
after using the Frontline spot-on treatment for years with my pets I was keen to try the Seresto collar. The 8-month lifetime of the product intrigued me because I often forget to apply a new dose of Frontline. My dogs also love the water, and I feel topical solutions can wear off sooner than they should when dogs swim or bathe often.
The collars were easy to put on, and my dogs quickly got used to wearing them. A few days into the test I was disappointed since I found a few ticks after our walks in the forest, but I decided to keep testing the product for a week before giving up. And I'm glad I did! After a few days, the collar kicked in, and I didn't see a single tick or flea since for months! And I really put the collar to the test by taking long walks outdoors in tick-infested areas and letting the dogs roll around in tall grass.
My personal experience is that the Seresto collar works and I would recommend it to anyone looking for an effective and easy-to-use method of keeping those parasites at bay.
Summed up

This product is the best flea and tick treatment for your dog if… you want long-lasting and continuous protection from parasites. It is not an instant treatment, but an ideal solution for someone living in an area with lots of ticks and often spending time outdoors with their dog.
Some counterfeit products are going around. When ordering from Amazon make sure that the item is shipped from and sold by Amazon, and not by one of the 3rd party vendors. This way you can be sure you're getting the real deal.
A powerful topical treatment praised by pet owners using it. A safe, renowned and reliable product which offers excellent results.
It comes in four sizes:
small (5-22lbs), medium (23-44lbs),
large (45-88lbs) and extra large (89-132lbs).
You should be careful to treat your dog with the correct product as applying too much of the product for a small dog could be toxic, or even fatal. Also if you do not use a sufficient amount of the product, it won't protect your dog and be as effective as it should.
Active ingredients: fipronil and S-methoprene
This one of the most well-known tick and flea treatment products for dogs worldwide. It's been around for 20 years, millions of dog owners rely on this well-established brand, and it is the topical treatment most vets recommend. And it isn't a surprise it is one of the bestselling pet supply products on Amazon with great reviews from people who bought the product and used it on their pet.
It is a spot-on (topical) treatment, which means you apply the substance from a snap-off applicator on a small area on the back of your dog's neck. When applying you should part the dog's hair between the shoulder blades and apply the liquid directly to the skin. Your dog won't be able to lick the back of its neck, but you should monitor your pet and limit contact with people and other animals for 24 hours. If you have small children and you feel this might be a problem, you could consider the Seresto Flea and Tick Collar reviewed above.
The active ingredients are Fipronil and S-methoprene; Fipronil kills fleas, ticks, and lice, and (s)-methoprene keeps fleas from growing and reproducing. Together these two substances eliminate both adult fleas and ticks as well as eggs and larvae providing one-month protection against new fleas and ticks.
There are some other similar products, but Frontline is hands-down the most straightforward to use. The snap-off applicator is easy to use, quick and mess-free. Using a flea collar does save you the hassle of monthly treatments, but with Frontline it really isn't a hassle at all.
The product is safe for pregnant and nursing bitches as well as puppies aging from 8 weeks onwards.
Personal experience with two golden retrievers:
I have used this product for years, and I've always been satisfied with the results. Applying the product is quite simple, but you do have to keep an eye on your pet for a day or two to make sure the substance isn't passed on to kids when petting the dogs. But once the treatment is applied I can't remember having seen any parasites on my dogs until the product wears off.
Swimming or bathing will shorten the time in which the treatment will lose its effectiveness, but keep this in mind and apply Frontline regularly, and you will be safe. I would recommend this product to my friends, and so would anyone I know.
Summed up

This is the best flea and tick treatment for your dog if… you want effective and long-lasting protection from fleas and ticks, but not for several months at a time. Frontline Plus is applied monthly, and it offers an instant solution when your dog already has parasites.
Some counterfeit products are going around. When ordering from Amazon make sure that the item is shipped from and sold by Amazon, and not by one of the 3rd party vendors. This way you can be sure you're getting the real deal.
A natural yet effective approach to flea and tick treatment.
In addition to the Flea & Tick Pet & Home Spray Vet's Best offers a range of different products like flea shampoo, yard spray and wipes to provide you a unique solution to your flea and tick situation.
Active ingredients: 0.30% Peppermint Oil, 0.70% Clove Extract, 2.70% Sodium Lauryl Sulfate
Vet's Best has been using plant-based ingredients in their products for more than 30 years. If you want a natural solution instead of some very nasty chemicals, this is your choice.
Not a full-on preventative method for parasites, but a treatment for fleas and ticks that have already found their way to your pet. The spray uses natural essential oils and plant-based ingredients instead of harsh chemicals to kill fleas, flea eggs, and ticks when in contact. It is safe to use around children and other pets at your home, and you can treat dog bedding, blankets, upholstery, etc. with it as it won't stain or harm the fabric.
To use it you spray your dog's coat and massage until the substance comes in contact with the skin. To get good results you have to be careful in treating places like armpits and between toes where ticks like to hide. I do have to point out that applying the product is pretty simple when you have a dog with short hair, but for breeds with a long and thick coat, you will have to work it in.
This product is getting very good reviews, and it is one of the bestsellers in flea and tick control on Amazon. Many people using it have had good experiences with the effectiveness, and if you use it regularly every day, it will also prevent your dog from catching those pesky critters. It is economical, environmentally friendly and organic. And it's even made right here in the US!
Safe for puppies 12 weeks or older, but should not be used with pregnant or nursing bitches.
We're always looking to use as few chemicals on our pets as possible, but you do have to make sure you keep yourself and your dog safe from tickborne diseases. What this means is that if you live in one of those tick-infested areas where you have freak ticks on steroids, you should consider the more powerful chemical approach instead of this natural ingredients to keep you and your pet protected.
Personal experience with two golden retrievers:
Because I was testing the Seresto collar on my two dogs, I asked a friend of mine to test this product on his golden retrievers. He was pretty skeptical at first, as he isn't one of those people who trust natural remedies. But in the end, he was more than happy with the results. The product needs to be sprayed every day, but for situations where you need tick and flea protection for only a couple of days, or you only take the occasional walk in the wild nature, this will be a perfect product. You can keep your pet away from the harsh pesticides and still keep those fleas and ticks at bay.  And your dog will smell nice!
Summed up

This product is the best flea and tick treatment for your dog if… you are set on using a natural product and only need treatment now and then. It works well the when used daily and does keep your pet tick- and flea-free when applied correctly. But if you spend a lot of time outside in tick-ridden areas and you need a tougher remedy for continuous use, you should have a look at the Seresto collar or Frontline topical treatment we reviewed above.
Some counterfeit products are going around. When ordering from Amazon make sure that the item is shipped from and sold by Amazon, and not by one of the 3rd party vendors. This way you can be sure you're getting the real deal.
PetHairPatrol Research –
 how did we decide which dog flea and tick control products are the best?
The goal of our research was to find effective and easy-to-use methods for preventing and treating ticks and fleas on your dog. We also wanted those products to be safe and for them to get excellent reviews from people using them.
First, we selected 40 of the most used flea and tick control products on the market. We studied these products carefully and found out everything we could on how they work, what they contain and whether we should consider them as one of the top products in this category.
Then we narrowed things down by cutting out any products with chemicals you want to avoid or other safety issues. From the ones left we chose only products that we're getting good reviews from actual users - after all, they are the ones that know if the product work in real life or not.
After having narrowed the products down to ten, we contacted veterinarians to get their professional opinion and ended up with six finalists. As the last step, we sought and approached dog owners who were using these products with their dogs and asked for their opinions, tips, and experiences.
With all the information we gathered, we finally ended up with three top treatment and prevention products for the best flea and tick control product.


FAQ on Flea and Tick Control
You have a few different ways in which you can approach a flea and tick problem. All of the treatment types are designed to attack the nervous system of these parasites killing them and thereby treating or preventing an infestation.
- Topical spot-on treatments are small doses of liquid which are regularly applied – usually once a month. You part the hair between your dog's shoulder blades and empty the contents of the applicator on a single spot. Within the next 24 hours, the substance distributes evenly on your dog's coat and skin with the help of natural oils on the dog's skin.
- Tablets and oral chews are ingested by the dog, and the insecticides will be transferred to the dog's bloodstream quickly. When a flea or tick bites the dog, it will come in contact with the chemicals and be killed. They work very fast and are the number one choice when you need to handle a bad infestation quickly. The downside is that the dog has to be bitten for the parasites to be killed and these kinds of treatments won't prevent further infestations.
- Flea collars work in pretty much the same way as topical treatments, but the collar will slowly release the active ingredients over weeks or months. The released chemicals will be evenly distributed over the dog's skin and coat with the help of natural oils present on the skin of your pet.
- Flea shampoos kill fleas with the chemicals they contain, but as with tablets and chews, they are effective for only a day or so. The compounds these shampoos contain are very strong, and they should only be used to treat severe infestations and not as a preventative method or to treat your dog regularly.
- Sprays are pretty much the same as spot-on treatments, but the substance is much more diluted. They are applied more generously and more often than stronger topical treatments.
If you want an effective treatment for fleas and ticks, you need to use chemicals and substances that kill them. All the pesticides used in these products are approved by the Environmental Protection Agency, but you should remember that they can cause serious harm to humans and pets if you don't use them correctly according to instructions. These chemicals are very strong, and you should always remember to wash your hands after handling any topical treatments or sprays.
It is also important to weigh your dog before purchasing these products to be sure you get the right one. If you use a product intended for smaller dogs, the odds are the product won't be as effective as it should. On the other hand, using a product designed for bigger dogs could result in some very serious side effects.
Also, there are some chemicals you should avoid because they can have some nasty side effects like nausea, itching, burning or stinging. The most common chemicals to avoid are Tetrachlorvinphos and Pyrethroids. The products we have chosen do not include these chemicals and are safe to use when handled correctly.
And remember, that it all comes down to weighing the pros and cons. Yes, these are products with harsh chemicals. But fleas and ticks are parasites, and getting bitten by one can also have serious consequences. Some tick-borne diseases such as Lyme disease and Rocky Mountain spotted fever can be life-threatening. You wouldn't want your dog, yourself or any of your family members getting sick with some of the very severe diseases these parasites carry.
Safety
Make sure the product you choose is well-known, tested and manufactured by a reputable company. Read the labels and instructions carefully and make sure you use caution when using and applying these products. The top 3 flea and tick control products reviewed here are all safe and tested.
Effectiveness
Some products only repel ticks and fleas; some exterminate the flea eggs so they won't grow and reproduce. Then there are products that kill adult ticks and fleas. But the best products will do all three! To effectively treat and protect your dog, you should pick one of these products which target all three stages.
Ease of use
You have a few different types of methods for treating your dog: topicals, tablets, sprays, collars, and shampoos. For the treatment to be effective, you need to pick one that suits you, your dog and the situation your in.
If you need an instant treatment for a severe infestation, a chew will do the trick. We haven't chosen any tablets or chews in the top 3, because you should visit a veterinarian to get a prescription for the best and safest products, and tablets and chews will only treat the problem, not protect your dog from future infestations. Also, this won't be an effective treatment if you happen to have one of those bullheaded dogs who keep spitting out any tablet no matter how enticing a treat you hide it in.
Topical (i.e. spot-on) treatments are preferred by many dog owners, and they are an excellent choice for long-lasting treatment and protection, but they might not be the best solution for your dog if he swims and is frequently bathed. On the other hand, a collar which releases the chemicals slowly over time will only work if your dog will wear it.
So it all comes down to which method fits your personal preferences and those on your dogs too!