* We select all products independently; however, we may earn affiliate commissions when you buy through links on our site.
Black Friday and Cyber Week deals are here!
We've been seeing sales throughout the week, and will actually be seeing huge discounts during the weekend after Black Friday, continuing into Cyber Monday and the following week, known as Cyber Week. It's not a sprint anymore;  this is a full two-week sales marathon!
Best Roomba Black Friday Deals 2020
Black Friday deals only run for a limited time, which is why you should grab those sweet deals ASAP when they are published. Check out the discounts going on right now by clicking the link on the Roomba you're interested in.
Roomba vacuums tend to go fast - in stores and online. The early shopper gets the best deals!
Roomba from iRobot is the most recognized robotic vacuum brand on the market. Their vacuums are high-quality products with advanced technology and excellent features. Of course, with premium design comes a higher price - except on Black Friday. This is your chance to get robotic vacuums and other expensive tech products at considerable discounts!
Last year we saw savings of up to $250 on Roomba vacuums, and this year we're predicting even more aggressive competition between retailers offering the deals.
If you hate vacuuming, you will love robotic vacuums. It is totally worth the money for anyone who has a busy life, and cleaning is one of the things they would love to forget about. And when you think about it, it's actually a pretty smart investment – this robot will tirelessly clean your home every single day for many years.
And if you want to make your life even easier, you might want to have a look at Braava mopping robots, Terra lawn mover robots, and Mirra pool cleaning robots. You can even get a self-emptying Roomba and combine it with the Braava mopping robot to get the ultimate hands-off cleaning experience for your home. Think about not having to vacuum or mop your floors; it's a dream come true!
Last year Black Friday was huge, and online shoppers spent a record-breaking $6.2 billion on during this huge shopping extravaganza. This year we predict we will see even bigger numbers.
And it's not just about shopping for more unnecessary stuff, its about getting those top products you need at a fantastic price. If you have been on the fence with some purchases because of their price, then this time of the year is the best time of the year to make those investments.
Especially when it comes to tech products and smart devices, you can get those high-end products with remarkable discounts. You can save hundreds of dollars!
Should I buy a Roomba on Black Friday?

If you have your eye set on a Roomba robotic vacuum, Black Friday is definitely the time to make your dream of not having to vacuum true. This is the time for the best deals on all kinds of products, but smart technology tends to have the steepest discounts.
To get updates on deals and to get the best prices on those expensive Roomba vacuums, you can bookmark this page. We will keep you updated on any great iRobot Roomba discounts that are worth your money!
Meanwhile, if you didn't spot your ideal deal yet, you can do some research on different Roomba vacuums to figure out which is the perfect one for you. Prepare yourself by reading more about the current Roomba lineup. It will help you choose the right product in advance so that you will be among the first to grab those top deals when they are released.
You can expect great deals and big savings on iRobot Roomba vacuums on both Black Friday and Cyber Monday. We will be updating all of the best deals the minute they are released so that you can grab that life-saving Roomba vacuum with a considerable discount!
Why are these the best Roomba models?
These are the vacuums in the current Roomba line-up. There might be some older models for sale as well, but they might be outdated and not up to par in technology.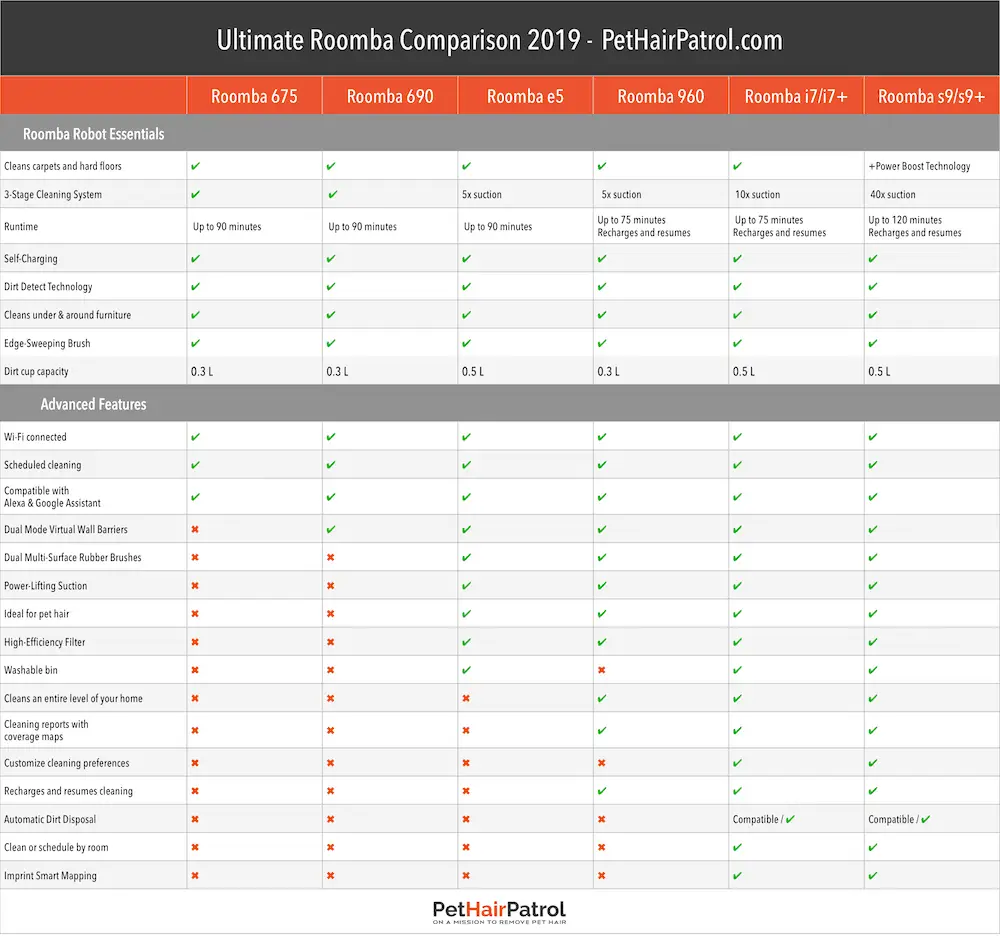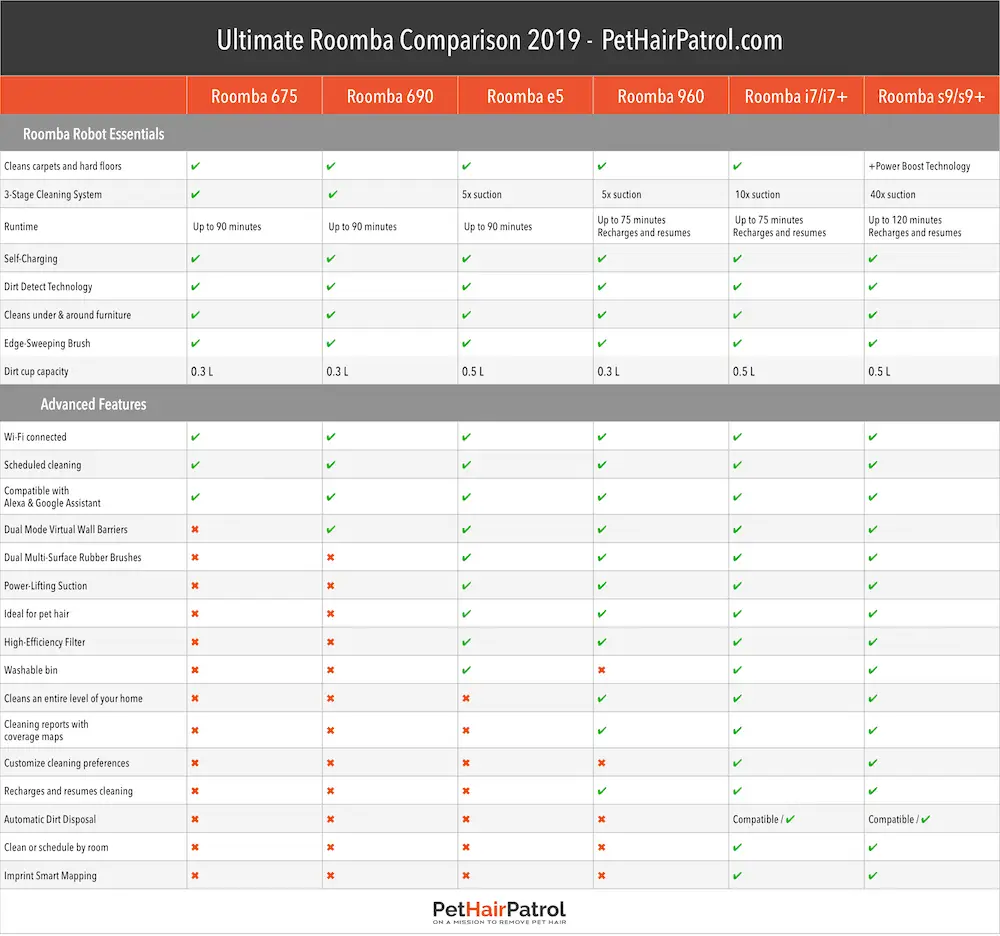 Roomba 675
If you're looking for a Roomba vacuum because you are too busy to vacuum daily, but you're on a tight budget, Roomba 675 could be an excellent choice.
It doesn't come with all the bells and whistles, which is why it's not the ideal choice for anyone looking for the ultimate robot vacuum. However, it is a reasonably priced product with all the necessary features to help you maintain the cleanliness between vacuumings. It gets the job done. Check the latest price or read our detailed review.
Roomba 690
Basically, the same vacuum as 675 but with a Virtual Barrier Wall added so that you can create no-go zones for the vacuum. See on Amazon or read our review here.
Roomba e5
Roomba e5 has the basic features like Wi-Fi connectivity, virtual wall barriers, scheduled cleaning and long runtime plus some extras such as better brush roll, larger dirt cup, 5 times the suction and a High-Efficiency Filter – excellent additions for homes with pets or kids. See the latest price on Amazon or read our detailed review and comparison here.
The e6 is basically the same product, but with 2 virtual wall barriers instead of one, and one extra High-Efficiency Filter. It's an excellent deal only available at select retailers.
 Roomba 960
A top robotic vacuum with most of the advanced features from Roomba, but not the best of the best. Excellent performance without the fine-tuning brought by the latest advanced features
Recommended for someone: looking for a high-end vacuum but not interested in splurging on the leading i7or S9 vacuums. Roomba 960 is a step up from the e5 model bringing smarter navigation and the Charge&Resume feature into the game. What it means is that the 960 is somewhere in the middle between e5 and i7/S9 – in functions as well as regarding price. See details on Amazon or read our review here.
Roomba i7/i7+
Recommended for anyone looking for an outstanding, first-rate robovac.
The only difference between i7 and i7+ is the Advanced Base with the self-emptying feature: the i7+ comes with the Advanced Base while i7 is just compatible and you can add the base later on if you feel you want the upgrade.
The i7 is a top-class robotic vacuum. It comes at a higher price, but the features are incredibly advanced. With the Imprint Smart Mapping feature, Keep-Out zones, and self-emptying base that empties the vacuums dirt container by itself for up to 30 times, it's almost completely a hands-off solution for vacuuming. Check the latest prices for Roomba i7 and Roomba i7+, or compare these two vacuums against each other here.
Roomba s9/9+
The best of the best. The most advanced Roomba vacuum with outstandingly powerful suction and new design for even better cleaning results.
The only difference between S9 and S9+ is the Advanced Base with the self-emptying feature: the S9+ comes with the Advanced Base while S9 is just compatible and you can add the base later on if you feel you want the upgrade.
The S9 has all the excellent features other Roomba vacuums have added with the most advanced navigation, new D-shape design, 40x suction, self-emptying base, and Keep-Out Zones.
The S9 is your choice if you're looking for the most advanced iRobot model and you're willing to splurge on the newest cutting edge features. See the latest price on Amazon for Roomba S9 and Roomba s9+, or compare these vacuums against each other here.
For more information on these vacuums will find a comprehensive comparison and detailed reviews here.
How do I know which Roomba to buy?
The current Roomba line-up has five models:
The best of the best - Roomba s9
Recommended for some who wants a high-end robotic vacuum with cutting-edge design and all the advanced features. This the top dog with the latest technology in robotic vacuums.
Advanced robots with excellent features - Roomba 960 & Roomba i7
Recommended for someone looking for a robot vacuum that has excellent cleaning performance and highly advanced features. They are not the most advanced option, but they come pretty near in performance and ease of use.
Midrange option for homes with kids or pets - Roomba e5
Recommended for someone looking for something a bit more than the basic robotic vacuum but not ready to invest in one of the top options. Especially recommended for pet owners and homes with kids. Read more about best Roombas for pet homes here.
Budget option - Roomba 675 & Roomba 690
Recommended for someone looking for a basic and inexpensive robotic vacuum with Wi-Fi connectivity and excellent value for your money. They get the job done without breaking the bank.
Which Roomba do you recommend?
Recommending one specific Roomba can be a bit tricky since users can have very different needs. Houses and budgets come in all shapes and sizes, and also some people are looking for cutting edge design and technology while others will settle for a less advanced model.
If you're looking for the best of the best, then we highly recommend the Roomba S9+. It is the newest member of the Roomba family, and it has all the latest technology iRobot has to offer. It is the most powerful Roomba vacuum with the most advanced navigation and technology. And if you want the best of the best it will, of course, be the most expensive Roomba currently – and Black Friday will probably be a fantastic opportunity to get this vacuum at a great price!
If, on the other hand, you're looking for something very advanced in terms of technology, but you don't' necessarily need the newest version, we would recommend Roomba 960 or Roomba i7. Roomba i7 is the top model of the previous Roomba line-up, and it is only slightly different from the S9. But because it is not the latest and most advanced version, you may be able to get an excellent deal on Black Friday. The Roomba 960 is also an older top model with most of the advanced features and superior performance.
If you're on the other end of the budget spectrum and you're looking for a more affordable yet functional Roomba vacuum, we recommend you have a look at the Roomba 690. It's pretty much the same vacuum as the cheaper Roomba 675, but with a Virtual Wall Barrier added. And on Black Friday you might be able to find it at the same price! These vacuums don't come with the most advanced technology, but the performance and design are excellent.
If none of these options have felt like the right choice for you, you might want to consider Roomba e5. It is a perfect mid-range option with many advanced features but a reasonable price. With this vacuum, you get great cleaning results and a very functional robotic vacuum without having to pay for the latest technology. And you may even be able to get a considerable discount making the price-quality ration even better!
Check out the Black Friday deals for Roombas to find the perfect vacuum for you. Or if you want to compare the products, you can find our full and detailed comparison here. It will help you compare the models to choose the one that is the best fit for your home.
Why should I buy a Roomba on Black Friday?
In short, you should buy a Roomba on Black Friday because the deals are fantastic!
A Roomba vacuum will make your life easier and give you the gift of not having to vacuum. And getting your new best friend with a significant discount is even better. That is why.
But first of all, let me tell you why you should invest in a robotic vacuum altogether.
The thing is that most people hate vacuuming. Or if you don't hate it, you probably still have a hundred other things you would rather be doing. Our lives are busy, and cleaning is not the thing we want to focus on.
When you have a traditional vacuum cleaner taking it out, plugging it in and lugging it around is a huge chore. And because it's burdensome, you might skip it because you're too tired or you simply don't have the time.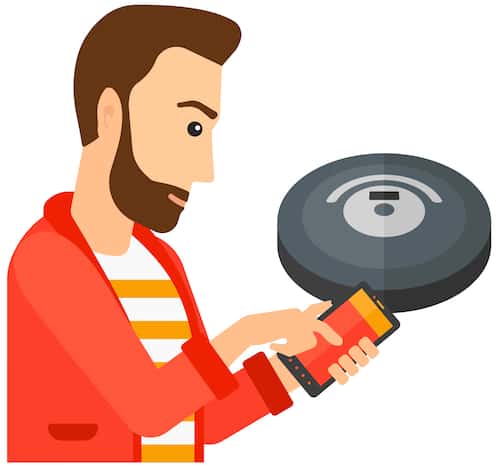 But when you do skip that daily or weekly vacuuming session, you let dust and dirt build up which means your home is increasingly messy, and at some point, you're going to have to grab that vacuum and spend hours on vacuuming. Avoiding vacuuming will only lead to a dirty home and massive cleanup sessions when you finally realize it has to be done.
What you need is for someone to do it for you. And that someone can be your Roomba vacuum.
Users praise Roomba products because they make their lives so much easier. You will still have to vacuum every now and then because the Roomba can't access every single nook and cranny, but the time you need to spend cleaning will be reduced significantly.
Because the Roomba can be programmed to do a daily cleaning cycle, the dust and dirt never build up. Although the robotic vacuum might not be able to reach every hard-to-reach spot, it actually keeps those dust bunnies at bay simply because it keeps your home cleaner and dirt doesn't accumulate.
Having a Roomba will save you time and reduce the stress caused by housework. When you come home from a long day at work, you will find your home is clean and fresh.
Many users say they just wish they had bought their Roomba earlier, and that says a lot about how convenient these machines are. You should get one because:
It saves you time
Reduces your need to clean
Keeps your home cleaner
Increases indoor air quality
Lowers your stress levels
And there is no better day to buy this product than Black Friday because that is the day there are many excellent deals available.
Often consumers are not sure if they should get a robotic vacuum because they're not sure whether the investment pays off. The cheapest robovacs are no good, and you probably need to cough up a few hundred bucks for a product that has all those features you want a well-functioning robot vacuum to have.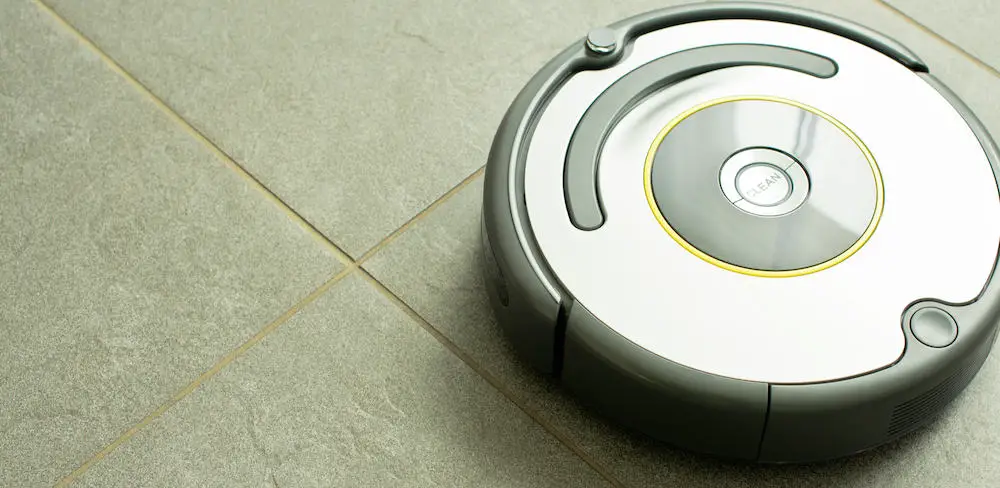 Since the investment is significant, you might still be unsure if a robotic vacuum is a right choice for you. And that's why we love Black Friday. Smart technology like robot vacuums tends to have huge sales.
We know a lot about vacuum cleaners and what we have learned is this: if you can buy a robotic vacuum you should. Every member of our team has one and based on our own experience and the experience of our friends, family, and PetHairPatrol readers, it is a must-have for anyone that would like to cut down the time they spend cleaning and instead spend time doing something they enjoy.
Just grab one of these Roomba Black Friday Deals, and it will change your life!
Should you buy online or in-store?
We recommend buying online for four reasons:
You will avoid the chaos
You can find the best discounts
You can grab deals from many stores at the same time
You can have the products shipped to your front door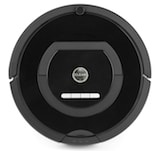 By buying online, you can compare the products and deals from different stores easily. You can avoid the madness and grab those products before they run out.
You can also shop at many stores at the same time and have all those cheap finds just shipped to your front door. It doesn't get any easier, and we see no reason why anyone should join the Black Friday mayhem that goes on in stores.
What is Black Friday and Cyber Monday?
Cyber Monday started as the online version of Black Friday: while Black Friday used to be the day for huge in-store sales, Cyber Monday was all about finding great deals online.
Today, however, both days and the weekend in between are an excellent opportunity for finding amazing discounts, both in-store and online.
Online shopping is more popular than ever before, and when it comes to products like vacuum cleaners, you will almost certainly see the same deals online as in stores. Often the deals are even better because the product can be shipped straight to you without having to add the expenses of handling the product in the store.
How to find the best Roomba deals on Black Friday?
Many stores offer discounts on Roomba vacuums on Black Friday. To find the best deals, you need to find the stores that stock the product you're looking for and then it's happy hunting.
Some deals are released in advance, although the sale starts on the actual day. Other discounts are kept a secret until Black Friday to keep the consumers interested and hyped up. To find the best discounts, you need to check out every seller and compare the discount.
Remember that there might be differences in what is included and what is not. Also, sometimes you may think you're getting a sweet deal, but Black Friday is a good opportunity for the sellers to push out those outdated products they want to get rid of. You should not buy an old robotic vacuum even if it has a huge discount, because many models from previous line-ups are not up to date when it comes to technology and performance.
The easiest way for you to find the best deals is to bookmark and follow this page. We will bring you the best Black Friday deals for iRobot vacuums. Just choose a vacuum and be ready to hit that buy button when the Cyber Week deals are released!
How to shop for a Roomba vacuum on Black Friday?
Because Black Friday usually offers significant discounts on Roomba vacuums and the number of products might be limited:
you need to be ready to shop the minute deals start rolling out,
you need to have your eye on a particular product, and
you need to be ready to make the decision to buy.
To be prepared you need to:
Do in-depth research
Compare models
Decide on a product
Come up with a shopping plan
First of all, you need to research the products in advance so that you know which model you want. We have a thorough buying guide and Roomba Comparison here, which will help you set the robot vacuums side by side for easy comparison.
Your research should focus on:
Your budget – you should get the most advanced product you can to get the best cleaning experience. Because technology and advanced features are expensive to design and manufacture, the price naturally goes up as you add more high-tech features to the products. However, each added feature makes for a more customizable cleaning experience and better performance. You won't regret spending a few extra bucks. After all, this little machine will be vacuuming every day for many years. Avoid cheap and outdated products, instead invest in those critical features.
Runtime – this is an essential feature because obviously, a larger home will need a robotic vacuum with a longer runtime. Another option is to choose a model with a Recharge& Resume function (960, i7, and i7+). All Roomba vacuums automatically return to their Home Base for juicing up when they run out of battery, but the more advanced versions also continue cleaning where they left off once the battery is full again. This makes these vacuums an excellent choice for large homes.
Navigation – cheaper robots have less advanced navigation systems which make them less efficient. Because the robot can not map its surroundings, it will roam around randomly relying on the information it gets through its bumper and other sensors. This makes them slower, and they might miss a spot while cleaning. More advanced Roombas, like the 960, i7 and i7+ have advanced navigation systems, which means they can map the home and calculate the optimal cleaning route. They are faster, and they never miss a spot because they know exactly where they are. The i7 model even has what iRobot calls Imprint Smart Mapping, which allows the Roomba to form a floor plan you can use to customize your cleaning preferences for each specific room.
Connectivity – these days all of the Roombas worth buying have Wi-Fi connection which allows you to control the vacuum using The iRobot Home application on your smartphone. You can also use the Wi-Fi connection to connect your Roomba with Amazon Alexa or Google Assistant.
Filtration – because the point of having a vacuum is to have a clean home, you need to make sure your robot vacuum has a sufficient filtration system. Otherwise, it may blow out some of those nasty particles you're trying to clean up. We're happy to say that all Roomba vacuums have excellent filtration, although if you or your family members suffer from allergies, it might be a good idea to invest in Roomba e5/e6, Roomba 960 or Roomba i7 which come with a High-Efficiency Filter.
Performance – last but definitely not the least. If you're going to be investing in a robot vacuum, you need to make sure it does its job. Again, all Roomba vacuums do an excellent job at different surfaces, but there are differences between the models. Roomba e5/e6, Roomba 960 and Roomba i7 all have the Dual Multi-Surface Rubber Brushes which are two high-performing rubberized brush rolls that loosen up the dirt and pick it up for the suction to pull in. If you're looking for excellent performance on even high-pile carpets, then one of these models should be your pick.
For more information about the differences between Roomba vacuums, you can check out our thorough article here. It will help you compare the models to find the one that is just right for you.
Once you have done your research and compared those products, you can happily decide on the best Roomba for your home. And once you have made your decision, you are ready to find the best discounts for that specific product on Black Friday.
Next, you need to come up with a shopping plan.
Are you going to shop in-store or online?
Are you definitely getting this specific product, or would you upgrade if you find a great offer on a more advanced product?
We recommend buying online because it gives you access to many deals at once. Also, we recommend you grab an excellent deal when you see one because often the best deals are released at the beginning of this 4-day shopping frenzy and you don't want to risk missing out on a deal because the products ran out.
Once you have done your research, chosen the right Roomba for your home and you've come up with a plan on how to find the best deals, you're ready to buy your new Roomba on Black Friday.
You can find deals at almost every retailer, but if you want to skip the part of scanning through dozens of deals, you can save some time by bookmarking and following this page. We will bring you the best Roomba deals on Black Friday right when they are released and keep them up to date throughout the weekend.
The best Roomba currently is the Roomba s9+. It is the most advanced robotic vacuum cleaner from iRobot, and possibly the most advanced high-quality robot vacuum on the market.
The s9+ comes with highly advanced navigation, superb cleaning performance, and a self-emptying dust bin. It is the cream of the crop when it comes to robot vacuums.
As you may have guessed, smart technology like this doesn't come cheap. A high-performing robot vacuum like the s9 will definitely make your life a lot easier, but you might be on the fence about buying one because of the price. This is why Black Friday and Cyber Monday are an excellent time to treat yourself with this amazing little helper – you will find these pricey products at terrific discounts!
Cyber week is the best time to buy a Roomba, but where do you buy it from? We recommend buying online because it's easier to track and compare the best deals on your laptop rather than trying to visit many retailers. Also, you will save yourself a lot of hassle by not joining the madness that goes on in stores.
You will find the best online deals on this page as they start rolling out. Bookmark this page to stay updated!
Roomba vacuums can often be found with discounts, and you should check out all the current sales to find the best prices. Many stores stock Roomba vacuums, and there is no specific retailer that will always offer you the best price.
However, our analysis tells us that the best deals are often found online. Shopping online can be the easiest and smartest way to find those great discounts. After deciding on the best product for your needs, you can quickly browse through some of the most popular retail shopping sites and find the best deals. 
When you're on the hunt for discounts on robotic vacuums - or home appliances in general – Black Friday is the best day for finding the biggest discounts. Many stores try to get a head start by offering pre-Black Friday deals, but the main day for sales is the Friday itself. And since companies want to get their products sold to customers, they will have the best offers for grabs on Friday before customers have a chance to fulfill their needs with products from competitors.
That being said, new deals will be added throughout the weekend and on Cyber Monday, but expensive products like the newest Roomba vacuums are often sold out during the first days of Cyber Week.
Yes, definitely. With pricey products like the Roomba robotic vacuums, you will find some of the best deals of the year on Black Friday. You will be able to make significant savings during the huge sales – and you can do it online without having to get pushed and shoved in a crowded store.
In the past years, we have seen some amazing vacuum deals on Black Friday, and there is no doubt we will see similar discounts this year. You can get the most out of Black Friday discounts by concentrating on those big investments that need to be done and finding fantastic prices for whatever you need.
Think of those appliances and other expensive things you may need to update within the next year. You can probably get all of them at reduced prices on Black Friday and save a considerable amount of money.
Stores will be announcing their deals as Black Friday approaches. To find the best discounts you may need to track several retailers – or if you're looking for the cheapest vacuum cleaners just bookmark and follow our site to keep updated. We will go through the best deals we can find to bring you the ultimate discounts as the biggest sale of the year nears.