At a glance
This award-winning, highly intelligent, extremely user-friendly, and powerful robot vacuum is definitely the ideal vacuum for any pet owner who wants to outsource vacuuming to a very competent robot. Worry-free appliance with advanced features – even a pet poo avoidance technology! Click here to see the latest price.
180-minute runtime
Smart resume & recharge feature
Double cameras
Lidar Navigation for precise navigation
ReactiveAI for recognizing and avoiding objects
Pet poo avoidance technology(!)
An advanced, user-friendly app for controlling the vacuum
Multi-level mapping system supports up to four floors
No-go zones, no-mop zones and invisible barriers on the app
Very strong 2500Pa suction
Intelligent mopping
Washable HEPA-type filter
Large 460ml dirt cup
48.8 cm x 40.6 cm x 15.6 cm
13.98 lbs
1-year warranty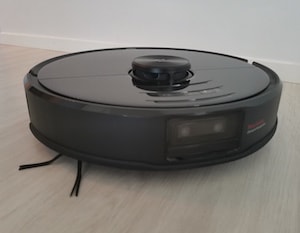 + Up to 180-minute runtime for large homes
+ Strong suction for better performance
+ Advanced navigation for precise mapping
+ Calculates the optimal cleaning route
+ Identifies and avoids objects like dog poo
+ Can map up to 4 levels
+ Mops as well as vacuums
+ No-mop zones to protect your carpets
+ No-go zones and invisible barriers for pets
+ Large dirt cup for pet hair and other dirt
+ Carpet boost setting lifts up pet hair from carpets
+ Extremely practical application for controlling the vacuum
- Narrow brush roll
- Pricey (but worth it if you want highly functional robot vacuum)     
Summed up

The Roborock S6 MaxV is one of the most advanced and user-friendly robots we have tested. The navigation and mapping are top-notch, and the vacuum even recognizes everyday objects like pet accidents and automatically avoids them. The cleaning performance is excellent, and the vacuum even picks up pet hair from high-pile carpets and other challenging surfaces.
All in all, there is really very little we don't love about this vacuum. It is a bit pricey, but you can't expect not to pay for top quality features and usability. We just admire how practical and easy to use the Roborock S6 is, and highly recommend it for anyone looking for a highly capable robot with top-class features.
Roborock S6 MaxV –
Full Review
If you're looking for a robotic vacuum that genuinely makes your life easier, then the Roborock S6 is the one for you. It has many features that make it an excellent deal for pet owners, and the overall functionality is hard to beat.
Although robotic vacuums nowadays are quite advanced, many still have glitches that make them awkward to use. After all, the whole point of having a robotic vacuum is not to have to worry about vacuuming.
The S6 MaxV is an award-winning robotic vacuum with very high ratings and fantastic user reviews. And no wonder.
It is the most advanced robotic vacuum in the Roborock lineup and, as such, a leading-edge robot with many useful details.
Want to know why we think this robot is a keeper?
Let's find out!
180 minutes in silent mode
150 minutes on balanced mode
Automatically juices up and continues the cleaning cycle
The runtime of the Roborock S6 is 180 minutes in the silent mode, which drops to 150 minutes in the balanced setting (medium suction). This is enough to clean quite a large area, but even if the robot runs out of battery, you don't need to worry. The S6 automatically returns to its base when the battery is low and juices up just enough to finish the cycle.
In addition, compared to other robot vacuums, the Roborock S6 cleans at a fast pace, which guarantees plenty of battery for larger homes. Roborock has designed a very practical algorithm that the robot uses to calculate the optimal route around the area. The vacuum cleans in straight lines, which not only saves time and battery but also ensures every inch of your home gets cleaned.


Strong 2500-Pa Suction 
5 power settings
Carpet boost mode
The suction power is 2500 Pa, which is one of the strongest on the market. It is excellent news for pet owners because a powerful suction is needed to pick up that persistent pet from carpets and heavy dirt from the hallway floor.
There are five different power modes.
Although the" balanced mode" does an excellent job at keeping floors and low-pile carpets clean, in pet homes, you may want to use one of the more powerful settings to remove pet hair for medium to high-pile carpets.
You can also turn on the carpet boost, which means the robot will automatically boost the suction and brush roll when it detects carpets and rugs.
3. Highly Advanced Navigation and Obstacle Avoidance
Lidar and vSLAM mapping
Dual front camera for recognizing and avoiding obstacles
Pet poo avoidance!
Perfect navigation for busy homes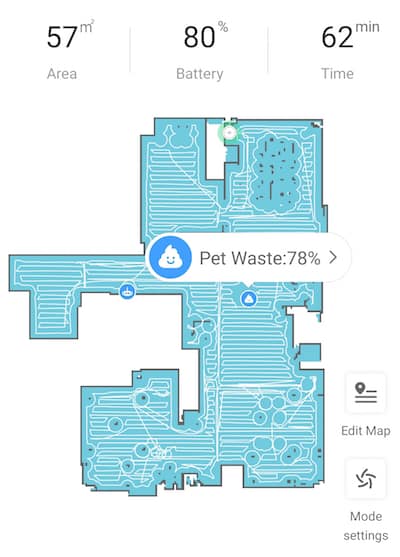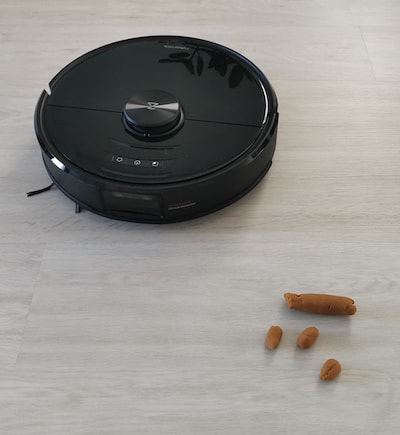 When it comes to navigation, the S6 is exceptionally advanced. It uses both LiDAR (Light Detection and Ranging) and vSLAM (visual Simultaneous Localization and Mapping) to find its way around your home. In the dark, the vacuum also uses infrared imaging.
The Roborock V6 has not one but two cameras in the front. The dual cameras help the robot not just to detect obstacles but to precisely calculate their location and find a route around the object.
The robot also uses ReactiveAI Obstacle Avoidance, which means that Roborock has taught the vacuum to detect, recognize, and avoid common household items it might encounter lying on the floor – pet poop included! The avoidance feature is quite impressive, as in our tests, it actually did correctly identify the (fake) poop. It even located the accident on the map and provided us with a picture on the app.
And this is one of the major reasons this is such a good investment for people with pets. No longer do you have to worry about facing the terrible catastrophe of your pet having an accident and your robot spreading it around your home.
Overall the navigation of the S6 is just top-notch. You can see it cleans you home meticulously without bumping into obstacles or getting stuck. We have tested many robot vacuums, and it amazes us how quickly this vacuum maps it's surroundings and creates a perfect map of your home. In this aspect, the S6 outperforms many pricier rivals.
Because the navigation and mapping work perfectly, the vacuum is ideal for those busy homes with kids and pets where there is always something lying around on the floor.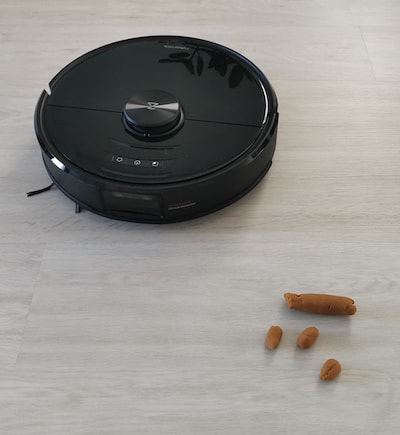 4. User-friendly, practical and convenient
Very easy to use
Intuitive and straightforward
The vacuums itself is very easy to use. You just plug it in, download the app, and connect the wifi. When you send the vacuum to do its first cleaning cycle, it quickly maps its surroundings and creates an amazingly accurate map. Even some of the more advanced robots still need several mapping rounds before they can create a vague idea of the floorplan, but the Roborock S6 does it all instantly – while cleaning!
Even if the base is moved, the robot just finds its new home and starts a cycle like nothing happened. This is an invaluable feature in pet homes because pets can accidentally bump the charger and move it a few inches, which completely throws some robots of their game.
The app is intuitive, and there is really no learning curve. Although it is very simple and user friendly, it has many functions. You can schedule cleaning and mopping cycles, create no-go zones, adjust your preferences room by room, view the cleaning history, etc.
While cleaning, the app shows you exactly where the robot is and how many square meters the robot has cleaned so far (for some reason, you can't change it to square feet).
Compared to other robots and applications we have tested, this is just a highly functional and convenient combo. Everything runs smoothly, and you feel like the whole system has been well designed and thought out.
5. Floor plans for up to four levels
Unlike many other robots, the Roborock S6 can save floor plans for up to 4 floors at a time, and it automatically recognizes which floor it is on. It can't climb stairs (yet!), but this feature is very convenient if you have a multi-level home.
In addition to having the ability to map and store several floors at a time, the robot can also identify different rooms, and you can specify cleaning preferences for each room separately.
You can also create no-go zones and invisible barriers just by using the map, and the robot will not enter these areas. It's much easier than using magnetic barrier tapes or beacons to guide your vacuum.
For pet homes, this feature is a must because most pet owners want to guarantee the robot vacuum won't disturb their pets while sleeping or feeding, and this is the easiest way to make sure your pets can have their private area.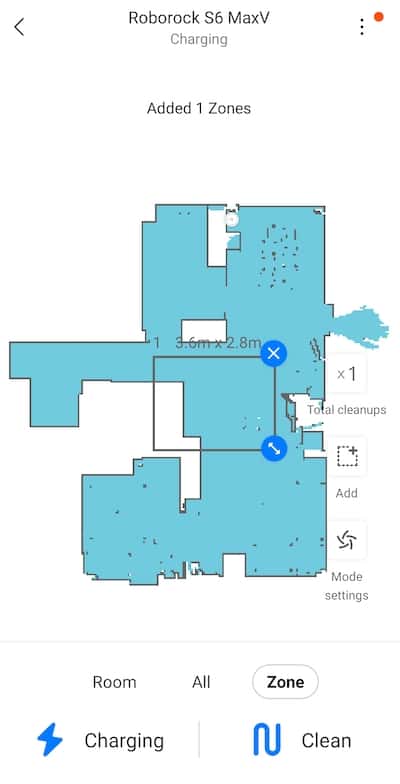 6. Smart mopping feature added
Mopping feature
Large 300ml water tank
No-mop zones
The Roborock S6 not only vacuums but mops as well! How convenient is that?
When you want the robot to mop, you simply fill up and attach the 300ml water tank and the microfiber mopping cloth. The tank will drip just enough water to keep the cloth moist while the vacuum mops away.
A word of warning, though! We wouldn't recommend using the mopping function to clean up spilled drinks or anything like that. It's designed for upkeep mopping and keeping your floors clean from small everyday stains.
A significant upgrade from the previous Roborock mopping robovac is that you can create no-mopping zones to protect your carpets from water. A small shortcoming is the fact that the robot can't detect the carpets itself while mopping, but a future update may correct this.

Privacy is always a concern in smart devices, but Roborock has addressed consumer concerns by building the robot so that it processes all photos and information locally within the vacuum.
Unless you turn on the setting that enables the robot to send you pictures, all the information the vacuum gathers is quickly deleted and not saved to a cloud.
The Roborock S6 MaxV comes with a sizeable 460ml dirt cup, which is easy to detach and empty. The container fits quite a lot of dirt, including pet hair that can quickly fill up the dirt cup if it's too small.
The robot uses an E11 rated HEPA-Type filter to capture up to 95% of the particles it picks up. We prefer true HEPA-filters for pet homes, but if you don't have severe allergies, you'll do fine with this filtration system.
Both the dirt cup and filter are washable, which makes the vacuum easy and inexpensive to clean and maintain.
There are many factors that weigh in when talking about how well robotic vacuums perform – how well they clean being the most important one, of course.
One of the small shortcomings of this vacuum is the narrow brush roll. We would like to see a wider cleaning path and even a slightly sturdier brush roll. It also doesn't have a tangle-free design, which means you might see long hair wrapped around the brush bar.
That being said, the S6 MaxV offers excellent cleaning performance. Why? The suction is strong, and together with the brush roll, they pull up dirt, dust, and pet hair from both floors and carpets.
Also, with the precise navigation, the vacuum is able to clean every inch of your home, leaving no dirt behind.
Overall, this vacuum can keep those challenging pet homes clean. After testing it, we can verify this one is a keeper. We had tested two other vacuums the day before, but still, the Roborock S6 was precise and efficient enough to pick up quite a lot of dirt on its first round.
Pros & Cons of the Roborock S6 MaxV
+ Long runtime + automatic recharge
+ Cleans in systematic patterns saving time and energy
+ Strong suction for pet hair, sand, and dirt
+ Exceptional navigation and mapping
+ Identifies and avoids obstacles
+ Won't spread pet accidents throughout your home
+ Versatile and easy-to-use app
+ Can save up to 4 floor plans
+ No-go zones and invisible barriers controlled from the app
+ Mopping feature with no-mop zones
+ Washable HEPA-Type filter
+ Large dirt cup
+ Privacy taken into account
+ Perfect choice for busy homes
- Narrow brush roll
- Doesn't have a true HEPA-filter
- A bit pricey (but worth it in our opinion)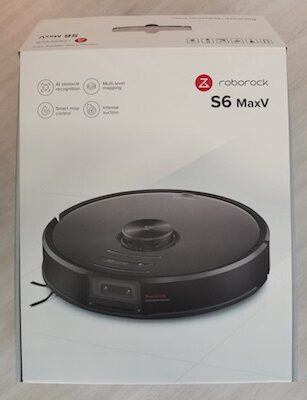 Charging station
Moisture-proof floor mat
Washable filter
Mopping cloth
Cleaning tool