* PetHairPatrol strives to be a valuable resource for pet owners. We select and review all products independently; however, we may earn affiliate commissions when you buy through links on our site.
At a glance
The D6 was released in the fall of 2018, and it's designed for homes with pets. Its core brush is 70% larger than on many round robotic vacuums, and it has a turbo mode for increased suction. It makes the brush spin faster to capture more dirt when the vacuum runs into a tough spot. They have also added the ultra-performance filter to trap allergens and dander from your pets. Click here to see the latest price of the D6.

• Up to 120 mins of runtime for large homes
• LaserSmart technology intelligently navigates your home
• Up to 70% bigger brush roll than on round robots
• Side brush included
• Turbo mode for tough spots
• Moves in a logical pattern
• Ultra performance filter for capturing allergen
• Up to three custom floor plans for multi-story homes
• No-Go Lines give your pets peace and privacy
• Dust bin capacity 0.7 liters – excellent for pet hair
• Cleaning Path12 inches
• D-shape design for capturing dirt and hair along walls and in the corners
• A functional app for controlling the vacuum and scheduling cleaning
• Works with your phone, Apple watch, Amazon Echo or Google Home
• Software updates keep improving the performance
• 7.5lbs pounds
• 13.21 x 12.56 x 3.92 inches
• 1- year limited warranty (6 months for batteries)
+ Designed to pick up pet hair
+ A long runtime for larger houses
+ Charges quickly
+ Smart navigation system and logical cleaning pattern
+ Large brush roll for catching that pet hair
+ Side brush for reaching corners
+ Eco and Turbo mode
+ Quieter than most robotic vacuums
+ Better filter for capturing allergens
+ Maps out the room for a floor plan
+ You can use no-go lines to exclude areas
+ Larger dust bin than on most robotic vacuums
+ Wide cleaning path
+ The app is easy to use
+ Neato keeps updating the software
+ Support and customers service are helpful if you run into problems
- Can sometimes drop of the wifi
- Won't notify you if the dirt cup is full
Neato Robotics Botvac D6 Connected –
Full Review
Are you looking for a robotic vacuum, but you're sure which one is the right fit for you? You don't want to spend too much, but you have heard that cheap robovacs are a waste of your money?
Or, you might not be sure whether you actually need a robotic vacuum - and you can probably go without one. But maybe you shouldn't.
Never have I heard anyone go "oh, I wish I never got myself a robotic vacuum. I'll just go back to vacuuming myself".
But is D6 worth the investment? That's what we're here to find out. We tested the robot, and in this review, we will tell you ALL there is to know about the new Neato D6. Let's dive in: 
It's true that a few years ago these robotic vacuums were not advanced enough. They kept bumping into things and getting stuck.
But things have changed:
You can get a smart, high-performing robotic vacuum at a reasonable price.
Just look at the D6:
It has a laser guiding system on the top and sensors on the sides. It knows its way around your home – even in the dark.
The virtual no-go lines tell your robot to avoid things like pet beds, water bowls or toys. You can change the borders at any time using the app, which comes in handy with kids. If some construction work on the LEGO castle is going on in the corner of the kid's room, you can tell the robot to avoid that area but to clean around it.
It cleans under the furniture, which is something many people easily skip, and side brushes allow it to get even the corners of baseboards. The brush roll works for both carpets and hard floors, and with a convenient app for your phone, you can control the robot where ever you are.
And that's not all.
Neato Robotics is committed to continually improving their award-winning robotic vacuums and adding new features. They want to see robovacs evolving and adapting to each individual home to provide a personalized cleaning experience.
What they have focused on is the development of intelligent laser navigation, mapping, smart home connectivity, and superior cleaning technologies. Neato if one of the top brands that manufacture robotic vacuums and their products are known for having an excellent price-quality ratio.
The bottom line?
The features. You need to know all about them before you buy the vacuum.
So here goes:
Connected Series High-Performance Filter
The filter on the D6 has more material than filters on other D Connected series vacuums. Because it is able to catch more dust and allergens, it is an excellent choice for pet owners and people with allergies.
It captures up to 99% of tiny dust mites and allergens as small as 10 microns.
The filter could be better since this vacuum is designed for pet owners, but according to user experience, it is adequate. If you have allergies and you need a robotic vacuum with a HEPA filter, check out our list of other great robot vacuums here.
The robot takes care of vacuuming, but you still need to take care of maintenance. You need to empty the dirt bin, change the filters periodically, and make sure nothing is tangled around the brush roll.
To be honest, when I first ordered this robot, we were a bit doubtful of how well it would perform.
Although the technology is advancing quickly, robot vacuums are still a pretty new addition to the market, and they don't have the same level of cleaning power as let's say upright vacuums.
I did a little test. While I waited for Amazon Prime to deliver my new robotic vacuum, I cleaned the floors. I vacuumed them thoroughly and mopped them with a microfiber cloth. I thought the poor robot would not find anything to clean since all the surfaces had been cleaned the night before.
But I was dead wrong. It seems this robot does a better job at vacuuming than I do because I did find quite a bit of gunk in the dirt cup after the D6 carefully went around my house. Mostly dust and pet hair, which I didn't think would accumulate overnight. Also if found some smaller pieces of debris I must have missed while vacuuming.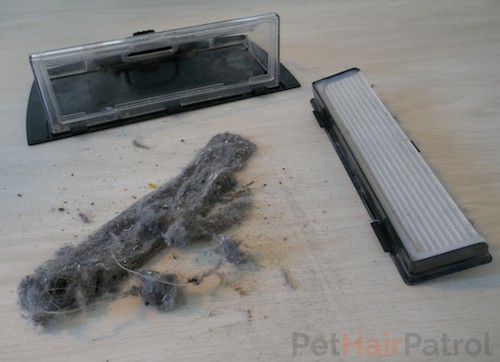 After having the vacuum for weeks, this is my experience on the performance:
D-shape and side brush
Connected Series Spiral Combo Brush
The innovative D-shape of Neato robots allows it to get close to walls and corners giving you a better cleaning result. All pet owners know that pet hair tends to accumulate in the corners, which is why it's essential the robovac can access those areas.
The D6 also has a side brush, which sweeps the edges pushing dirt to the suction path.
The connected Series Spiral Combo Brush is also a great feature for pet owners. The brush roll has bristles that lift up pet hair, dust, and dander from carpets, and blades that pick up pet hair on hard floors.
The performance is fantastic with pet hair, although if you have many pets that shed a lot, you may have to let the robot vacuum daily so that the dirt cup is not filled up while the robot is working.
For pet owners looking for a robotic vacuum, this is a great choice.
The D6 performs very well on carpeting because it has strong suction and an effective brush roll.
For low-pile carpets the results are excellent, and on high-pile carpets at least very good.
Many people think robotic vacuums are not good on carpets, and that actually used to be true. We're happy to say the technology has gotten better and good robovacs can easily clean carpets.
You have to keep in mind though, that this doesn't apply to cheap robotic vacuums or very plush carpeting. If you have a home that is straight from the seventies with extremely thick high-pile carpeting all over, you might want to reconsider.
Robotic vacuums do a good job at keeping the carpets clean on an everyday basis, but if you don't have a sturdier vacuum you can use every few months for a thorough cleanup, you might want to have the carpets cleaned professionally once in a while.
The blades on the spiral brush roll engage hard floor surfaces firmly and lift up even the smaller particles for the suction to pull in. The brush roll also has bristles, which can handle all the crevices, and the side sweeper to get close to those corners and baseboards.
A functional brush roll combined with a strong suction makes sure all hard floor materials like parquette, vinyl, hardwood, tile or laminate are thoroughly cleaned – without scratching.
Differences between Neato D3, D4, D5, D6 and D7
You might be trying to figure out the differences between the products in the new 2018-2019 Neato Connected lineup. This video gives you a good idea:
We also gathered the differences in a table: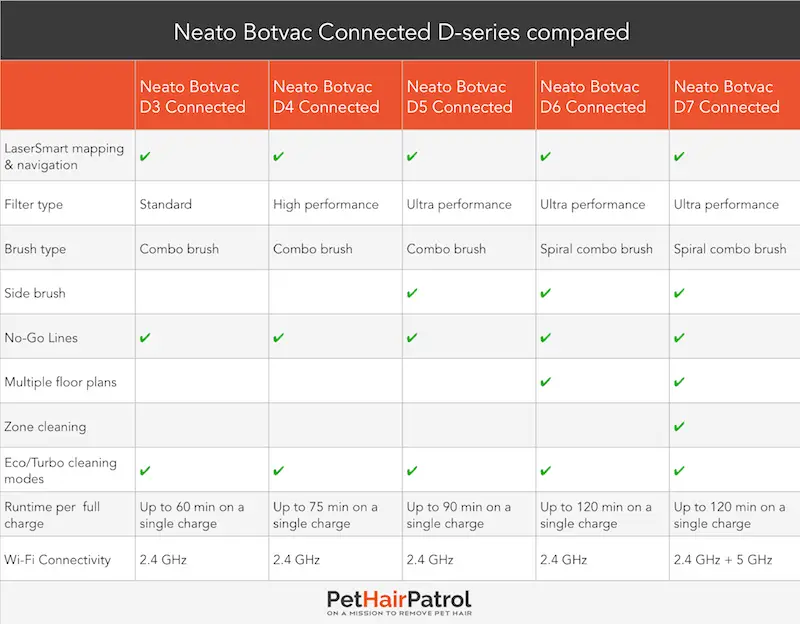 With D7 you'd get a slightly better app, but is it worth the extra investment? Then again, D6 is much more suitable for pet households than D5.
Pros & Cons of the Neato D6
+ Designed with pet owners in mind
+ Up to 120 minutes of runtime
+ Charges quickly in 150 minutes
+ Quick boost charging to finish the cleaning quicker
+  Smart navigation system and logical cleaning pattern
+ Large brush roll for catching that pet hair
+ Side sweeper for reaching corners
+ Quiet Eco mode
+ Suction boost on Turbo mode
+ Quieter than most robotic vacuums
+ Better filter for capturing allergens
+ Maps the house to make a floor plan
+ You can use No-Go Lines on the app to exclude areas
+ Larger dust bin than on most robotic vacuum
+ Wide cleaning path
+ The app is easy to use and intuitive
+ Neato keeps updating the software
+ Support and customers service are helpful if you run into problems
- The vacuum can sometimes lose the wifi connection
- There is no notification is the dirt cup fills up while vacuuming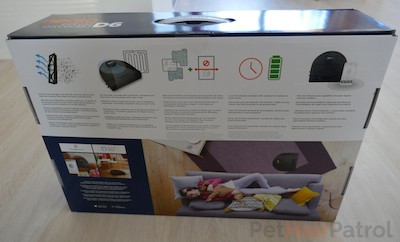 Neato Botvac D6 Connected robot vacuum
Charge Base
Power Cord
Spiral Combo Brush
Spide Brush
Ultra Performance Filter
Brush and Filter Cleaning Tool
Boundary Marker
Yes, the D6 vacuum has no problems moving from one surface to another as long as the difference is under an inch.
The vacuums won't have any issues with rugs and carpets as long as the threads are less than 0.6 inches.
First, you need to let your D6 create a custom floor plan of your house.
Use the app to go to My Floor Plan and send your robot out to figure out its surroundings.
A map will appear, and you can draw No-Go Lines anywhere you want.
For your vacuum to follow its new instructions, you must schedule a new cleaning or start the vacuum from the app.
Although your robotic vacuum does most of the work for you, taking care of your robot will make it last longer and keep up the cleaning results.
Use a Q-tip to clean drop sensors once a month
Detach the brush roll and clean it using the hair cutting tool
Change filters every three months
You may also want to replace the battery and brush roll at some point to keep up the performance of the vacuum.
The D6 can create and store up to three floors plans in its internal memory so you can use it even if you have two or three stories in your home.
You can also set No-Go lines for each floor plan individually.
The Botvac D6 will automatically recharge and resume cleaning.
Also, if it was using one of the saved floor plans to clean, it will calculate how much area is left to clean and how much battery it needs to finish the job, and then charge only that. This is called the Quick Boost feature, and it enables the robot to finish the job quicker.
Yes, you can control your vacuum using Amazon Alexa and Google Assistant. However, you can only use the No-Go Lines through the Neato App on your phone.
To do an excellent job at cleaning your home the robot needs to get as close to walls, furniture and other objects as it can.
At the same time, it should avoid bumping into delicate objects. The extra care navigation function will help your robot move carefully around delicate objects.
Yes, all family members can control the vacuum from their own phone, as long as they sign into the same account on the Neato App.
You can use the magnetic strip if you want your vacuum to avoid certain areas when it's creating the floor plan.
The strip forms a physical barrier which the robot will not cross. Once the floor plan is created, you don't need the strips, and you can use the Neato App to create No-Go Lines anywhere you want.