Leather couches are a beautiful and stylish choice for any home. They look good and age elegantly with time. And, of course, they are highly durable and last for years.
But since leather couches are usually also more expensive than ones made out of fabric, you may wonder if it's a good investment in a dog home. After all, there is no point in buying something your furry friend's claws and teeth may destroy in a few minutes.
And in a pet home, it's not just the chewing and other havoc pet cause; there are also urine accidents and other messes that could ruin your furniture.
So, when it comes to leather furniture with dogs, is it worth it? Should you get one of those fantastically luxurious leather couches that would fit your living room tastefully, or is it something that's just a waste of your money?
Let's find out.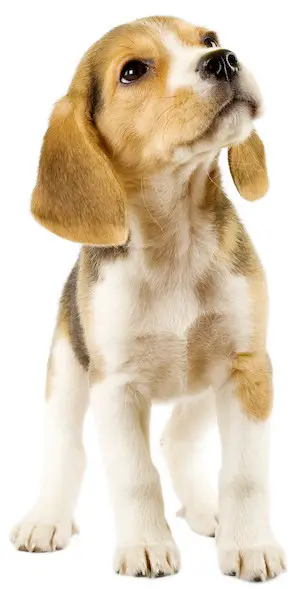 Add a header to begin generating the table of contents
PetHairPatrol selects and reviews all products independently; however, we may earn a small commission on purchases made through our links. Learn more.
Leather or Fabric Sofa with Dogs?
Because it's tough and easy to care for, a 100% genuine leather couch is the best option for pet homes. Pet hair will just slide right off, most messes are easy to wipe off, and the surface is sturdy to resist those scratch marks from claws.
Fabric, however, is just not as durable. It's not as thick, and often nails can get caught in the surface, pulling up the threads if the material is loosely woven. Urine accidents and spills can also be absorbed more easily. And claws or teeth can do a lot of damage on thin fabric.
Pet hair will just slide right off, most messes are easy to wipe off, and the surface is sturdy to resist those scratch marks from claws.
Fabric couches also often attract pet hair, and odors and stains are harder to clean. However, they are cheaper, and you can find couches that have washable covers.
All in all, we would recommend a high-quality genuine leather couch for pet homes just because of its easy maintenance and durability.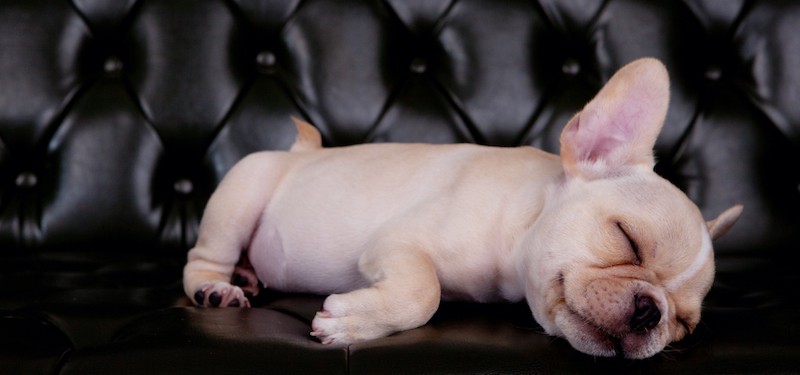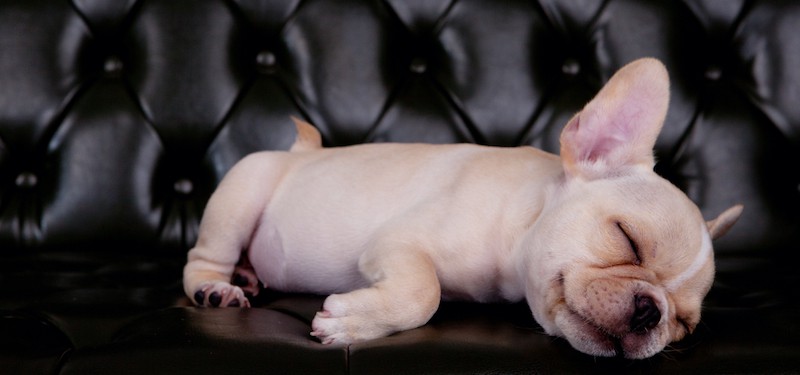 However, if you want a fabric sofa, the best materials for homes with pets are microfiber or microsuede. It is a synthetic material, and it's ideal for pet homes because it is durable, it doesn't get scratched or ripped easily, and it's easy to keep clean.
Microfiber is cheaper than leather and available in various colors and patterns. It's also very pet-friendly because stains and pet hair are easy to clean off. However, fabrics do absorb pet messes like urine, causing the couch to stain and smell. The material is also not as durable as leather and will not last as long in use.
How to Protect Leather Couch from Dog?
1. Use leather sealants
You can use leather sealants to provide a protective finish to your couch. A spray like this will form a layer that keeps your couch looking and feeling good while protecting it from stains and liquids (like drool and urine).
Our favorite is the Bickmore Gard-More Leather Protector, which does an excellent job at keeping your leather couch in perfect condition. Just remember that the chemicals can be harmful to both humans and dogs when breathed, so allow the couch to dry completely before letting your pup hop on it.
2. Minimize scraches
Since leather is a material that may scratch easily, one thing you can do to protect the couch from scratches is to have your dog's claws trimmed regularly. Also, choosing leather with the same color in the front and back will keep possible scratches less visible.
3. Keep your dog busy
You should also have chews, toys, and other fun stuff to keep your dog busy and to prevent boredom which could end up badly for your couch.
4. Get your dog their own bed
Also, get your dog their own comfortable bed they love to nap in and train them to use it instead of the couch.
5. Use pet-proof couch covers
Another solution is to get a pet-proof couch cover – especially for those puppy months when the chances of destruction and havoc are at their peak. A couch cover can protect the leather surface from urine stains and scratching when you're still training your pup but don't want your furniture destroyed.
5. Use cleaners designed to leather surfaces
One more thing to remember is that you can ruin expensive leather couches by using the wrong products to clean them. Leather and water don't go well together, and neither do many cleaners formulated for fabrics.
Your leather furniture needs regular maintenance to keep it looking smart for many years to come, so you'll need special products like the Chemical Guys Leather Cleaner and Leather Conditioner Kit, which has been specially designed to clean and condition leather surfaces.