Last Updated on January 3rd, 2020
* PetHairPatrol strives to be a valuable resource for pet owners. We select and review all products independently; however, we may earn affiliate commissions when you buy through links on our site.
Golden Retrievers are one of the most popular dogs around the world. Since they are known for their lustrous and gorgeous coat, it is important for you to keep their coat and skin in a healthy condition.
If you're a new owner to a golden retriever, you can achieve that healthy and shiny coat by establishing a proper grooming routine using the right shampoos for their specific fur type.
While keeping your pet healthy and beautiful, you will also be helping yourself keep your home clean. Proper bathing and brushing of your Golden will reduce shedding and minimize loose pet hair that needs to be vacuumed up.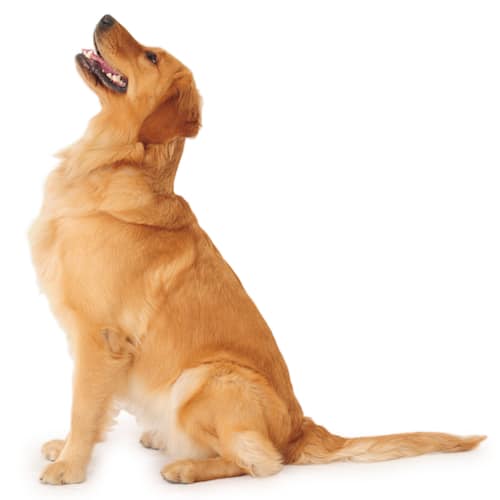 This article will give you information about shampoos that will help you in grooming your Golden Retriever and ensuring that their coat is always healthy and glossy. We will also help you in choosing the right shampoo for your pet.
 [toc]
Best Shampoo for Golden Retrievers -

TOP 3 in 2020
Before we get into detail, here are some popular shampoos owners of Goldens and vets recommend.
 [1.] Pro Pet Works All Natural Oatmeal Dog Shampoo + Conditioner
Why choose this product for your pet:
This highly popular bestselling dog shampoo is perfect for your Golden because it contains only natural, organic ingredients that keep your pet's fur clean and healthy.
It is recommended by vets and formulated for dry, sensitive skin and pets with allergies.
The shampoo is PH balanced to protect your dog's skin. It won't remove essential natural skin oils or irritate, and it can help you pet with flakey and dry skin that itches.
And because it has the conditioner included, this product detangles your dog's hair resulting in easy brushing after the bath. The smell is cherry-like and pleasant, although some users find it a bit strong. The shampoo will reduce that wet pet smell and keep your dog smelling fresh for days.
This product is an excellent choice if you are looking for all-natural dog shampoo for sensitive skin.
Pros
+ Organic aloe vera and almond oils for dry, itchy and sensitive skin
+ Suitable for sensitive skin and dogs with allergies
+ Vet recommended
+ PH balanced 
+ Hypoallergenic
+ Made from all-natural ingredients and soap-free
+ Contains vitamins A, D and E
+ No alcohol, sulfates, added colors, harsh chemicals, or fragrances.
+ Doesn't irritate your pet's eyes or nose
+ Keeps your dog smelling fresh
+ 100% biodegradable and cruelty-free
Cons
- Some users find the smell strong
- Doesn't lather up as well as some other products 
 [2.] Earthbath All Natural Pet Shampoo
Why choose this product for your pet:
This highly rated dog shampoo from Earthbath will keep your dog clean while rehydrating their sensitive skin.
It is all-natural, soap-free, and PH balanced to protect the natural oils on your dog's coat.
This shampoo is formulated especially for dry and itchy skin, and it will keep your dog's fur clean and soft while offering that all-important moisture.
The shampoo contains oatmeal and aloe vera, which help with skin irritation and provide moisturization for dry, sensitive skin. The mild vanilla and almond scent is pleasant and will keep your dog smelling good.
This dog shampoo is safe and gentle, and it will keep your pet clean and fresh without causing irritation.
Pros
+ Made from all-natural ingredients and soap-free
+ Contains oatmeal and aloe vera for dry and itchy skin
+ PH balanced 
+ Contains vitamins A, B, D, and E
+ No DEA, parabens, phosphates, synthetic dyes, or perfumes
+ Lovely, mild scent
+ Does not wash off flea applications
+ 100% biodegradable and cruelty-free
Cons
- Some users find the scent too mild
- The gentle product may not fully clean a particularly grimy dog
 [2.] FURminator deShedding Ultra Premium Dog Shampoo
Why choose this product for your pet:
This de-shedding dog shampoo is considered amazing with pet owners that want to keep shedding under control. It will keep your pet's coat clean and healthy.
Omega 3 and 6 fatty acids, vitamins, and plant extracts are added to form a non-irritating, non-drying shampoo that effectively cleans your dog while providing that important moisture for a soft, glossy coat.
The aloe vera and chamomile help calm down irritated skin while sunflower and safflower seed oils protect the skin from drying.
Bathing is a part of the FURminator Ultimate Hair Reduction Regiment, which uses grooming your pet as an effective way to reduce pet hair in your home. Brushing, de-shedding, and bathing together promote healthy skin and coat while helping you keep your home pet hair-free.
The smell of the product is pleasant and not too strong. It also lathers up well for easy application and thorough washing of your dog's coat.
Pros
+ Promotes healthy skin and coat
+ Helps control shedding
+ Contains Omega 3 and 6 fatty acids
+ Enriched with calendula and papaya leaf extract
+ Aloe vera and chamomile to prevent irritation
+ Sunflower and safflower seed oil for softness and shine
+ Vet and groomer recommended
+ Lathers up well
+ Mild, pleasant scent
+ No parabens or chemical dyes
Cons
- May cause irritation for dogs with particularly sensitive skin
Buying Guide -
Things to Consider When Buying a Shampoo for your Golden Retriever
Here are some tips on choosing the best shampoo for your Golden.
Effects of Shampoo on a Golden Retriever Fur
The following are some of the effects shampoos can have on your pet's coat:
General effects: Shampoos have the same effect on your pet's coat as it has on your hair. Shampoo removes dirt and dander from your pet, making them smell nice, fresh, and clean. Shampoos also make your pet's fur fuller, shinier, and fluffier. Bluing or whitening shampoos can be used to remove any stains in the coat, and other types of shampoos can enhance and pop the natural color.
Effects of human shampoo: Just because you have a perfect shampoo for your hair doesn't mean that you can use it on your Golden Retriever. It is not wise nor recommended to save money by using human shampoo on your pet—especially since you may end up paying even more vet bills. Human shampoo causes your pet's fur to be dull, dry, flaky, and itchy.
Effects of ingredients: Shampoos that contain natural oils help with retaining the shine. Those which contain oatmeal can help with skin irritation. Even if the shampoo does not contain chemicals, some natural ingredients such as tea tree oil and eucalyptus oil cause irritation and dryness to the skin—so watch out for all ingredients.
Effects of medicated shampoos: Most medicated shampoos are designed to solve a medical problem. Some are made for preventing fleas and ticks, while others formulated for dogs with sensitive and allergic skin. However, this type of shampoo—as well as many others—can be toxic if your dog ingests them.
Too much shampoo: Over shampooing your Golden Retriever can cause even more tangles than before. Your pet may also lose more natural oils, making the coat dull and dry.
Different Types of Shampoos
Before you can go shopping for your pet's shampoo, it is essential to know the different types available, so that you can buy the best for your pet friend.
Always purchase the right shampoo for the needs and problems your pet may have. Do not use human shampoo on your Golden Retriever, since it doesn't have the right PH balance, and it will destroy the natural protection your dog's skin has.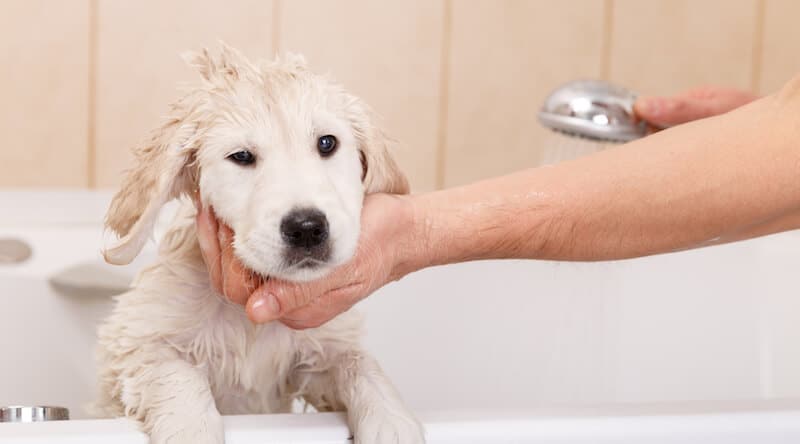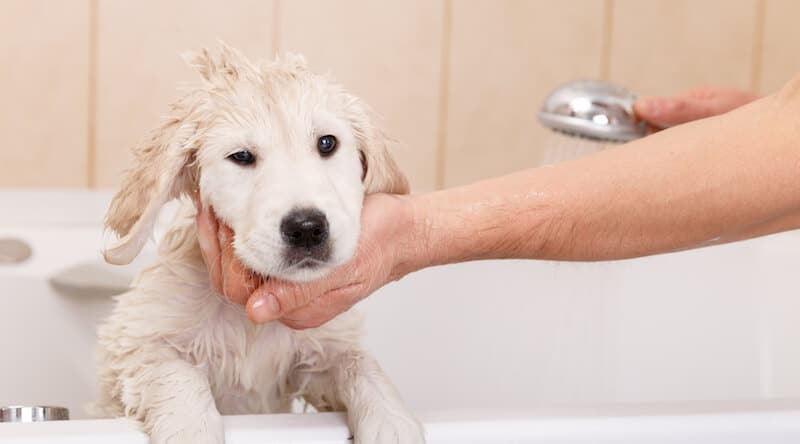 Here are the different types of dog shampoos:
Puppy shampoo: Golden Retriever puppies have sensitive skin. Therefore, you need to choose a shampoo with a tearless formula that is made of natural ingredients. The shampoo should also be pH-balanced so that it won't be harsh on the puppy's skin.
General-purpose: You should always have a general-purpose shampoo in your pet's grooming kit. It should be hypoallergenic or natural, and it should also have moisturizing agents for your pet's coat.
Flea and tick: This type of shampoo is designed to kill the ticks and fleas your Golden Retriever may have on their coat. When using this shampoo, you will need to work down to your pet's skin, leaving it there for 10 minutes to work its magic and then rinse it off.
Medicated shampoo: These shampoos have antibacterial, anti-fungal, or antiseptic properties designed to help with any skin infections your Golden Retriever may have. Seek your vet's advice to know the correct one to buy for your pet's medical condition.
2-in-1: If you want to keep your pet's skin and coat moisturized, you can buy a 2-in-1 shampoo and conditioner. This type of shampoo will help you detangle your pet's fur after the bath.
Ingredients You May Want to Avoid
Using the wrong type of shampoo on your dog's skin can cause skin problems. Dog shampoos should have specific ingredients to enable your pet to have a healthy skin.
If a shampoo has the following ingredients, then avoid using it on your Golden Retriever:
1. Fragrance: If your dog shampoo has scents from a natural source, it will indicate so in the packaging. However, if it has fragrance as one of the ingredients, you shouldn't use it on your dog since it may be unnatural and can cause skin problems.
2. Methylchloroisothiazolinone: If you cannot pronounce the ingredient, probably do not buy the shampoo. This ingredient can be used as a preservative or as an anti-fungal, but it is carcinogenic and can cause organ poisoning.
3. Artificial colors: The bright blue color in the dog shampoo that you may like can contain dyes, which are unnatural and harmful to your pet's coat.
4. Cocamide DEA: This ingredient is derived from coconut, and in as much as coconut has fantastic properties for you and your pet, Cocamide DEA has been altered in a way that it is a 'cancer-causing' agent. It is known to disrupt hormones and the thyroid and is also toxic to the organs.
5. Mineral oil: This is a byproduct of gasoline, which is distilled and manufactured from crude oil. This ingredient coats the skin and forms an impenetrable layer, which prevents your pet's skin from eliminating toxins and oils naturally. Basically, it blocks everything inside.
Health Problems That A Wrong Type of Shampoo Could Cause
Using the wrong type of shampoo can be a health hazard to your Golden Retriever. The following are some of the health problems caused by wrong shampoos:
Skin irritation and allergic reactions: Using the wrong shampoo—such as a human shampoo on your Golden Retriever—can lead to itchiness, irritation, and reactions on their skin.
Some dog shampoos also cause allergic reactions and affect the immune system of your pet. Once you notice head shaking, blisters, skin rashes, or ulcers, take them to the vet for a check-up and discontinue the use of the shampoo, which may be causing the problems.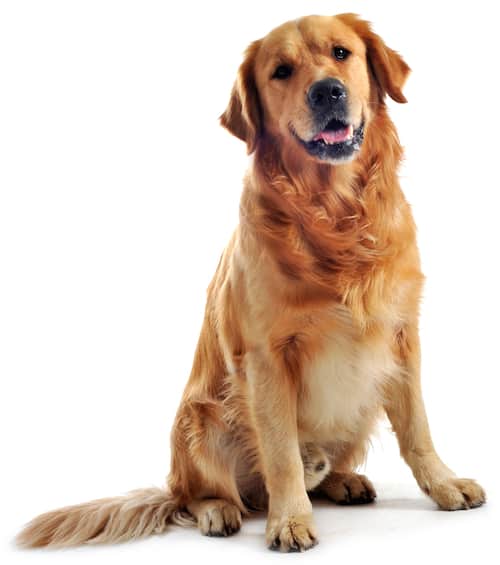 Cancer: Some shampoos have carcinogenic ingredients, and if routinely used on your pet's coat, they can lead to cancer. Always be aware of the ingredients that are in your favorite dog shampoo and choose high-quality products that are recommended by vets.
Organ failure: Some ingredients seen in dog shampoos are toxic to the organs and can cause organ failure—which is fatal. High-quality brand names only use tested ingredients, but some cheap products may not always be as safe as you think. Be careful about the type of shampoo you use on your Golden Retriever.
Signs You are Using a Good Shampoo
When you are using the best shampoo for your Golden Retriever during bath time, it is easy to tell because you will notice the following signs:
A shiny coat
A fuller and fluffier coat
Healthy skin with no flaking or itchiness
The specific Golden Retriever color popping
That your pet is smelling nice and sweet.
A brighter coat with no stains.
Bathing Guide -
How to bathe your Golden Retriever
 How often should you bathe your Golden Retriever?
With time, Golden Retrievers develop a strong, doggy odor, which might not be so pleasant in your home.
It is important to bathe them in order to control the bacteria that cause the odor, keeping them smelling sweet.
Since Golden Retrievers have longer hair, bathing them will also reduce matting and remove dead skin cells. Bathing helps control fleas and ticks on your pet's coat, as well, especially if they have a chronic skin disease.
The frequency of bathing your Golden Retriever will depend on a number of factors. If your pet spends more time playing outside on the dirt, they will need a bath much more often. If they are for shows, then bathing them before any competition is essential. 
If they have a skin disease, you probably need to bathe them regularly, depending on what your vet has advised you to do.
Depending on the individual dog, bathing them at least once every month is recommended. Remember that bathing your dog more often will strip the natural oils from their skin and coat, making it itchy and dry, which can lead to dandruff.