Last Updated on April 6th,
Are you tired of the battle against pet hair? You want a clean home, but you are sick of the neverending vacuuming it involves?
A robot vacuum can significantly cut down your need to vacuum and help you keep a cleaner home. It will give you more free time and reduce the stress involved with household chores (and who wouldn't love that!).
We did some extensive research and reviewed the most popular robotic vacuums to find the ones with great performance and best features to benefit pet owners. Out of all our contestants, these were the 7 best vacuums for pet hair right now:
Add a header to begin generating the table of contents
Best Robotic Vacuums for Cleaning Pet & Dog Hair - A Detailed Comparison Chart
* star rating by PetHairPatrol
7 Best Robot Vacuums for Pets
* PetHairPatrol strives to be a valuable resource for pet owners. We select and review all products independently; however, we may earn affiliate commissions when you buy through links on our site.
Shark IQ Robot - Best Value for Your Money
A high-value robotic vacuum with cutting edge features like the self-emptying base but at a very reasonable price. This vacuum will offer excellent value for your money – and fantastic cleaning results. With the Shark IQ, you will get the optimal hands-free cleaning experience for up to 30 days at a time. Check the latest price.
Pros
+ Incredibly powerful suction
+ High ratings for performance, Excellent price-value ratio
+ 60-minute runtime with recharge & resume
+ Up to 30 days hands-free cleaning
+ Smart navigation and mapping
+ Wi-Fi connectivity, Easy-to-use application
+ Voice control with Amazon Alexa/Google assistant
+ Self-emptying base
+ Self-cleaning brush roll, Two side-brushes
+ Keep-out zones coming up
Cons
- No HEPA-filter
The new Shark IQ Robot vacuum changes the whole robotic vacuum market with its amazing features combined with a very reasonable price. Shark is the second brand to roll out a self-emptying base that almost fully automates vacuuming at your home. This feature is highly useful, and it actually takes you a huge leap towards having an entirely automated smart cleaning system. 
Roomba robotic vacuums have had this feature for a while now, but because the cost has been significantly higher, it has not been within reach of many consumers. This is where Shark IQ has the advantage – it offers the same system with a considerably lower cost.
It sounds like a great deal, right? Here is everything you need to know about this product before deciding to purchase.
Performance
The IQ robotic vacuum has fantastic suction power and a unique brush roll system, which together provide excellent performance. The suction power is actually one of the strongest we have seen in robotic vacuums, and the brush roll has an innovative system that keeps pet hair from being tangled around it.
We really love the fact that the IQ can pick up even larger debris like pet food kibble while it also does an excellent job with heavier dirt such as sand. The strong suction and brush roll with blades and bristles also make sure the vacuum is equipped with the cleaning power needed to efficiently clean carpets.
All in all, the Shark IQ offers incredible cleaning results at a reasonable price level.
The smart navigation ensures the vacuum doesn't miss a spot while cleaning. Because the robot can map your home, it is capable of calculating the ideal route for cleaning. The cleaning pattern is not random, and because the robot cleans in straight lines, it will vacuum every inch of your home.
A feature that pet owners will love is the self-cleaning brush roll, which doesn't allow pet hair to wrap around it. Shark has designed an anti-tangle comb, which engages the brush roll and cleans it while the brush spins. For pet homes, this is a must-have, since not many vacuums can actually achieve a functional anti-wrap system.
The IQ also comes with two side sweepers that keep edges and corners clean. And because they spin at a relatively low speed, they won't scatter any debris around.
Controlling the Vacuum
The Shark IQ has Wi-Fi connectivity, which means you can control it from anywhere using your smartphone. It also allows you to use voice control on Amazon Alexa or Google Assistant for starting cleaning cycles.
The application on your phone is easy to use. It allows you to control the vacuums and schedule cleaning cycles, among many other things. And with the self-emptying bin, you can get the most out having a robot vacuum with the scheduling feature. You won't have to worry about cleaning the dirt cup after every one or two cycles, and by combining the scheduling with the automated emptying feature, you won't have to lift a finger for up to 30 days at a time!
The application also allows you to select which rooms you want to be cleaned, making it easy to keep high-traffic areas such as the hallway or kitchen clean.
The Shark IQ comes with magnetic strips you can use to set boundaries around areas such as your pet's food and water or in corners where you have a lot of cords and cables. With these strips, you can enjoy a hands-free cleaning experience without having to worry about the robot spilling the water or getting tangled in the cords.
In addition, there will be an update for this vacuum soon, which allows you to draw keep-out zones on the app. This will make it even easier for you to control the areas you want your robotic vacuum to avoid.
Battery Life
Shark IQ has a battery life of 60 minutes. This is relatively low, but with the resume&recharge feature, it is not something you need to worry about. When the battery is running low, the robot will automatically find its way to the dock for juicing up. Once the battery is full again, it will continue cleaning where it left off.
Navigation
This new smart mapping robot from Shark is a huge leap forward in advanced navigation. Unlike the previous less advanced Shark robots, the new IQ has what is called smart mapping navigation. The robot will create a map of its surroundings, and since it knows exactly where it is, it can calculate the optimal route and make sure it won't miss a single spot.
The smart navigation will also allow the robot the clean only specific rooms or areas. This is an excellent feature for homes with pets and kids since you can order the robot to clean high-traffic areas more often or give your family members privacy when needed.
There is a bit of a learning curve as the vacuum takes a few cycles before it has mapped the entire home and is capable of entirely using the information it has to move around. However, after the map has been created, the vacuum does find its way about perfectly.
Filtration
The most exciting feature of this robot is the self-emptying charging dock. Each time the vacuum returns to the dock either because it has finished the cleanup, the battery is running low, or the dustbin is full, the automated suction empties the dirt cup. The suction is powerful enough to thoroughly clean out the bin, including larger debris and hair. Because the system is fully automated - and also very functional, you can actually leave the vacuum to do its job for up to a month at a time.
By using the scheduling feature on the app, you can get a true hands-free cleaning experience with the Shark IQ. By combining smart navigation, self-emptying dock, and a tangle-free brush roll, all you have have to do is some basic maintenance once a month.
All that is required from you is to empty the large dirt container – which happens with a push of a button – and to wipe the sensors. It's simple as that. You can sit back and relax while vacuuming is taken care of by this amazing robot!
The robot itself has a high-efficiency pleated filter, which makes sure the exhaust air is thoroughly cleaned before it is pushed out, and no dust, dander, or other allergens will contaminate the indoor air. The automated dock also has three filters to make sure dust and dirt won't be released back into the air when the dirt cup is automatically emptied.
Summed up



In terms of value, the Shark IQ robot vacuum is an excellent choice. The price point is very reasonable considering the cleaning performance and features, and you could say that this vacuum has an outstanding price-quality ratio when compared to other products in this category.
Right now, Roomba i7+ and s9+ are the only other vacuums on the market that have a self-emptying dock. However, they are valued much higher, which makes the Shark IQ a very attractive choice.
The IQ vacuum also has all of the cutting-edge features you would expect from an advanced robotic vacuum on the current market, which means it won't get outdated anytime soon. You will be enjoying the easy life provided by the latest advancements in the field for a long time.
Roomba i7 - Highly advanced robot with everything you need
Roomba i7 (and i7+) are highly advanced robotic vacuums with leading-edge features and design. If you're looking for a top-class product with all the bells and whistles, then this is the one. It has everything a pet owner would want from their robovac - and more. Click here to see the latest prices of the i7.
* The difference between the two products is that the i7+ comes with the new self-cleaning charging base included, while the i7 is only compatible and you can buy the Advanced Home Base separately if you wish to do so.
Pros
+ Automatic Dirt Disposal (in i7+)
+ 10x suction compared to 600 series robots
+ Wifi-connectivity, Easy-to-use application
+ Imprint Smart Navigation
+ Customized cleaning preferences, Clean or schedule by room
+ Charge and Resume feature
+ 1 Dual Mode Virtual Wall Barrier, Virtual Keep-Out Zones
+ Easy to use and operate
+ Advanced Dual Rubberized Brush Roll, Edge-sweeping brush
+ Excellent cleaning performance
+ Charges quickly
+ AeroForce High-Efficiency filter
+ Large 0.5-liter dirt cup
Cons
- The round shape is not ideal for thoroughly cleaning corners
Performance
The 3-stage cleaning system incorporates an edge sweeper, rubberized dual brush roll and powerful suction to offer fantastic cleaning results on all surfaces.
The Roomba i7 has 10x the suction compared to vacuums in the 600 series. The powerful suction makes it an excellent vacuum for removing pet hair, and it also gives it the ability to handle high-pile carpets...
To enhance the cleaning performance, Roomba has equipped this vacuum with an Advanced Dual Rubberized Brush Roll. This double brush roll is rubberized to make it actively attract pet hair. It is also tangle-free because the rolls revolve in opposite directions, not letting long hair get tangled.
Many robot vacuums with a weak suction and basic brush rolls can only clean low-pile carpets or hard floor surfaces, but the i7 does an awesome job on challenging carpets and rugs as well.
Controlling the vacuum
You can control the vacuum in several ways.
The most basic way to tell your Roomba to start cleaning is to press the physical buttons on top of the device. However, these buttons only have the essential commands: start, stop, and return to base. If you have Google Assistant or Amazon Alexa, you can also use voice commands for the same basic functions.
If you want to take controlling your vacuum to the next level, you can use the iRobot HOME app on your smartphone. Your Roomba will use the Wi-Fi connection to connect with you no matter where you are. With the app, you can start and stop cleaning cycles from anywhere. You can also schedule cleaning sessions and view the cleaning history.
What makes this vacuum different from other Roombas (and many other robotic vacuums as well) is that the app allows you to customize your cleaning preferences. Because the robot maps your home and remembers the floor plan, you can also set it to clean only certain areas or rooms of your home.
With this feature, you can schedule the robot to perform a more thorough daily cleanup for high-traffic areas like the kitchen, hallway, and living area. By doing this daily, you can easily keep these critical areas free of pet hair, dirt, and other debris.
The Roomba vacuums also come with two other ways of restricting certain areas from the robot. The package includes a device called the Dual Mode Virtual Wall Barrier, which will create an invisible line or halo which the robot will stay away from. This feature works great for protecting areas like your pet's water and food or pet bed.
The other more advanced option is to create Keep-Out Zones using the Smart Map on the application. With the new update, owners of advanced Roomba vacuums (i7 and s9) are finally able to use these handy virtual no-go zones to guide their robot.
With the Virtual Wall Barrier and Keep-Out Zones, the Roomba i7 offers a lot of flexibility and allows customizing according to your needs. These are features that many pet owners consider to be useful because pets might be uncomfortable around the buzzing robot vacuum, and they need their peace and quiet.
Battery life
The runtime of the Roomba i7 is 75 minutes, but it has the Recharge & Resume feature which enables it to automatically find its way back to Home Base when it runs out of battery and to continue cleaning once it has juiced up.
Because it maps your home and tracks its progress, it knows precisely where it needs to continue with the cleaning cycle. This feature makes the i7 an excellent choice for large houses because the robot doesn't need to finish in one go and it can continue cleaning automatically without you having to worry about whether it finishes the job or not.
Navigation
The Roomba i7 uses the iAdapt 3.0 navigation, which is the most advanced navigation system from Roomba yet. It has the basic Roomba navigation features like Cliff Detect sensors and Advanced Dirt Detection, but it also has the new Imprint Smart Mapping function.
The Imprint Smart Mapping feature enables the robot to map its surroundings and to create a floor plan of your home. You can also name the rooms and use the app to schedule a cleaning of only specified rooms that are in need of a cleanup.
Filtration
The Roomba i7 uses an Advanced AeroForce Filter which is up to HEPA standards and will filter out 99% of dust, dust mites, and allergens as small as 10 microns. This type of filter is very beneficial in a pet home because it will filter out all that pet dander and those allergens that trigger your allergies and sensitivities.
The newly re-designed filter will also allow for a sizeable 0.5-liter dirt cup which can easily hold all the pet hair the vacuum picks up. Because of the large dirt cup, the i7 is suitable for large homes and households with several pets. Even shedding season won't clog this vacuum.
But this is where it gets interesting:
The i7 and i7+ have a whole new feature never seen before on robotic vacuums – but has been dreamt of by many users. The innovation is the self-emptying Advanced Base which allows the robot to empty its dirt bin for up to 30 times before you have to change the disposable bag in the charging base.
With the incredibly advanced mapping, self-emptying function and the option to schedule and customize cleaning cycles, you can have the Roomba clean independently for up to a month at a time without having to give it one thought.
Having the vacuum work independently for long periods at a time really gives you the ultimate hands-off cleaning experience.
The difference between i7 and i7+ is that the i7+ comes with the Advanced Base included in the package while i7 is only compatible with this feature and you can buy the self-emptying base separately later on.
Summed up



The i7 and i7+ vacuums from Roomba are highly advanced and equipped with cutting edge design and engineering. They offer not only fantastic cleaning results but also an easy hands-free cleaning experience with very customizable cleaning cycles.
All these fantastic features do come at a fairly high price but considering what you are paying for it is pretty reasonable. If you want all these attractive added-value features, you will naturally have to invest some cash.
With all these superior details including an extremely capable 3-stage cleaning system, excellent filtration, large dirt cup, virtual Keep-Out Zones and cleaning preferences you can adjust to meet your needs, the i7 has everything to make it a perfect robotic vacuum for pet homes.
Roborock S5 Robot Vacuum and Mop
An advanced robot that gives pricier robot vacuums a run for their money with its versatile features and advanced navigation. A fantastic choice if you want a midrange robot with advanced navigation and cleaning options. Check the latest prices here.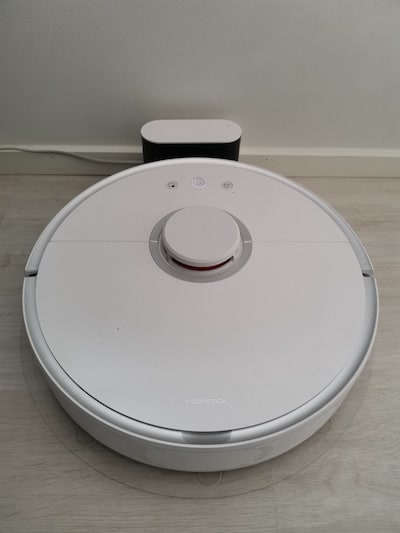 Pros
+ 150-minute runtime
+ Excellent cleaning performance
+ Automatically recharges and resumes cleaning
+ No-go zones and barriers are drawn on the app
+ Several power modes
+ Automatic carpet mode
+ Includes a mopping function as well
+ Scheduling and zoned cleaning
+ Advanced navigation and mapping
+ An easy-to-use application to control the vacuum
+ Side sweeper to clean edges
+ Cleans under appliances and furniture
+ Washable high-efficiency filter
Cons
- The filtration system is not sealed
- Can not mop while vacuuming
This Roborock S5 robotic vacuum is an excellent choice for first-time and more experienced users of robotic vacuums. It might not be the top dog in this category, but although it can be categorized as a midrange product, the features definitely add to up a top product.
With this vacuum, the price-quality ratio is excellent, and you're certainly getting a highly functional appliance for your investment.
But let's dig in a little deeper. What makes this vacuum such a great choice? What are the features that result in top user ratings, and is there something that could be improved? Let's find out.
The Roborock S5 is actually one of the personal favorites of the PetHairPatrol team. We speak from everyday experiences with this vacuum, and can highly recommend it for households with shedding pets, kids, and other mess makers.  
Performance
First of all, the S5 offers excellent performance and cleaning results. The 2000 Pa suction may not be the strongest on the market, but when combined with a functional brush roll, the vacuum is able to pick up dirt from both floors and carpets efficiently.
The performance is excellent on all types of surfaces, although with plush area rugs, you should keep in mind that they need regular cleaning a few times a week if you're only using a robotic vacuum.
The vacuum has four suction modes. You can choose between
carpet mode,
quiet mode,
turbo mode, and
MAX mode. 
The quiet mode is suitable for light cleaning or hard floors. This mode is ideal if there is really no debris on the floor, but you want the vacuum to pick up dust and small particles of dirt.
The turbo mode and MAX mode are for more meticulous cleaning in high-traffic areas or if you haven't run a cleaning cycle in a while. These modes bring up the power to provide better results in challenging areas.
In areas that are carpeted or have area rugs, the carpet mode is the best choice. However, the robot is smart enough to increase the suction automatically when it moves from a bare floor to a carpeted area. This feature allows the robot to save battery life while not on carpets and to give the suction and brush roll a boost when it encounters a carpeted area. Adjusting the power with the surface gives you the best results and performance.
The robot also has a side sweeper to ensure corners and edges are carefully cleaned too. It goes as close as 1cm from the wall to allow the side sweeper to clean the floor right up to the edge. Also, the side brush adjusts its speed so that it spins faster when cleaning an edge and slower when in open areas to prevent scattering dirt.
In addition to vacuuming, this robot also mops the floors. Just attach the clip-on water tank and switch to mopping mode. The water container will steadily drip water on the microfiber cloth on the bottom of the tank and carefully mop the floor.
Another great feature is the fact that the main brush, side sweeper, and wheels are designed to prevent hair from getting tangled around them – an important feature in homes with shedding pets!
Controlling The Vacuum
The robot does have the key buttons located on the top, but the best way to control the vacuum is to use your smartphone and the Mi Home application.
The app is a quick and easy way to start and schedule cleaning cycles, or to control the vacuum. It allows you to add no-go zones or barriers the robot won't cross, to view the cleaning history, and to keep up with the maintenance of the robot. The app will notify you when it's time to empty the dust bin or if the sensors need to be cleaned.
One of the best things about this robotic vacuum is this easy-to-use application. The robot scans its surroundings and quickly forms a map. You can then use this map to create no-go zones or draw barriers right there on the app. It's quick and very simple. Just add a line on the map, and the robot knows not to go over it. You can also ask the robot only to clean a certain area or room.
For a midrange robot, the application is very advanced. With the extremely useful app, you get the most out of your robot and controlling the vacuum is so effortless you'll love using it.
Battery Life
The runtime of the Roborock S5 is 150 minutes, which, again, is more than you might expect from a midrange robot. In addition to having a long runtime, the vacuum also has what is called the" recharge & resume" feature. If the battery runs out, the vacuum automatically returns to the base for juicing up and continues the cleaning cycle when the battery is full again. This feature makes it an excellent choice for large homes too.
Navigation
The S5 robot vacuum uses SLAM, LDS, anti-collision, and anti-falling technology for navigation. These are weird words that probably mean nothing to you, but let us explain how the robot navigates its surroundings.
First of all, the robot uses bumpers and scanning the room to avoid collisions and to learn about its surroundings. It also uses cliff-sensors that prevent it from falling when it encounters a drop. But these are fairly standard features in any robotic vacuums.
What makes the navigation advanced is that the robot uses LDS scanning to scan the room around it five times each second. This creates a realtime map of your home and the area that needs to be cleaned. It then uses a SLAM algorithm to plan the ideal route around the house.
You can easily see how the robot works to offer the best results. It doesn't randomly roam and bump into things; instead, it calculates carefully the route that allows it to clean every inch without wasting battery life.
You can see how the robot carefully cleans the whole home by following its path on the app. It cleans all the edges and goes in straight lines to cover every last inch of the floor. It also makes a little circle around table legs and other such objects. The result is that your home is meticulously cleaned in less time and with less battery.
The vacuum can even go under furniture and appliances provided that there is a 10cm space under or go over thresholds and other barriers with a maximum height of 2 cm. One of the reasons robotic vacuums are so efficient is that they always clean these hard-to-reach areas where dust builds up – and which you tend to skip.
Filtration
Another reason for pet owners to choose this vacuum is the filtration. The high-efficiency E11 filter captures 99.2% of dust and allergens as small as 0.3 microns – such as dust, pet dander, mold spores, and pollen. 
The filter is washable, which keeps the maintenance costs low. Regularly washing the filter will guarantee maximum airflow and filtration, both important when wanting the vacuum to provide clean exhaust air.
For homes with pets, this robot vacuum offers many useful features and an easy way to keep your home free of dust dander and pet hair. Here are the pros and cons of the vacuum summed together.
Summed up



This S5 robotic vacuum from Roborock has a terrific price-quality ratio. For a mid-range robot vacuum, it has many advanced features, and it performs well on many types of surfaces. Instead of randomly cleaning here and there, it maps your home inch by inch in realtime and calculates the optimal cleaning route.
It is also easy to use, and the intuitive and versatile application enables you to control the vacuum, to plan cleaning cycles, and to customize your preferences for different areas.
All in all, the S5 is a great choice if you're looking for a robotic vacuum to keep your home clean with minimal effort. Just sit back and let the robot do the heavy work.
Neato Botvac D6 Connected - Fantastic product designed for pet homes
Botvac D6 from the newly released  Neato lineup is what every pet owner should have. It has excellent features like advanced mapping, long runtime, large dirt cup, wi-fi connection, and an app that enables you to draw virtual walls to guide your vacuum. The vacuum is specially designed for pet homes with all the best features combined in one convenient package. Check the latest price of Neato Robotics D6.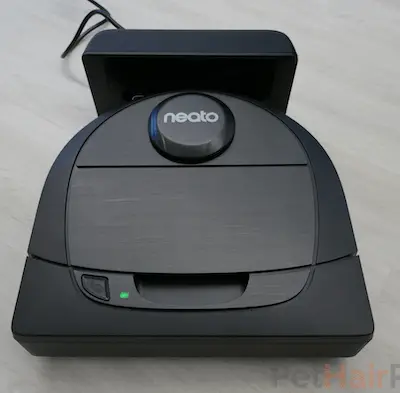 Pros
+ Designed for pet homes, Large 0.7-liter dustbin
+ Up to 120 min runtime for large houses
+ Reaches full charge in only 150 minutes
+ Smart navigation system with a logical cleaning pattern
+ Large brush and 12-inch cleaning path
+ Side sweeper for reaching corners
+ Eco and Turbo modes
+ Quieter than many other robovacs
+ Pet-friendly filtration for capturing allergens
+ Maps its surroundings an creates floor plans
+ No-Go Lines let you easily control which areas the robot cleans
+ The app is easy to use, Neato keeps updating the software
+ Excellent support and customers service from Neato
Cons
- Can sometimes drop of the wifi
- Won't always notify you if the dirt cup fills up while cleaning
Performance
The performance is pretty amazing. We tested the D6 by vacuuming our home with the Dyson V10 and sent the robot to do its job the next day. It was able to collect quite a bit of dust and pet hair in one go.
Although it's a robot, it does a meticulous job if you make sure you clear the clutter before sending it to do its job. You can check which areas were left unvacuumed on the app, and move the furniture a bit for better results...
The high-performance brush roll with blades and bristles works well on both hard floors and carpets.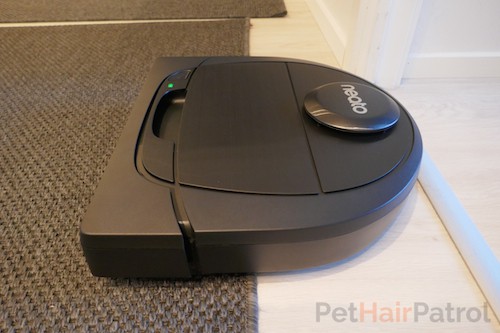 The brush bar is up to 70% bigger than the one on round robots, and it very effectively picks up all kinds of dirt on both carpets and hard floors. The cleaning path is 12 inches, which allows the robot to do fewer passes.
The D-shape is practical, because it allows the robot to clean those corners where pet hair collects, and it also has a side sweeper for getting all that dust close to the edges.
Of course, on thicker carpets, this vacuum will not perform as a sturdy professional upright vacuum would – but that is standard with robotic vacuums.
Controlling the vacuum
You can control the vacuum using your phone and the Neato application, or you can use an Apple watch, Amazon Echo or Google Home.
The robot has three cleaning settings: whole house, spot cleaning or scheduled cleaning.
It also has two modes: a quiet ECO-mode and a Turbo mode with maximum pick-up. You can also set the Extra Care mode if you need the vacuum to navigate around delicate objects carefully.
But there is more:
The My Floor Plan feature and No-Go Lines is something pet owners will love. First, the D6 will explore and map your home with up to three floors plans for different stories.
After it has created the floor plan, you can use the app to draw lines which the robot won't cross. This is an excellent feature if you want to give your pets privacy. Just draw lines around their bed and water bowl, or limit the robot from entering certain areas. You will have a stress-free pet and a clean home when you come back from work!
The app is very functional and pretty simple to set up, although we did have to try a few times because out wifi wasn't working as it should. Once you get it going, it should run smoothly, although some users have found the D6 sometimes to drop the connection.
Battery life
The battery lasts 120 minutes, which is excellent for a high power robotic vacuum and enough to clean even larger homes.
It takes the robot 150 minutes to reach full charge after it runs out of battery, but we enjoy the fact that it charges itself and resumes cleaning to finish the job.
The vacuum also has what they call the Quick Boost feature. With this feature, the D6 is able to calculate how much power it needs to finish the job and it only charges what it needs before resuming.
Navigation
The D6 has laser guided navigation meaning that instead of cleaning in a random pattern like many other cheaper robots, the Neato botvac cleans in straight lines while using its sensors to navigate around obstacles. This makes cleaning more efficient and quicker.
It has cliff detection, and after creating the floor plan, it knows its way around the house and navigates its way back to the charging dock. On the first few times, you might notice it skipping a spot at first, but let the robot finish its job, and you'll see it does come back and eventually cleans every inch before it finds it's way back to the dock to be charged.
Filtration
The D6 has some features that will benefit pet owners in particular:
The filter on the D6 has more material than filters on other D Connected series vacuums. Because it is able to catch more dust and allergens, it is an excellent choice for pet owners and people with allergies. It captures up to 99% of tiny dust mites and allergens as small as 10 microns.
The dirt cup is 0.7 liters, and it takes in quite a bit of pet hair before it is full. Owners of several pets that shed a lot should be aware, that the D6 does not always recognize if the dirt cup fills up quickly, which might affect the performance during the rest of the cleaning session. But you will soon learn how often your home needs to be vacuumed by the robot for the container not to get clogged in one go.
Summed up



A robotic vacuum is one of those things you don't necessarily need, but you certainly never regret getting. And that is more than true with this new Neato D6 botvac. It has those advanced features you want to see on a robotic vacuum for pet hair, but the price is reasonable for an upper midrange vacuum with these qualities.
The long runtime, powerful suction, large dirt cup, and virtual no-go lines easily drawn on the application make this vacuum an excellent choice for pet homes and make it our number one pick in this category.
Ready to lift up your legs while the D6 does all the hard work? Just check out the fantastic reviews here if you don't believe us or continue to read our extensive review to see the details and close-up pictures.
iRobot Roomba e5 - The best midrange product with a great price-quality ratio
Roomba e5 from the new iRobot lineup is also a great robot vacuum for pet owners. It has the famous Roomba features with a few little bonuses like 5 times stronger suction, larger dirt cup, advanced filtration, and a rubberized brush roll to grab that pet hair – and to keep that home with pets tip-top shape. Click here to see the latest price.
Pros
+ 5x stronger suction compared to 600 series robots
+ Wifi-connectivity and iRobot HOME application
+ Advanced navigation system
+ 90-minute runtime
+ 1 Dual Mode Virtual Wall Barrier included
+ Intuitive and straightforward to use
+ Advanced Dual Rubberized Brush Roll for pet hair
+ Excellent cleaning performance
+ Advanced High-Efficiency filter for dander and allergens
+ Edge-sweeping brush for corners
+ Large 0.5-liter washable dirt cup
Cons
- Doesn't automatically resume cleaning after charging
- Cannot create a floor plan
- Can't be directed to clean a particular room
So what makes the e5 one of the top vacuums for pet hair?
Performance
The Roomba e5 has a 3-Stage cleaning system; it uses the Advanced Dual Rubberized Brush, Edge-Sweeping Brush, and a strong suction to lift up all dust, dirt and pet hair.
Because the brush roll is rubberized, it attracts pet hair and makes sure no hair is left behind...
The cleaning head adjusts automatically to keep the brush rolls in tight contact with the surface, and the Edge-Sweeping brush makes sure all corners are cleaned as well.
The suction is 5 times more powerful than the one on Roomba 600 series robots, which makes it very powerful and guarantees excellent cleaning results – even on carpets.
The vacuum also uses sensors to detect areas that have more dirt, and it automatically spends more time on cleaning those high-traffic areas like the hallway or kitchen.
Controlling the vacuum
To control the vacuum you have:
Physical buttons
iRobot HOME application
Voice control
Dual Mode Virtual Wall Barriers
If you don't have your phone at hand, you can always send the Roomba cleaning by using the buttons situated on top of it. With these buttons, you can start and stop cleaning, tell the Roomba to go back to its Home Base or ask it to spot clean a specific area.
However, using your smartphone and the iRobot HOME app, you can not only remotely control your vacuum but also schedule up to 7 vacuuming session per week and view the cleaning history.
The wifi connectivity is excellent, and the robot rarely drops the connection.
If you have Google Assistant or Amazon Alexa – and the speakers for the job – you can also use voice commands to start and stop cleaning.
You also have a way of setting areas out of bounds for the robot. If you have pets, this is especially important because the roaming robot can cause stress for animals if they aren't allowed some privacy.
With the Dual Mode Virtual Wall Barrier, you can set no-go zones around your pets bed, water bowl or litter box. Or you can even restrict the vacuum from cleaning certain rooms to give your pets the peace they need.
The Dual Mode Virtual Wall Barrier is a small device used to create invisible linear and radial lines the robot won't cross. This enables you to block doorways or form a halo around your pets favorite resting spot.
We would like to see a possibility to add virtual barriers through the app, but according to many of the pet owners using this product the current system works very well and keeps your robot away from your pets.
Battery life
The e5 has a 1,800 mAh lithium-ion battery that gives the vacuum a runtime of 90 minutes, which is pretty good for a vacuum in this price range. We would like to see the e5 have the Charge & Resume feature, but for most homes, 90 minutes is more than enough for the Roomba to finish vacuuming.
It does find its way back to the Home Base, but it won't automatically resume cleaning. If you have a large house, you might want to consider the Roomba i7 which is a bit more expensive, but it has many incredible features worth the investment.
If the battery is completely empty, juicing up takes 2-3 hours, which is relatively standard.
Navigation
The Roomba e5 uses the iAdapt 2.0 navigation system which is not the most advanced system from Roomba but not the most basic either. The robot uses memory mapping to remember doorways, walls, and furniture not to bump into them, but it can not map its surroundings to create a floor plan.
The vacuum has a spot cleaning function to use when you have a certain spot you need to clean, but because the robot lacks advanced mapping, it cannot be told to clean a particular room.
Filtration
The e5 uses the Advanced AeroForce filter which is a high-efficiency HEPA filter. Pet owners are probably delighted to hear the filter can catch 99% of cat and dog allergens and keeps them from being blown right back into the air.
Because the advanced filter is also half the size (without losing any performance), the dirt cup capacity is an impressive 0.5 liters. This is good news for people with pets that shed a lot. Often robotic vacuums have small dirt cups which means they can easily get clogged by pet hair. Luckily this vacuum can hold quite a lot of dust, hair, and dirt before filling up.
Summed up

Roomba e5 (or Roomba e6, which is basically the same vacuum but with a great package deal at select retailers) has a great price-quality ratio, and it is THE midrange robotic vacuum for pet hair right now. If you're on a restricted budget and you're looking for a reasonably priced robotic vacuum for pets, the e5 should be your choice. Because it is a midrange option, you can't expect all the bells and whistles, but it is a superb robotic vacuum nonetheless.
Why? The rubberized brush roll picks up pet hair, and the strong suction makes sure all the dirt and debris on your floors ends up in the dirt cup. Which, by the way, is washable and can fit 0.5 liters of pet hair. An excellent feature if you have pets that shed heaps of fur.
The filtration is also very efficient, which will help you deal with dander and animal allergens. Also, the navigation works well, and the package includes one Dual-Mode Virtual Wall Barrier that can keep the robot away from your pets bed or food bowl. Actually, if you opt for the e6 package deal, you get 2 of the virtual wall devices!
This Roomba vacuum has all the features you need plus a few that make it especially suitable for pet homes. 
Eufy BoostIQ RoboVac 30C – reasonably priced with incredible features
The Eufy BoostIQ RoboVac 30C is a highly popular robotic vacuum with excellent ratings and user reviews. It has been specially designed for homes with pets and kids, and it was voted "Best Smart Robot Vacuums in 2018" by Reviewed.com. It has many useful features like BoostIQ technology, 9 anti-collision infrared-sensors, two side brushes, and a 1500Pa suction. But most importantly it has a capable brush roll, high-performance filters and a large dirt cup which are essential details for a pet hair vacuum. Check the latest price here.
Pros
+ A long runtime up to 100 minutes
+ Strong 1500Pa suction
+ Wi-Fi connection for controlling the vacuum with your phone
+ Easy-to-use application with scheduling and manual controls
+ Remote control included
+ Slimline design allows the robot to fit under furniture
+ Large 0.6-liter dirt cup for pet hair
+ High-Performance filters
+ Drop-sensing technology
+ The brushless motor reduces noise to only 55dB
+ Two side brushes to clean corners and edges thoroughly
+ Large wheels to climb over carpets and door ledges
+ 13.2-foot Boundary Strip for creating no-go zones
Cons
- Not suitable for high-pile carpets
The Eufy slogan "Relax. You've got Robovac." tells you everything about this vacuum. It has many great features to make it a very useful and functional robotic vacuum for homes with pets. Continue reading to find out everything you need to know before deciding on this vacuum.
Performance
The Eufy 30C has strong 1500Pa suction and three brushes to offer the cleaning power needed in pet homes. The main brush is sturdy, and it can easily lift up pet hair, dust, and dirt from all hard floor surfaces and low to medium-pile carpets. The vacuum is not suitable for plush high-pile carpeting, but with all the other features this vacuum has, we can only call that a minor shortcoming...
It has not only one but two edge-sweeping brushes that make sure all the dust gets picked up all the way to the edges and corners. The 30C also uses what Eufy calls BoostIQ technology to increase suction when it runs into areas that need a more careful cleanup. This feature ensures that high-traffic areas like the kitchen and hallway get thoroughly cleaned.
Although the vacuum has excellent performance and a powerful motor, it is very quiet. The brushless motor allows the robot to vacuum causing only 55dB. A quiet robot vacuum is an excellent choice for homes with pets since pets sometimes find loud machines stressful.
Another fantastic detail is the fact that the Eufy robotic vacuums have a slimline design and the height of the product is only 2.85 inches. This enables the robot to clean under low-built furniture and appliances which are areas people often wish they could skip when vacuuming. With the Eufy taking care of the hard work and cleaning those hard-to-reach areas, you can just sit back and relax.
Controlling the vacuum
This vacuum has Wi-Fi connectivity, and you can connect it with your smartphone by using the EufyHome application. The app is convenient and straightforward, and you can use it to start and schedule cleaning cycles and to control the vacuum manually.
The Wi-Fi connection also enables you to connect your Eufy Robovac with Amazon Alexa and Google Assistant for using voice control. Eufy has also included a remote control in the package which is an excellent addition if you don't have a Wi-Fi connection, or you prefer using the vacuum without one.
Battery life
The Eufy 30C has a runtime of up to 100 minutes depending on the surface. Since it uses BoostIQ technology to increase the suction when needed, the runtime depends on how dirty your floors are. That said, the lengthy runtime is more than enough for a complete cleanup, and the vacuum will automatically return to its dock for juicing up when the battery runs low.
Navigation
For navigating its surroundings, this Eufy Robovac uses 9 anti-collision infrared sensors and drop-sensing technology. The navigation system is relatively basic, but the robot does find its way around a home with ease.
The package includes a 13.2-foot Boundary Strip which you can also use to guide the vacuum. The robot has Dual-Hall Sensors to detect these Boundary Strips, and it won't cross the strip when it comes by one.
The Boundary Strip is a good way for you to create no-go zones that allow your pet to be undisturbed. At first, pets may find the vacuum slightly intimidating, and it can be a good idea to create a safe area they can retreat to if they find the robot to cause them stress. The strips also enable blocking your pet's food and water bowls from the robot so that he or she can eat and drink in peace.
Filtration
The Robovac 30C has a large dirt cup of 0.6 liters and a High-Performance Filter. The large dirt cup is a fantastic detail for a pet hair vacuum because wads of pet hair can quickly fill a smaller container and block the suction. A large dirt cup also needs emptying less frequently which is always good news for anyone looking for an easy-to-use vacuum.
Having high-performing filters is, of course, also a helpful feature pet owners can appreciate. Since furry pets like cats and dogs may reduce the air quality in your home by increasing the load of dust and allergens in the indoor air, it is essential to have a vacuum that can filter out those small particles to blow out only clean air.
Summed up



The Eufy BoostIQ RoboVac 30C is an excellent choice for pet owners looking for a robotic vacuum to tackle that pet hair and dust collecting on the floors. It is a midrange vacuum with a reasonable price and all the essential features you would require in a pet hair vacuum.
This very popular robotic vacuum gets fantastic users reviews because the price-quality ratio is excellent and with your money, you get many wonderful details you will find highly valuable.
The Eufy 30C is a great way to reduce that stress related to home chores in your already busy life. With this robot helping you with vacuuming you can concentrate on other things than cleaning. As Eufy puts it: Relax. You've got Robovac.
Roomba 690 – Excellent budget option with all the essential features and a couple of advanced features added
The Roomba 690 may not have all the bells and whistles, but it is a practical and useful robotic vacuum with the fundamental features. It offers good performance, and it comes with useful features like Wi-Fi connectivity, excellent filtration, and a Roomba Virtual Wall Barrier. This vacuum is a top pick in its price category. Check the latest price on Amazon.
Pros
+ Wifi-connectivity for controlling the vacuum with an app
+ iRobot Home application is easy to use
+ Dual-Mode Virtual Wall Barrier enables creating restricted zones
+ Great features for the price
+ Easy to use and operate
+ Offers good cleaning performance
+ Lengthy 90-minute runtime, Charges up quickly
+ High-performance filter for filtering out dust and other small particles
+ Edge-sweeping brush makes sure edges and corners are cleaned as well
Cons
- Doesn't have a recharge and resume feature
- Random cleaning paths
The Roomba 690 is a great budget option if you're looking for a robotic vacuum for a home with pets. It comes with the Roomba Robot Essentials and a couple of advanced features thrown in as well.
Continue reading to find out everything you need to know about this product before deciding if its the right one for you.
Performance
The Roomba 690 has a 3-stage cleaning system to offer excellent cleaning results. It uses the Dual Multi-Surface Brush, the edge-sweeping brush and suction to provide a careful clean. It also has Dirt Detection technology that can find those high-traffic areas that need a more thorough cleanup...
The high-quality brush roll with bristles and blades engages the surface and digs deep into carpets. It loosens pet hair, dust, and dirt so that the suction can then pull it in. It also automatically adjusts to the surface to offer an optimal clean on any floor or carpet.
If you have high-pile carpeting or several plush area rugs, we might suggest a robotic vacuum with stronger suction. But for hard floors and low to mid-pile carpets the 690 is a great option.
Controlling the vacuum
You have four ways of controlling your Roomba vacuum.
Firstly, you can use the physical button on top of the vacuum to start a cleaning cycle. You can also stop a cycle and ask the vacuum to return to its Home Base, but for more advanced options you need a Wi-Fi connection.
A Wi-Fi will enable you to control the vacuum using the iRobot Home application on your smartphone. This way you can schedule cleanups, view the cleaning history and start cleaning cycles remotely. It allows you to start the vacuum while you're away from your home and to come back to a clean house that has just been vacuumed.
You can also use the Wi-Fi connection and connect the Roomba with Amazon Alexa or Google Home. You can then use the speakers to give the vacuum voice commands.
Lastly, the Roomba 690 comes with one Roomba Virtual Wall Barrier which you can use to restrict the robot from cleaning specific areas. For pet owners, this is an important feature because pets might feel uncomfortable around the robovac and need a peaceful space they can retreat to. It is also a good way of protecting your pet's water and food from the robot to make sure your pet is not disturbed while eating or drinking.
Battery life
The 690 has a runtime of 90 minutes which is pretty good for a robot in this price range. The robot will automatically return back to its dock for charging, but it will not resume cleaning after it has juiced up. This is a minor shortcoming but something that is to be expected at this price point.
In smaller and mid-sized homes 90 minutes allows the vacuum to finish its job, but if you have a big house, you might want to consider another product with longer runtime or the ability to automatically resume cleaning after charging up.
The charging is fast, and in just 2-3 hours you will have the robot ready for another cleanup.
Navigation
The Roomba 690 uses the iAdapt 1.0 navigation system to find it's way around. It is a fairly basic system that does not enable mapping, which can be expected at this price. The robot uses its bumper to collect information about its surroundings, which means it will lightly bump into objects.
The navigation provides enough information for the vacuum to do a good job at cleaning, but the cleaning paths are random, and it might miss a spot sometimes. Users have said they don't mind this though, because with daily cleaning cycles the vacuum will keep your floor cleared of dust and debris even without the more sophisticated (and more expensive) navigation.
Filtration
The 690 model uses the Roomba High-Performance AeroVac filter. It is not a HEPA filter, but it does do a great job at capturing all dust, dander and other small particles. Having a high-quality filter is an essential detail for vacuums in pet homes. An inefficient filter might reduce the indoor air quality by allowing the vacuum to push allergens like dander and other disgusting particles back into the air.
With the High-Performance AeroVac filter, this won't be a problem, and you're guaranteed clean exhaust air.
Summed up



To put the Roomba 690 is a nutshell; it is an affordable robotic vacuum with all the necessary features to provide a high level of performance and a comfortable user experience. It has a long runtime, high-performing filtration, and a sturdy brush roll – all features that pet owners will appreciate.
The Wi-Fi connectivity makes it easy to control remotely, and the Dual-Mode Virtual Wall Barrier gives you the option of blocking a specific area from your robot. Add a few nice details like Dirt Detection technology, and you have what we say is a great pet hair vacuum.
If you're looking for a moderately priced robovac that can keep your home clean and free of pet hair, then you might want to opt for the Roomba 690. It will make your life as a pet owner significantly easier by cleaning up all that pet hair and dust that lands on the floor in your home.
Buying Guide - How to choose the best automatic vacuum for pet hair?
Pets shed. They bring mud, grass, sand, gravel and other dirt inside. You have food pellets on the floor, dander in the air, cat hair on the curtains… the list is long, but you know what I mean - pets are messy!
Robot vacuums can help you keep your home clean and significantly reduce that loose pet hair.
However, the range of features, performance, and price is massive, so here are some baseline specs you should consider before buying one:
Performance on different types of floor
Not all the robotic vacuums offer the same cleaning results.
In general, robovacs perform better on hard floor types, and many have trouble when it comes to carpeting or rugs. So take into consideration the type of flooring at your home when buying one.
If you have lots of high-pile carpeting or thick rugs, be prepared to invest in higher-end models.
As most robotic vacuums don't have as much suction as corded full-sized vacuums, they generally need a brush roll to boost their cleaning performance.
Brush Roll
As a pet owner, you should read what's said about the brush roll: some brush rolls are self-cleaning, some are made of rubber to attract pet hair, etc.
If there's pet hair that needs vacuuming, it can easily get tangled around the brush, which in return increases the amount of maintenance you need to do. Also, be sure there is an edge-cleaning brush, as it helps to sweep dirt into the path of a robotic vacuum's intake.
Filter
Dust can be annoying in households without pets, but if you have them, you know the amount of dust is on a whole other level. For this reason, keep an eye on the filtration system when choosing a robotic vacuum.
HEPA filters are the cream or the crop - a HEPA grade air filter removes up to 99.97% of particles that are 0.3 micrometers or larger.
Especially if you suffer from allergies, you should select a robot with built-in HEPA filters.
The grade of self-sufficiency
Are you looking for a robotic vacuum, that you can "set-and-forget", or one that needs supervising to some degree?
All robotic vacuums need your attention to some extent – but the range is surprisingly broad. Some robovacs are almost completely self-sufficient:
they are easy to control remotely
you can send them to work knowing they will do their job without supervision or help
they are great at navigating around the cleaning space
the need to prep your home beforehand is minimal
they won't get stuck under furniture or drop off stairs
they find their way back to the charging dock by themselves
they automatically resume cleaning after recharging
they have large dustbins, so you don't need to empty the dustbins frequently
hair won't get tangled around the brush
These are some of the features that let a robotic vacuum work independently. When you invest in one of these high-quality machines you know you can almost entirely forget about vacuuming and you don't have to attend to your vacuum now and then when it runs into problems.
But not everyone is able or willing to invest in a high-end product, and that's okay. By spending less, you usually have to be ready to settle for less and to be prepared to maintain and/or supervise your robot more.
When choosing the right vacuum for your situation, you need to figure out your needs.
Could you settle for a cheaper model and be willing to supervise cleanings to make sure your robot finishes the cleanup without bumping, falling or getting stuck?
Or do you want a machine that will independently take care of vacuuming while you are away?
Navigation & layout of your home
As robovacs roam the floors on their own, it's quite evident that they need to be able to cover the cleaning space and know how to get around.
The quality of the navigation systems in the robotic vacuums tend to vary a lot. Some are pretty basic, offering random cleaning patterns which won't cover the floors as thoroughly as the ones, which utilize the latest technology available.
Some robotic vacuums, like Deik, work better in small spaces like smallish apartments, while models like Neato D6 offers features that are better suited for larger homes with many rooms.
Robo-vacs also handle obstacles differently. Depending on the layout of your home, you may want to consider some avoidance methods:
First of all, check how much room there is under your furniture. You will want the robot to clean the floor under the furniture too, and on the other hand, you don't want it to get stuck every once in a while (it gets annoying, trust me).
Some models are over 4 inches high, which means, they have a hard time fitting under low furniture.
Other features worth to consider are anti-collision and anti-drop systems, as well as built-in dirt detection technology. The fanciest models even map their surroundings by taking pictures; that way the robot knows exactly how to move around without bumping into anything or getting stuck.
Depending on the layout of your home and if you have delicate pieces of furniture, art or something else you would like to protect, you may also want to consider if you need to set some "no-go-zones," where the robot can't enter.
For example, Shark Ion 750 comes with separate magnetic strips and Roomba 980 with so-called virtual walls, that you can place as boundary markers. This is a great feature for pet owners who wish to set apart a safe zone for their pets during vacuuming or make sure the vacuums won't spill pet food or water when bumping into them.
And as with everything, the fancier the model, the higher the price tag tends to be. All the added features will add to the price, but it will also make things more convenient for you. Keep in mind, that you are making an investment for several years.
The idea of a robotic vacuum is to free up your time and spare you from the efforts of vacuuming. If you're trying to decide between to different price categories, it's always wise to pick the one with more advanced features if you can stretch your budget: it won't become outdated a soon, and you probably won't regret making your life easier.
Battery life
This feature is more critical with stick and handheld type vacuums, and with robots, it only matters if you have a large house.
On average robovacs can clean up to 60-90 minutes in one go, with higher-end models the runtime with a fully charged battery is up to 2 hours.
Some vacuums stop as the battery runs low and you have to carry them back to the charging station. However, all of the three robots we've selected will navigate back to their charging dock once the battery is low and start recharging automatically.
Some models, like Roomba i7, will also automatically resume cleaning and finish the cleaning session after recharging.
Controlling the vacuum
There are three ways to control your robotic vacuums: manually by pushing the buttons on the robot, by using a remote control, or remotely with an application on your smart device.
Nowadays almost all robot vacuums can be controlled with an app, and sometimes these Wi-Fi compatible robots can also be voice controlled (Amazon Alexa and/or Google Assistant compatible). Some apps are very advanced, and they provide you much more than just the ability to manage the cleaning cycles (for example maintenance info, floor plans, and cleaning history).
All in all, Wi-Fi makes controlling your bot faster, easier and more convenient. Also, we predict that it won't be long and all the robovacs will have this feature (meaning, that models without it will be outdated soon).
Budget
With robotic vacuums, the good doesn't come cheap. As with products in general, also with robovacs the price often correlates with the performance, features, and quality.
The price range is massive. I'm not saying, that you necessarily have to invest in the most expensive option, but be prepared, that you cannot expect to get the model with all the bells and whistles if you choose the budget option.
Low- to mid-end robotic vacuums will offer decent cleaning performance and cleaning times but tend to lack features such as high tech navigation and Wi-FI connectivity. Basically, there are well performing robotic vacuums available in every price category. We have chosen the best robovacs for pet homes in each one, and you can easily compare the differences in our comparison table.