Robovacs save you A LOT of time, help you keep your floors clean, and no doubt add convenience to your life (and who wouldn't love that!).
We did some extensive research and tested the most popular robotic vacuums to find the ones with great performance and best features to benefit pet owners. Out of all our contestants, these were the top 5 robovacs for pet hair:
5 Best Robot Vacuums for Pet Homes in 2019
Botvac D6 from the newly released  Neato lineup is what every pet owner should have. It has excellent features like advanced mapping, long runtime, large dirt cup, wi-fi connection, and an app that enables you to draw virtual walls to guide your vacuum. The vacuum is specially designed for pet homes with all the best features combined in one convenient package.
But as you know, no vacuum is perfect. Continue reading to find out all you need to know before buying one.
Performance
The performance is pretty amazing. We tested the D6 by vacuuming our home with the Dyson V10 and sent the robot to do its job the next day. It was...
able to collect quite a bit of dust and pet hair in one go!
Although it's a robot, it does a meticulous job if you make sure you clear the clutter before sending it to do its job. You can check which areas were left unvacuumed on the app, and move the furniture a bit for better results.
The high-performance brush roll with blades and bristles works well on both hard floors and carpets.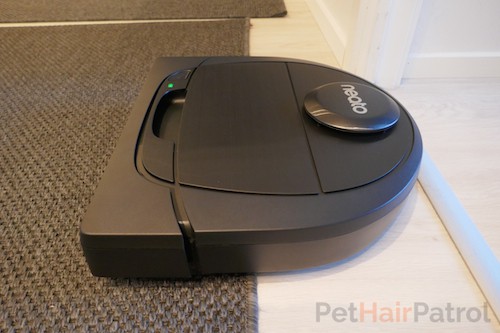 The brush bar is up to 70% bigger than the one on round robots, and it very effectively picks up all kinds of dirt on both carpets and hard floors. The cleaning path is 12 inches, which allows the robot to do fewer passes.
The D-shape is practical, because it allows the robot to clean those corners where pet hair collects, and it also has a side sweeper for getting all that dust close to the edges.
Of course, on thicker carpets, this vacuum will not perform as a sturdy professional upright vacuum would – but that is standard with robotic vacuums.
Controlling the vacuum
You can control the vacuum using your phone and the Neato application, or you can use an Apple watch, Amazon Echo or Google Home.
The robot has three cleaning settings: whole house, spot cleaning or scheduled cleaning.
It also has two modes: a quiet ECO-mode and a Turbo mode with maximum pick-up. You can also set the Extra Care mode if you need the vacuum to navigate around delicate objects carefully.
But there is more:
The My Floor Plan feature and No-Go Lines is something pet owners will love. First, the D6 will explore and map your home with up to three floors plans for different stories.
After it has created the floor plan, you can use the app to draw lines which the robot won't cross. This is an excellent feature if you want to give your pets privacy. Just draw lines around their bed and water bowl, or limit the robot from entering certain areas. You will have a stress-free pet and a clean home when you come back from work!
The app is very functional and pretty simple to set up, although we did have to try a few times because out wifi wasn't working as it should. Once you get it going, it should run smoothly, although some users have found the D6 sometimes to drop the connection.
Battery life
The battery lasts 120 minutes, which is excellent for a high power robotic vacuum and enough to clean even larger homes.
It takes the robot 150 minutes to reach full charge after it runs out of battery, but we enjoy the fact that it charges itself and resumes cleaning to finish the job.
The vacuum also has what they call the Quick Boost feature. With this feature, the D6 is able to calculate how much power it needs to finish the job and it only charges what it needs before resuming.
Navigation
The D6 has laser guided navigation meaning that instead of cleaning in a random pattern like many other cheaper robots, the Neato botvac cleans in straight lines while using its sensors to navigate around obstacles. This makes cleaning more efficient and quicker.
It has cliff detection, and after creating the floor plan, it knows its way around the house and navigates its way back to the charging dock. On the first few times, you might notice it skipping a spot at first, but let the robot finish its job, and you'll see it does come back and eventually cleans every inch before it finds it's way back to the dock to be charged.
Filtration
The D6 has some features that will benefit pet owners in particular:
The filter on the D6 has more material than filters on other D Connected series vacuums. Because it is able to catch more dust and allergens, it is an excellent choice for pet owners and people with allergies. It captures up to 99% of tiny dust mites and allergens as small as 10 microns.
The dirt cup is 0.7 liters, and it takes in quite a bit of pet hair before it is full. Owners of several pets that shed a lot should be aware, that the D6 does not always recognize if the dirt cup fills up quickly, which might affect the performance during rest of the cleaning session. But you will soon learn how often your home needs to be vacuumed by the robot for the container not to get clogged in one go.
Pros
+ Designed for pet homes
+ Up to 120 min runtime for large houses
+ Reaches full charge in only 150 minutes
+ Smart navigation system with a logical cleaning pattern
+ Large brush and 12-inch cleaning path
+ Side sweeper for reaching corners
+ Eco and Turbo modes
+ Quieter than many other robovacs
+ Pet-friendly filtration for capturing allergens
+ Maps its surroundings an creates floor plans
+ No-Go Lines let you easily control which areas the robot cleans
+ Large 0.7-liter dustbin
+ Wide 12-inch cleaning path
+ The app is easy to use
+ Neato keeps updating the software
+ Excellent support and customers service from Neato
Cons
- Can sometimes drop of the wifi
- Won't always notify you if the dirt cup fills up while cleaning
Summed up

A robotic vacuum is one of those things you don't necessarily need, but you certainly never regret getting. And that is more than true with this new Neato D6 botvac.
It has those advanced features you want to see on a robotic vacuum for pet hair, but the price is reasonable for an upper midrange vacuum with these qualities.
The long runtime, powerful suction, large dirt cup, and virtual no-go lines easily drawn on the application make this vacuum an excellent choice for pet homes and make it our number one pick in this category.
Ready to lift up your legs while the D6 does all the hard work? Just check out the fantastic reviews here if you don't believe us or continue to read our extensive review to see the details and close-up pictures.
Roomba e5 from the new iRobot lineup is also a great robot vacuum for pet owners. It has the famous Roomba features with a few little bonuses like 5 times stronger suction, larger dirt cup, advanced filtration, and a rubberized brush roll to grab that pet hair – and to keep that home with pets tip-top shape.
* Roomba e6 is basically the same vacuum, but the package includes not one but 2 virtual wall barriers and a spare HEPA filter. It's a fantastic deal available at select retailers only. Click here to see the latest price.
So what makes the e5 one of the top vacuums for pet hair?
Performance
The Roomba e5 has a 3-Stage cleaning system; it uses the Advanced Dual Rubberized Brush, Edge-Sweeping Brush, and a strong suction to lift up all dust, dirt and pet hair. Because the brush roll is rubberized, it attracts pet hair and makes sure no hair is left behind...
The cleaning head adjusts automatically to keep the brush rolls in tight contact with the surface, and the Edge-Sweeping brush makes sure all corners are cleaned as well.
The suction is 5 times more powerful than the one on Roomba 600 series robots, which makes it very powerful and guarantees excellent cleaning results – even on carpets.
The vacuum also uses sensors to detect areas that have more dirt, and it automatically spends more time on cleaning those high-traffic areas like the hallway or kitchen.
Controlling the vacuum
To control the vacuum you have:
Physical buttons
iRobot HOME application
Voice control
Dual Mode Virtual Wall Barriers
If you don't have your phone at hand, you can always send the Roomba cleaning by using the buttons situated on top of it. With these buttons, you can start and stop cleaning, tell the Roomba to go back to its Home Base or ask it to spot clean a specific area.
However, using your smartphone and the iRobot HOME app, you can not only remotely control your vacuum but also schedule up to 7 vacuuming session per week and view the cleaning history.
The wifi connectivity is excellent, and the robot rarely drops the connection.
If you have Google Assistant or Amazon Alexa – and the speakers for the job – you can also use voice commands to start and stop cleaning.
You also have a way of setting areas out of bounds for the robot. If you have pets, this is especially important because the roaming robot can cause stress for animals if they aren't allowed some privacy.
With the Dual Mode Virtual Wall Barrier, you can set no-go zones around your pets bed, water bowl or litter box. Or you can even restrict the vacuum from cleaning certain rooms to give your pets the peace they need.
The Dual Mode Virtual Wall Barrier is a small device used to create invisible linear and radial lines the robot won't cross. This enables you to block doorways or form a halo around your pets favorite resting spot.
We would like to see a possibility to add virtual barriers through the app, but according to many of the pet owners using this product the current system works very well and keeps your robot away from your pets.
Battery life
The e5 has a 1,800 mAh lithium-ion battery that gives the vacuum a runtime of 90 minutes, which is pretty good for a vacuum in this price range. We would like to see the e5 have the Charge & Resume feature, but for most homes, 90 minutes is more than enough for the Roomba to finish vacuuming.
It does find its way back to the Home Base, but it won't automatically resume cleaning. If you have a large house, you might want to consider the Roomba i7 which is a bit more expensive, but it has many incredible features worth the investment.
If the battery is completely empty, juicing up takes 2-3 hours, which is relatively standard.
Navigation
The Roomba e5 uses the iAdapt 2.0 navigation system which is not the most advanced system from Roomba but not the most basic either. The robot uses memory mapping to remember doorways, walls, and furniture not to bump into them, but it can not map its surroundings to create a floor plan.
The vacuum has a spot cleaning function to use when you have a certain spot you need to clean, but because the robot lacks advanced mapping, it cannot be told to clean a particular room.
Filtration
The e5 uses the Advanced AeroForce filter which is a high-efficiency HEPA filter. Pet owners are probably delighted to hear the filter can catch 99% of cat and dog allergens and keeps them from being blown right back into the air.
Because the advanced filter is also half the size (without losing any performance), the dirt cup capacity is an impressive 0.5 liters. This is good news for people with pets that shed a lot. Often robotic vacuums have small dirt cups which means they can easily get clogged by pet hair. Luckily this vacuum can hold quite a lot of dust, hair, and dirt before filling up.
Pros
+ The best Roomba for pet homes
+ 5x stronger suction compared to 600 series robots
+ Wifi-connectivity and iRobot HOME application
+ Advanced navigation system
+ 90-minute runtime
+ 1 Dual Mode Virtual Wall Barrier included
+ Intuitive and straightforward to use
+ Advanced Dual Rubberized Brush Roll for pet hair
+ Excellent cleaning performance
+ Advanced High-Efficiency filter for dander and allergens
+ Edge-sweeping brush for corners
+ Large 0.5-liter washable dirt cup
Cons
- Doesn't automatically resume cleaning after charging
- Cannot create a floor plan
- Can't be directed to clean a particular room
Summed up

Roomba e5 (or Roomba e6, which is basically the same vacuum but with a great package deal at select retailers) has a great price-quality ratio, and it is THE midrange robotic vacuum for pet hair right now.
If you're on a restricted budget and you're looking for a reasonably priced robotic vacuum for pets, the e5 should be your choice.
Because it is a midrange option, you can't expect all the bells and whistles, but it is a superb robotic vacuum nonetheless.
Although other robovacs like the Neato D6 and Roomba i7 (or 980) have those advanced features like a longer runtime, advanced navigation, and Recharge&Resume function, they also come with a bigger price tag. If you don't have restrictions moneywise, get one of the top vacuums! But, if you're looking for something around 500 USD, then the e5 and e6 are a great option.
Why?
The rubberized brush roll picks up pet hair, and the strong suction makes sure all the dirt and debris on your floors ends up in the dirt cup. Which, by the way, is washable and can fit 0.5 liters of pet hair. An excellent feature if you have pets that shed heaps of fur.
The filtration is also very efficient, which will help you deal with dander and animal allergens.
Also, the navigation works well, and the package includes one Dual-Mode Virtual Wall Barrier that can keep the robot away from your pets bed or food bowl. Actually, if you opt for the e6 package deal, you get 2 of the virtual wall devices!
This Roomba vacuum has all the features you need plus a few that make it especially suitable for pet homes. 
Although Deik is not one of the well-known vacuum manufacturers, their robotic vacuum has got praising reviews from pet owners. It's not perfect, and it lacks some features you can find in higher-end models. There's no Wi-Fi connectivity, the robot needs your help from time to time, and it won't automatically resume cleaning once recharged. However, it is a solid performer, especially on hard floors. We also appreciate the largest dustbin on the market and last but not least - the affordable price tag compared to many other robot vacuums.
Click here to see the latest price.
The Deik robot vacuum is best for homes with bare floors and low-pile carpets. Users have mainly given 5-star reviews, which confirms that Deik does a thorough job in cleaning around the house on its own. Dissatisfaction among its owners is rare as long as you're ready for some trade-offs for the price you pay. You can't expect to get it all, but for daily upkeep cleaning Deik is definitely a big help.
Performance
Users of this vacuum have generally been impressed by its performance on cleaning floors and maintaining cleanliness. This vacuum sucks up pet hair from...
the bare floor as well as from low- to medium-pile carpets without problems. It automatically adjusts the suction power to match the floor type and it uses less power on hard floors and more on carpets.
However, Deik is not the best option if you have thick rugs or mainly carpeted floors as the cleaning results may not be optimal.
The power is measured at 1200pa both on carpets and hard floors which is excellent for any robotic vacuum. Even though the vacuum is powerful, it's not loud. The robot runs quietly, generating only 50-60 decibels.
Controlling the Vacuum
This robot works on a remote control and it's easy and intuitive to use. It has five different cleaning modes that allow Deik to be used effectively on different surfaces, situations and according to how dirty the floors are. 
There's no Wi-Fi and app compatibility, which can be found on most of the more expensive models.
Battery life
Deik Robot holds a replaceable lithium battery that has a 90-minute running time (depending on the cleaning mode), and that's quite impressive for a machine in this price range. The robot will automatically return to the station and recharge once it is done cleaning or the battery is low.
However, you should know, that this robovac won't continue cleaning automatically once re-charged. If you have a large home that the robotic vacuum won't be able to clean in one session, this feature is something you might need. For the robotic vacuum to clean a large house independently, it should resume cleaning after it has recharged itself.
Great Features for Pet Owners
Deik has a massive 0.9 liter capacity for dustbin which is the largest in the market. This feature allows longer periods of cleaning, and there's no need to monitor the vacuum constantly to empty the bin when it gets full. Owners of pets that shed a lot will love this feature because it keeps the pet hair from clogging the vacuum.
The filtration is ideal for pet owners, as this vacuum has a combination of a 3D and a HEPA filter.
Pros
+ Low price compared to many of the other robotic vacuums
+ Works well on bare floors 
+ Easy to use
+ Quiet
+ Adjusts the suction power according to the surface
+ Has an extra large dustbin
+ HEPA+3D-filter is great for pet owners
Cons
-  No WI-FI and app compatibility
-  May come to a halt on thicker high-pile carpets
-  It will not continue cleaning once re-charged
Summed up

The Deik Robot is one of the cheapest robotic vacuums available, and yet it does a pretty convincing job. This robotic has strong suction, and it has the biggest dirt cup in the market. Also, there are multiple cleaning modes to choose from.
Deik is not self-sufficient, nor a substitute for full-size vacuum - but I'd say it's a good fit for someone who is looking for an affordable option to help maintain cleanliness in a pet home.
The vacuum is easy to use, practical and it performs well with picking up pet hair from any hard flooring. And though it does fall slightly short on some aspects, with the low price tag you can actually be quite impressed with what you get for your money.
Roomba 980 is one of the high-end robotic vacuum cleaners with advanced navigation and features, but it is a part of the previous Roomba lineup which is why you might find it at a great price online. It used to be the top dog in the Roomba family, but it has now been replaced with Roomba i7 as the king of the hill.
Although it's no longer the best Roomba on the market, with the advanced navigation and features - and the current price - it's an excellent choice for a robotic vacuum for pet hair.
Roomba 980 is still one of the most popular robovacs from iRobot because of its advanced features and excellent performance.
In addition to an efficient tangle-free rubber roller system, it has all the needed features like Wi-Fi connectivity, app control, long runtime, HEPA filter, and the automatic recharging and resuming feature that doubles the runtime - great news for anyone with a large house! Roomba 980 also uses advanced mapping technology as it navigates around.
Performance
Pet hair, food pellets, dander or other dirt and debris, are no problem for this little fellow according to user experiences. It is a very strong competitor to full on upright and canister vacuums...
Its performance is all thanks to a powerful motor and suction, combined with the enhanced dirt detection system and rotating AeroForce Extractors (the mechanism is brushless, so you don't have to worry about pet hair getting tangled).
Roomba 980 adapts to its environment for thorough coverage and the cleaning head automatically adjust according to the surface. Although many robovacs clean hard floors without a problem, what sets Roomba 980 apart from many of its competitors, is that it does well on carpets as well. The high level of performance on carpets is due to the features mentioned above, as well as the Carpet Boost-mode which, although quite loud, gives the robot the extra boost to manage carpets and rugs which are harder to clean.
Controlling the Vacuum
Roomba 980 is effortless to use. It offers Wi-FI-connectivity, and it can be guided remotely from your phone where ever you are and whenever you want. Roomba 980 is suitable for smart homes as it can be paired not only with smartphones but with Amazon Alexa and Google Assistant as well.
According to the users, both the iRobot App and voice control are easy to use. The app lets you schedule up to seven cleaning schedules per week, and it also provides you information when parts need to be changed or maintained.
Battery life
The Roomba 980 can run up to 2 full hours, which is quite well compared to other robotic vacuums. As per home size, the 980 can vacuum an area of more than 2000 sq ft in a single cleaning cycle. Roomba 980 is very reliable at finding its way back to the charging station.
It takes 3 hours to get fully recharged. Once recharged, it will automatically resume where it left off. This feature again makes it more independent because you don't have to send it back to work after recharging.
Navigation 
The Roomba 980 uses the latest technology which makes a big difference.  It is very organized as it cleans in straight lines instead of randomly roaming around. This results in more efficient and thorough cleaning paths.
All in all, Roomba 980 needs minimal care and attention from you. The need to clean up clutter beforehand is minimized, and you can leave it unattended and rely on it to navigate through your home without your help. Many cheap robotic vacuums need way more of your support, so this is nothing to be taken for granted.
Filtration
Last but not least, Roomba 980 uses HEPA filters, the ideal filtration system for every pet owner with all that dust and dander floating around.
Pros
+ Easy to use: User-friendly app
+ Tangle-free rubber rollers handle pet hair with ease
+ Comes with HEPA-filters, ideal for pet owners
+ Comes close to full-size vacuum with the cleaning performance
+ Efficient navigation capabilities
+ Detects dirt and the suction is strong
+ Doesn't have problems cleaning different surfaces
+ Won't be stopped by obstacles
+ Small, won't get stuck under furniture
+ Saves you time and trouble - the need to clean up clutter beforehand is minimized
+ Most self-sufficient robot out there - won't need your attention
Cons
- Price
- Loud when using the Carpet Boost-mode
Summed up
Roomba 980 is a high-end product with some of the most advanced technology and many the nice extras lower-end robots lack. It's a solid performer and does a brilliant job on bare floors and carpets alike. And it spares you from all the extra hassle because of its advanced navigation which provides independence and supervision-free cleaning.
Because Roomba vacuums are high-quality products that come with reliability and durability they are a good investment known to last for many years.
Since it is no longer the most advanced Roomba (as Roomba i7 is the leader of the pack) and it is a part of the previous lineup, the price is very reasonable compared to the features you get. Having fantastic performance and features at a reasonable cost is what makes this vacuum a part of the top 5 in this category, and a great choice for you.
This Shark robotic vacuum is a great budget option for those with mainly hard floors. It has some really nice features for pet owners, but you can't expect to get the best robovac out there for this price. If you're okay with not having the most advanced bleeding-edge features, this robot will help you keep your floors clean on a daily basis. Click here to see the latest prices.
All in all, Shark ION R75 is a great budget option for households with pets. You can expect solid cleaning performance on tiled or hard floors, but don't expect it to do miracles on carpets. This robotic vacuum is not entirely independent nor a match in performance or navigation to the more advanced robots - but then again, it is also much cheaper.
Shark R75 offers app compatibility which is often missing from budget models, and you can start cleaning from anywhere at any time. Pet owners have also especially appreciated the low noise level, self-cleaning brush on which pet hair won't get tangled, and HEPA filters that keep the air fresh.
Performance
Even though it won't be a substitute for a full-size vacuum, it will with no doubt help you keep your home pet hair-free and extend the time between heavier cleanings.
This robot does impressive work on...
all kinds of hard flooring. It holds two rotating sweepers on either side, which helps it to capture pet hair as well as other debris from the surface.
It's not as good a performer on carpets as Neato D6 or Roomba 980, but this robot does decent work on low-pile and even medium-piled carpets.
Controlling the Vacuum
The good news is that Shark ION R75 is Wi-Fi compatible. It means that you can remotely control your robot by using an app. The app allows you to start and stop cleaning, and to set recurring cleaning schedules. Also, the app provides access to tips, tricks, and FAQs, as well as maintenance reminders, troubleshooting, and tech support.
Although the app is said to be easy to use, some users have reported the robot losing connection with Wi-Fi from time to time.
Prefer giving the robot voice commands? No problem. Shark ION R75 is compatible with Alexa and Google Assistant, so you can just tell the vacuum to start working while sitting on your sofa.
Battery life
The battery provides a cleaning time from 60 to 90 minutes. Before the battery runs out or the cleaning session is complete, this Shark robot will automatically return to its docking station.
Recharging the battery can take up to three hours. After that, it's ready to get back to work, but unfortunately, this model won't automatically resume cleaning once it's recharged and you will have to send it back to work again.
Navigation

 
Navigation is not as advanced as with higher-end models. The cleaning and navigation pattern seem to be random, but as far as owners have witnessed, the robot does cover the floor area without missing spots.
If you're ever planning to leave to vacuum to clean by itself, it's a good thing that Shark R75 is super slim at only 2.6 inches. For this reason, it gets easily under most furniture.
The robot is equipped with anti-collision and anti-drop sensors which work rather well. It needs a bit of your attention, but as long as you're ready to do some clutter organizing before sending this vacuum to work, you won't need to be there as a robositter as it roams the floors.
Great Features for Pet Owners
This robotic vacuum is not designed for pet owners per se, but it has several great features animal lovers will appreciate.
It's quiet. Shark R75 generates only a low humming noise, which is ideal for pet homes.
It's equipped with a self-cleaning roller brush, which helps to keep hair from getting tangled and on the rollers.
The dustbin is easy to remove and empty, but as the dustbin is quite small, you have to be ready to empty it quite often.
Last but not least, it has a HEPA filter. And that is the one you want to have if you have pets.
Pros
+ Performs well with pet hair and dander on hard floors
+ Low-profile design – won't get stuck under furniture
+ Easy-empty dustbin
+ Pet hair won't get tangled – less maintenance
+ Easy to use
+ Wi-Fi compatibility (App/Amazon Alexa/Google Home Assistant)
+ Ability to schedule your vacuum to clean adds convenience
+ Does not have to be supervised
+ Comes with anti-allergen HEPA filters
+ Good quality for this price
Cons
- Dirt bin capacity is quite small
- You need to clear all clutter before sending the vacuums to work
- Not the best choice for a fully carpeted house
- Some people have had trouble with loss of Wi-Fi connection
Summed up

It depends on what you're looking for. If you want a robot that you can "set-and-forget," go for one of the more advanced robots like Neato D6 or Roomba980, as the Shark ION R75 needs more of your attention and help. Also, it's not the one you should buy if you have mainly carpeted floors.
Then again, if you have mostly hard flooring and you're prepared to help out your robotic vacuum to some degree before it can help you, this robot will save you considerable effort in housekeeping.
The good news is that it has been reported navigating around without getting lost, stuck or bumping into walls and furniture. It won't need your supervision all the time, and you can send it to work where ever you are by using an app. Taking everything into consideration, the price is definitely attractive for the features this model holds.
FAQ on Robot Vacuums for Pet and Dog Hair
Robotic vacuums are there to help you – they help you keep the floor and carpets clean between deeper cleanings.
As you don't have to clean as much as before, you save a lot of time, and you are free to do something else with that time.
Depending on how much you're willing to invest, you can get a self-recharging model, or one, that can be scheduled, and you don't have to be around while the machine is cleaning. You may also choose a remarkably self-sufficient a robot, which requires minimal maintenance and your attention.
If you're still unsure whether a robovac is the right choice for you, you should check out the other vacuum categories, including uprights, sticks and canisters - or, hit us with a message and we'll help you to pick the right type of vacuum for your needs! 🙂
Most likely yes.
Unfortunately, even though the evolution of robotic vacuums has been massive, they still can't entirely replace a full-sized vacuum cleaner.
One of the reasons is that most robotic vacuums are just not as powerful as full-sized vacuums. Especially if you have carpets or rugs, you should deep clean them at least once a month even if a powerful robotic vacuum cleans it weekly.
The other reason is, that even if you have a robot vacuum which takes care of the dirt on the floor, you still may want to vacuum stairs, car interior, drapes or cushions – and these tasks, obviously, can't be performed by a robot.
So, robovacs are mainly meant for maintenance cleaning on a daily basis. You can let it run every day to keep most of the dirt and debris from your home. And although you have to vacuum yourself from time to time, trust me - it 's a lot more convenient to let the robot to do the most work for you.
This boils down to what you value.
Robot vacuums are still not perfect and from time to time you still most likely have to vacuum yourself.
So if you are looking for a vacuum with the performance of a full-size vacuum, you have to buy one of those.
But If you are okay with its limitations and you're looking for someone or something to help you with the constant cleaning you need to do to keep a pet home clean; and you want to add convenience to your life, the answer is a definitive YES!
*Disclaimer: PetHairPatrol.com is a participant in the Amazon Services LLC Associates Program, an affiliate advertising program designed to provide a means for sites to earn fees by linking to amazon.com and its affiliated sites. Amazon and the Amazon logo are trademarks of Amazon.com, Inc. That means we receive a small commission from Amazon if you should decide to purchase a product through our link - but don't worry, you won't be charged extra for it.
We only recommend products we believe are of value to you, and we believe in ourselves. Our goal is to make this site a truly valuable resource for all pet owners.