Constantly jumping in and out of a vehicle, even though it might not be that high of a jump, can wear on the joints over time. It can also cause all sorts of injuries right on the spot if done incorrectly. [1.]
By not using a ramp, you may cause problematic knee or hip problems for your pup in the long run. (Or hurt your own back lifting your dog!)
Especially if your dog already has arthritis or joint problems, the last thing you would want to do is to cause them any more strain or issues. The car ramp gives them the support they need to get in and out of the car easily and with the least amount of strain possible.
The simple solution of a ramp can help eliminate these issues and make taking the car ride to the dog park much more enjoyable.
Let's get started.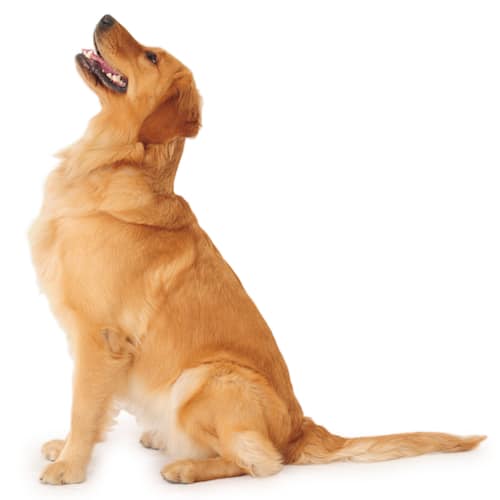 Dog Car Ramps - Quick Guide
We have a more detailed guide coming up, but if you're in a hurry, here are the most important factors to consider when looking for the perfect dog ramp:
Length of the ramp for the perfect 18–20-degree incline
Width and weight limit to match your dog's size
Assembly and weight of the ramp for easy use
Slip-free surface to prevent accidents
Safety and durability
* We select and review all products independently; however, we may earn a small commission on purchases made through our links. Learn more.
Pro tip! Always remember that your dog will probably not like the idea of a ramp if it's not used to using one. However, it just takes a little training and some treats, and your dog will be climbing the ramp like a champ in no time.
5 Best Car Ramps for Dogs To Get Into Cars -
Vet-Approved Choices in 2021
These dog ramps can help your dog climb safely inside your family van or head into his place at the back without jumping too high, avoiding too much strain on their joints, and if you help them up—avoiding too much strain on your back.
Let's have a look at the top 4 vet- and dog owner-approved ramps for your dog to get into the car!
Best Telescoping Dog Ramp & The Premium Choice:

PetSafe Happy Ride Extra Long Telescoping Dog Ramp
         Key features
Length 47-87 inches
Width 20 inches
Weight limit 300 lbs.
Ramp weight 18 lbs.
High-traction surface
Side rails
Handle on the side for carrying
Locks with a safety latch when stored
Our review:
This extra-long telescoping dog ramp from PetSafe is perfect for SUVs because its adjustable length allows you to ensure a safe incline even in bigger cars with higher elevations. It's highly popular, and dog owners, as well as their dogs, love its usability, safety and durability. See what dog owners say about this ramp.
The ramp is wide enough for your dog to feel safe when using it, and the side rails offer extra protection from slipping and falling. It also has four rubber feet that keep it stable when your dog is using the ramp.
The weight limit is 300 lbs., so it's suitable for large breeds as well. Large and older dogs will also appreciate the 20-inch width, as it makes them feel safer when climbing the ramp.
The materials used in the ramp are plastic and aluminum, so it's both lightweight and durable. The ramp itself weighs only 18 lbs., so it's easy to move and carry around. There is even a handle on the side for easy lifting.
Pros
+ Adjustable length for different-size cars
+ The width gives large and older dogs a sense of security
+ Suitable for large dogs (weight limit 300 lbs.)
+ Lightweight and portable
+ Non-slip surface and guard rails for safety
+ Sturdy rubber feet to fold in place
Cons
- The slight bounce may distress very skittish dogs
Best Budget Choice:

Pet Gear Full Length Ramp
         Key features
Length 71 inches
Width 16 inches
Weight limit 200 lbs.
Ramp weight 15 lbs.
Rubber feet to keep it in place
Foldable for easy storage
Non-slip surface for safety
Handle for carrying
Our review:
This Pet Gear dog ramp is the best cost-conscious choice for SUVs. It is 71 inches long, so it's suitable for giving your dog an easy incline even when used with big vehicles. Check the latest price here.
Unfortunately, it's not adjustable, but it folds in three for easy storage.
The ramp has rubber feet, a tether cord that holds it in place, and a non-slip surface to provide safety. We would like to see side rails to offer more security, but it's a good and sturdy ramp for a reasonable price. The weight limit is 200 lbs., so it will be perfect for most dogs.
The ramp itself is lightweight and easy to carry around since it folds in three and has a molded handle for carrying.
Pros
+ Good length for SUVs and other big cars
+ It comes with a tether cord to hold it in place
+ Easily folded for storage
+ Lightweight and easily portable
+ Slip-resistant surface for safety
+ Rubber feet keep the ramp in place
Cons
- No side rails
- Not as steady as some other ramps
Best Dog Ramps for Older Dogs
Top Choice:

Pet Gear Travel Lite Ramp with SupertraX Surface
         Key features
Length 71 inches
Width 19.5 inches
Weight limit 200 lbs.
Ramp weight 27 lbs.
SupertraX mat for security and comfort
Raised edges
Rubber grippers on the bottom
Folds in three for easy storage
Our review:
This Pet Gear Tri-Fold ramp is ideal for older dogs. It is long enough that the incline doesn't become too steep even when used with big vehicles. See what pet owners have to say about this ramp.
The material on the surface is SupertraX mat, which enables your senior dog to have secure footing. The surface feels secure because applying pressure to it by stepping on the mat provides a good grip and sense of safety. The mat is removable for easy cleaning, and the raised edges also provide safety from slipping or falling.
The width is 19.5 inches which is another safety factor for old dogs and make them feel more confident climbing the ramp.
The ramp has rubber grippers that keep it securely in place and a safety tether so you can fasten it to your car. The weight limit is 200 lbs., so it's suitable for most large dogs too.
The ramp folds in three for compact storage and has a handle for easy carrying. At 27 lbs., it's a bit heavier than other dog ramps of this size, which is understandable as the surface material is thicker.
Pros
+ Safe and reliable
+ Easy for older dogs to climb
+ Wide enough for bigger dogs too
+ SupertraX mat offers good traction
+ Long enough for a low incline
+ Suitable for small and large breeds
+ Stays securely in place
+ Easy to clean
Cons
- Somewhat heavy (because of surface material)
Best Dog Ramps for Large Dogs
Top Choice:

PetSTEP Original Folding Pet Ramp
         Key features
Length 70 inches
Width 17 inches
Weight limit 500 lbs.
Ramp weight 18.5 lbs.
Rubberized non-slip surface
Durable materials
Folds in half
Molded handles
Our review:
This PetSTEP Original Folding Pet Ramp can hold up to 500 lbs., so it's sturdy and secure even under the largest dog breeds. Still, the ramp itself is pretty lightweight at 18.5 lbs. for a big ramp like this. See the latest price here.
It is easy to fold out and place securely on the back or side of your car. Heavy-duty rubber grip on both ends keeps the ramp securely in place when it's being used. There is very little bounce when large dogs walk up and down the ramp, so it's a good choice for big canines trying a ramp for the first time.
Because it's 70 inches long, it allows for a mild slope for large breeds even if the back of the car is at a high level.
The rubberized and ridged surface is soft or paws, yet safe and prevents dogs from slipping and falling. Also, the material is very easy to keep clean, as you can just wash it with soap and rinse with water.
Pros
+ Paw-friendly surface material
+ Secure and prevents slipping
+ Easy to use and keep clean
+ Long enough for big vehicles
+ Stays in place securely
+ Lightweight and has handles for carrying
+ It folds in two for compact storage
Cons
- Very sturdy, and therefore pretty heavy as well
- On rare occasions, users have found the surface slippery
Best Doggie Ramps for Small Dogs
Top Choice:

PetSafe Happy Ride Folding Pet Ramp
         Key features
Length 62 inches
Width 16 inches
Weight limit 150 lbs.
Ramp weight 10 lbs.
Side rails for safety
High-traction surface
Rubber feet to hold the ramp in place
Fold in half and locks for compact storage
Made in the USA
Our review:
This PetSafe Happy Ride Folding Pet Ramp is a fantastic choice for small and medium-sized dogs. Since smaller dogs don't need a heavy-duty ramp, there is no point in carrying one that is heavy and bulky. This ramp is very lightweight at only 10 lbs. while still supporting pets up to 150 lbs. in weight. Check what dog owners say about this ramp.
Because it's lightweight, has handles, folds in half, and locks when folded, it's portable and easy to carry around.
The high-traction surface ensures safety and doesn't let your dog slip. In addition, the ramp has high side rails, which help your little pooch feel safe while climbing up or down.
To add to security, the rubber feet hold the ramp securely in place while in use.
Pros
+ Cost-friendly
+ Extremely lightweight for easy carrying
+ Side rails to make your pup feel safe
+ The four rubber feet keep the ramp securely in place
+ Easy to keep clean and hygienic
+ Replacement available for non-slip surface
Cons
- Not stable for larger dogs
Buyer's Guide –

What to Look for in a Dog Ramp for a Car?
Does Your Dog Need a Ramp to Get in and Out of the Car?
Basically, every dog and dog owner would benefit from using a car ramp. The list includes small dogs that cannot get in and out of cars on their own and big dogs that theoretically can but should not because of their high risk of developing joint issues later on.
Every dog and dog owner would benefit from using a car ramp.
- Dr. Ivana Crnec, DVM
Car ramps are also beneficial to dogs with specific health issues that lead to mobility limitations and hyperactive dogs that get overly excited and can easily injure themselves jumping into the car.
Finally, keep in mind that sometimes it might be you who needs a dog ramp. If you have a health issue that prevents you from lifting your pet, having a ramp is the easiest solution for getting your dog into the car.
How to Teach Your Dog to Use a Ramp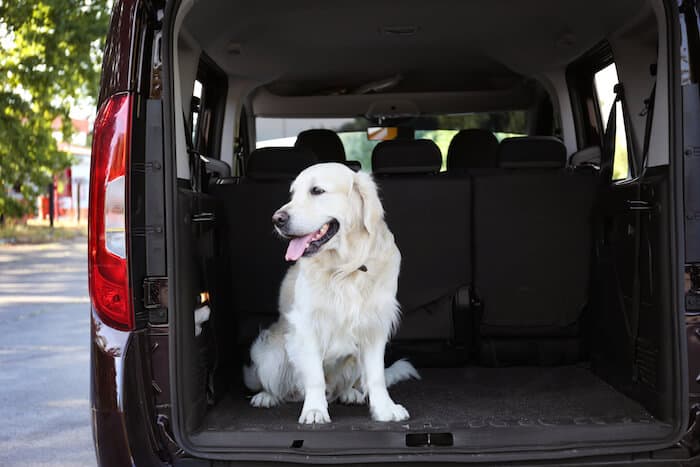 Even the best ramp won't work if your dog refuses to use it. However, do not feel disappointed if your dog refuses to use the ramp the first few tries. Dogs are creatures of habits, and although inquisitive, they can be reluctant when it comes to new things.
It may take some time and patience, but you can teach your dog how to use the ramp.
For a successful teaching process, just follow these four steps:
1. Place the ramp on the ground, and use treats to lure your dog into stepping on the ramp. Repeat this step several times over the course of several days. Although the ramp is positioned flat, getting your dog to stay on it is considered great progress – the goal is to get your dog used to the ramp.
2. Once your dog gets the hang of stepping on the ramp, stand in front of your dog and give it the "come" command. This step needs several repetitions too.
3. When your dog feels comfortable stepping and walking across the ramp (even without your "come" command), you can start gradually increasing the ramp's incline. As mentioned, some dogs are afraid of heights, so this increase needs to be slow and gradual.
4. Do not elevate the ramp before your dog gets comfortable with using it. Think of the incline increase as a game with levels. You do not proceed to the next one until the current level is finished.
With these steps, your dog will learn how to use the car ramp in a couple of days. Once again, patience is vital. Using treats and positive reinforcement can speed up the learning process and are important for strengthening your mutual bond.
FAQ On Car Ramps For Dogs
Especially if you are a first-timer looking into getting a car ramp for your dog, you might have a few questions about the ramps, from specific measurements to types. Here are your FAQ answered:
Why Do I Need A Ramp For My Dog To Get Into The Car?
Well, you probably already know why because you are reading this and looking for a ramp. Nowadays it common to have an SUV or another high-built type of car. Smaller dogs might no even be able to jump up to get into the back of the cat or the back seat, and for larger dogs, the jump can be difficult and cause strain on their joints. Older dogs often experience pain when jumping, and you might not always be able to help them out by lifting them up or down.
Using a ramp for exiting and entering the car is safer for your dog and makes things easier for the owner. You don't have to lift your dog and get yourself dirty after a muddy play in the park. And with bigger and heavier dogs you might not even be able to pick them up.
With an easy-to-use ramp loading and unloading your pets from the vehicle is easier, quicker and safer. That's why.
How Do I Fold My Ramp?
Depending on the brand you get, what type of ramp you get, and its construction, to disassemble and fold it up for stowaway can differ. Some ramps fold in half. Others fold together three times, and there are others that stack up on top of one another.
You also have the option of getting a sliding/telescoping dog ramp with an internal sliding mechanism. They are simple to use and highly adjustable—you can lock the position when you've achieved optimal height.
Is It Easy To Move?
Whether you are transferring the ramp from one car to another, you should first check whether or not the ramp has wheels or a carrying handle so you can easily move it around. Be sure to choose a lightweight ramp to make transfers effortless.
What Is It Made Out Of?
The type of material is also an important feature to consider when making a choice between ramps.
PVC ramps are durable and long-lasting. They are also waterproof and easy to clean. Unfortunately, they aren't as durable as ones made out of metal, for example.
Metallic ramps are durable and more stable. But they are definitely heavier to transfer from one car to another or to move around. Plus, they rust much easier when left out in the rain.
What Are The Important Measurements?
Knowing ultimately which size to get for your dog is the most important. Here is our helpful guide:
Climber Slope (26 degrees): If you have a young and healthy dog with minimal joint issues, a steep incline won't be an issue.
Normal Slope (22 degrees): For the middle road, a 22-degree slope is perfect for dogs who have some minor issues or impairment or are simply getting older.
Easy Slope (18 degrees): This ramp is the target area for dogs who already have bone or joint problems like arthritis.
You need to measure the hight of the back of your car and figure out the length you need the ramp to be according to which type of incline you think is ideal for your dog.
If you have an another vehicle with a different height or you will be using the ramp in various situations, you should choose a telescoping ramp which can adjust to different heights.
Summing Up – Best Dog Ramp for Cars
Car ramps for dogs can be something you definitely need or something that will just make your life easier. If you have a big car like an SUV, it will protect your dog's back and joints from jumping up and down when entering and getting out of the car. Also, older dogs may need the ramp if they can't jump that high anymore, and you can't lift them.
In addition, the ideal car ramp will make life easier for both you and your dog. Just imagine that mud-covered furry friend of yours after playing in the park after rain. Wouldn't it be nicer to just let them climb in by themselves than lift that dirt-covered furball into your arms?
Just remember to choose a model that is practical and durable. It is also important that your dog feels comfortable and secure while using the ramp and that it's practical and convenient for the owner, too.