Mop For Pet Hair -
Top Picks Tried and Tested
Last Updated By Matt Clayton 1 Week Ago
Oh yes, the joy of owning a dog and the horror of pet hair which often comes along.
You have a dog that sheds and come shedding season that already heavily shedding furry creature suddenly looks like it's cloning itself by leaving piles of hair everywhere. It can be so frustrating.
If you don't want pet hair everywhere, your options are limited. You need to brush your dog as often as you can and stay on top of upkeep cleaning. As pet hair keeps collecting in those corners, you need to get your cleaning gear.
And although vacuum cleaners are pretty efficient at removing pet hair, a mop is a good addition to your cleaning tools if you want to be more meticulous about eliminating small particles like dander and dust.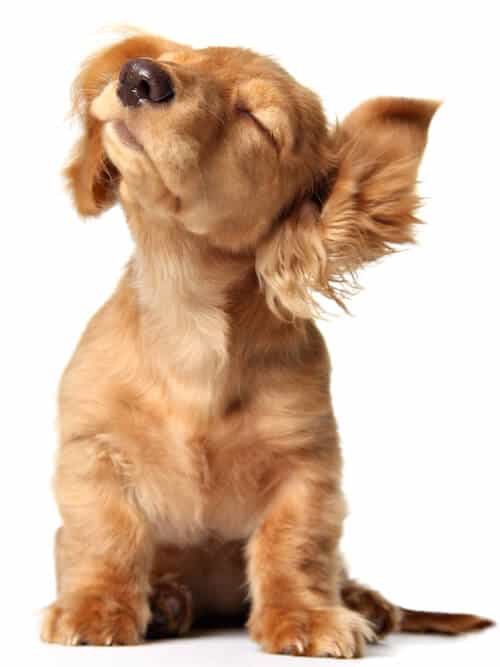 Mopping will also remove stains, and if you don't have time to lug out that big upright vacuum, it can also be a quick fix for removing pet hair that is floating across the floor.
It's also something you may need during shedding season after a brushing session or just a few gentle strokes to make your buddy happy.
What are the best mops for dog hair and cat hair? Here are the top 3 choices picked by experts from PetHairPatrol:
Best Dry Mop For Dog Hair & Cat Hair
Turbo Microfiber Mop Floor Cleaning System
Swivel Rotating Head
60" Telescoping Handle
Machine-washable
All Types of Floors
Best Mop For Dog Hair On Hardwood
Oshang Flat Floor Mop and Bucket Set
Self-cleaning Mop
Multi-Purpose Cleaning
Microfiber Mop Pads
1-Year Warranty
Best Dust Mop For Dog Hair & Cat Hair
Temples Pride Microfiber Flat Mop
Easy to Use
62" Telescoping Handle
Microfiber Pads;
Large 18-inch Base
Let's have a closer look at each one of them, after a quick guide on what to consider when picking the best pet hair mop.
Add a header to begin generating the table of contents
PetHairPatrol selects and reviews all products independently; however, we may earn a small commission on purchases made through our links. Learn more.
Best Mop for Pet Hair – Quick Guide
First of all, a quick "Mopping 101". We often get asked about wet mopping and dry mopping, but what you actually want to do is damp mopping.
The best mops used by professionals today are microfiber flat mops that can be used dry or damp.
They are excellent at picking up all kinds of dirt, including pet hair. Instead of just moving the dirt around like string mops or round mops, flat microfiber mops and a good cleaning technique will leave those floors shining. And don't worry, we'll soon show you a quick video of the proper professional technique.
But first, let's see what the most important factors are in choosing a mop for dog hair.
What you need is
a high-quality microfiber cleaning pad that is absorbent, machine washable and has a secure fastening method
a sturdy, lightweight, and comfortable handle you use with the pad
That's all. It's all very simple when you have the right equipment and know how to use the mop so that the dirt is not just spread around more evenly.
Next, we'll show you our favorite products – tried and tested in our homes.
Best Mop for Dog Hair –
Top Picks Reviewed by Experts
Here are the top choices from our experts at PetHairPatrol. We took a bunch of highly popular mops home tested them in our own pet homes, and this is our verdict. These were the three best mops for dog hair.
Best Dry Mop for Dog Hair:

Turbo Mop Microfiber Mop Floor Cleaning System

Our top choice because it's a professional-grade mop with microfiber pads that tackle all kinds of pet messes from dog hair to urine stains on all floor types. Check the latest price.
Why we love this mop: As pet owners, we know dogs can make a mess. They often shed profusely, but that is not the only mess you need to clean up.
Urine, poo, and vomit accidents happen too, and that is why we want a mop that not only works on pet hair but all other messes as well. And this Turbo Mop Microfiber Mop does exactly that. Let's see what we found out testing this mop.
First of all, the package comes with a handle, the mop head, 2 microfiber pads, and 2 scrubbing pads. For the price, it's a pretty good deal, with four mopping pads included. The high-quality pads are long-lasting, but you can easily buy replacement pads online when you need to.
Key Features
360-degree swivel head
Large 17" mop head
35 - 60" adjustable telescoping handle
Lightweight but sturdy handle
Ecofriendly machine washable pads
Suitable for all floor types
Can be used for dusting, dry mopping, and wet mopping
Professional-grade microfiber pads
The cleaning pads are professional-grade microfiber pads, which means they are highly absorbent and suitable for all types of floor, from tile and vinyl to hardwood and laminate. They worked perfectly on every floor type we tested them on.
The pads have more than 10,000 fiber loops that catch and trap dirt easily. The design is perfect for pet hair as well, as we found out the mop attracts and picks up dog hair efficiently.
The pads are attached securely with Velcro, so they stayed on while cleaning but were easy to remove for washing or rinsing.
We also loved that they are reusable and machine washable up to a hundred times. That is not only environmentally friendly, but it saves you a lot of money too, not having to buy disposable cleaning sheets. The microfiber pads are suitable for dry mopping, wet mopping, and dusting, so it really is an all-purpose mop.
Pet messes are simply cleaned up with a damp pad and some enzyme cleaner, while pet hair and dust are easily removed with a dry mopping pad. The package also has two deep clean scrub pads for removing stubborn stains.
Although the regular mopping pads are gentle on all floor types, we do not recommend using the scrub pads on delicate surfaces to avoid any kind of scratching. Still, these pads were amazing at removing dry stains.
Handle
The handle on this mop is a sturdy aluminum alloy rod with a 360-degree swivel head that enabled us to reach between and under furniture and appliances. The low profile makes it comfortable to clean under the couch or bed, helping you catch those furballs lurking under furniture.
It is a telescoping wand and adjustable from 35" to 60" so you can quickly adjust it for your height, making cleaning more effortless.
Summing up
All in all, this was a great mop for dog hair – and all other messes too. It picked up short and long pet hair with no effort and helped us remove all other pet messes too. We definitely recommend this mop for pet homes with heavily shedding pets.
Pros
+ Perfect microfiber design for pet hair
+ Lightweight but durable
+ Suitable for all types of floor
+ Machine washable pads
+ Ecofriendly and saves you money
+ Can be used for dry and wet mopping
Cons
- It can be too large for small apartments
Best Mop for Dog Hair on Hardwood:

Oshang Flat Floor Mop and Bucket Set
Why we love this mop: We love this mop for dog hair because it's user-friendly and tackles pet hair with no problems at all.
It's a set that comes with the mop handle, the mop head, microfiber pad, and a bucket you can use for washing and drying the pad – hands-free!
Let's see what our test group thought of the product:
Key Features
360-degree swivel head
61" adjustable handle
13-inch medium-sized cleaning head
Reusable and eco-friendly mop pads
Machine washable
Comes with a bucket for wetting and drying the mop
Can be used for wet and dry mopping
Mopping pads
The mopping pads are made of microfiber, which attracts dog hair and makes it easy to clean up. They are reusable and machine washable, which means they are eco-friendly, easy to pop in the washer for cleaning, and you save a lot of money not having to buy disposable cleaning pads.
The material is a bit thin, which we didn't really mind as having a very thick mop pad can make it difficult to keep it dry enough considering that you shouldn't use too much water on most floor types.
Otherwise, the material was soft and suitable for all floor types while excellent at picking up dust, hair, and other dirt. It also attaches to the cleaning head firmly.
Handle
The handle has a 360-degree swivel head and a sleek and low-built design, which enables you to easily clean between and under furniture. It also glides nicely, making cleaning effortless and is comfortable to hold.
The handle comes in four parts, so you can adjust the mop to your height. The assembly is easy, but if you have family members of very different heights, it's not the easiest solution having to add and remove extension poles when you switch users. However, since it's easy to take apart, you can store the whole handle in the bucket!
Bucket
This mop comes bucket that will enable you to wet and dry the mop without getting your hands dirty. Other mops require you to rinse and wring them with your hands because the mop should never be too wet to prevent damage to the floor.
The wet groove of the bucket has prongs that will loosen the dirt and wash the mopping pad, while the dry groove is used to wring the mop and leave any remaining loose dirt into the bucket instead of spreading it on the floor.
What we like about the bucket is that not only can you keep your hands clean and dry, but you can also determine how damp you want the cleaning pad to be. You can use the wringing system 1-3 times, depending on whether you have stains you want to clean with a wet mop or if you're just using the mop to pick up dust and pet hair from a more delicate floor type that you shouldn't clean with too much water.
The bucket also has plugs in the bottom you can open for easy emptying.
Summing up
This popular product is not just a fantastic mop for dog hair but a complete mopping system for all kinds of floor materials and different messes. The microfiber pad is great for picking up hair and doing dry mopping, but it also enables you to tackle all other messes to keep your home spotless. And since it even comes with the clever bucket system, it's a really smart choice if you want effortless cleaning.
Pros
+ Made of pet hair-attracting microfiber
+ Soft material suitable for all floor types
+ 360-degree swivel head
+ Reusable and environmentally friendly mop pads
+ Machine washable for easy cleaning
+ Comes with a bucket for hand-free cleaning of the pad
+ Can be used for wet and dry mopping
Cons
- Extension pieces of the handle are a bit awkward
- The material of the pad is quite thin
Best Dust Mop for Pet Hair:

Temples Pride Microfiber Flat Mop
A professional-grade mop with three mop pads and an easy-to-maneuver cleaning head. Perfect for dry mopping dust and pet hair. Check the latest price.
Why we love this mop: The package comes with an adjustable telescope wand, an easily maneuverable cleaning head, and three different mop pads.
It's especially good for dry mopping and works miracles for dog hair.
Let's see in detail what our test group thought of the product:
Key Features
360-degree swivel head
18-inch cleaning pad
29 "– 62" telescoping handle
It comes with 3 different mop pads
Machine washable pads
Eco-friendly
Can be used for wet and dry mopping
High-quality microfiber mopping pads
The mopping pads are professional grade, and the package comes with three different pads for varying cleaning purposes. One of the pads is for dry mopping, the second is a bit thicker and for wet mopping, and the third is for wet mopping as well but has a frilled edge.
They are made of high-quality microfiber, which grabs dust, dirt, and pet hair, but we loved the dry mopping pad, which created static that pulls in dog hair and traps it in the fibers.
The pads stay on securely but are easy to remove for rinsing or washing. And because they are machine washable, it's easy to pop them in the washer for thorough cleaning. Also, because you don't have to constantly buy new disposable pads, you save money – and it's eco-friendly too.
Handle
The mop comes with a telescoping handle, which can be easily adjusted to your height, so you don't get a sore back from bending down while mopping. Sometimes it doesn't lock in place properly and can loosen while mopping, which we found a bit frustrating but fine as long as we were careful to tighten it securely before mopping.
The mop is easy to steer between furniture and has a low profile for reaching under couches, beds, and low-built appliances.
Summing up
This microfiber flat mop is a great addition to your cleaning gear if you're looking for something that helps you clean up all that pet hair. The dry cleaning pad is excellent for dog hair, and the product is easy to use and keep clean.
Pros
+ Amazing for dry mopping dust and pet hair
+ Suitable for all floor materials
+ Sturdy adjustable handle
+ Wide cleaning path
+ Machine washable pads
+ Can be used for dry and wet mopping
Cons
- Sometimes the extension doesn't lock properly