Last Updated By Matt Clayton 1 Week Ago
Best Leather Couch for Dogs in 2022 –

Top Dog-Proof Leather Sofas
Contrary to common belief, leather is actually a pet-friendly material for furniture. That is if you choose the right type of leather. High-quality leather will resist pet messes, including pet hair, stains, odors, and scratches. But you need to know what you're looking for.
A genuine leather couch is usually an expensive piece of furniture. However, you can look at it as an investment.
Cheaper fabric or faux leather couches are not as durable, and in pet homes, they may quickly end up looking nasty and worn out. A good leather couch is always stylish, easy to keep clean, ages beautifully, and lasts for years to come.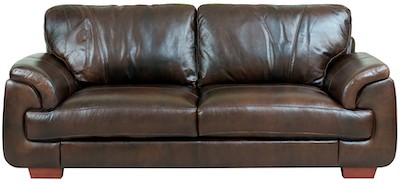 So how do you know a good leather couch? Here's our top picks, and quick guide.
Editor's Choice
Stone & Beam Lauren Leather Sofa Couch
Formal & Comfy
Rivet Aiden Mid-Century Modern Sofa Couch
Sophisticated & Classic
Rivet Cove Mid-Century Modern Sofa Couch
Add a header to begin generating the table of contents
PetHairPatrol selects and reviews all products independently; however, we may earn a small commission on purchases made through our links. Learn more.
Dogs and Leather Couch –
Quick Guide to Buying
When looking for a pet-friendly leather couch, you need to consider a few key factors. This is our quick guide for finding the perfect pet-proof couch made of leather. For more details, scroll down for the comprehensive buyer's guide.
Choose only genuine leather. Top grain leather, which is also called full-grain leather, is the highest quality leather and, therefore, the best choice for pet homes. It's thick and durable while also being stain, odor, and scratch-resistant.
Style. There are many different types of sofas, including the traditional, sectional, loveseat, and sleeper models. Here you need to consider the size of your living area, placement of the sofa, and your preferences and needs. Which type and style is the best fit for your home?
Budget. When it comes to a leather sofa in a home with pets, you don't want to skimp. High-quality leather is more expensive than lower-quality leather, but if you have a cat or dog, the quality of the material really matters. Think 

of it as a long-term investment. You wouldn't want to spend any amount of money on something that doesn't last. On the other hand, it's worth spending a bit more if it's going to last for years and age elegantly.

Size, and how many people you want to fit on the sofa. Size matters, and not just because you want the sofa to fit your living room, but because you want it to fit through the door. Make sure you measure carefully to ensure the couch your buying is the right size.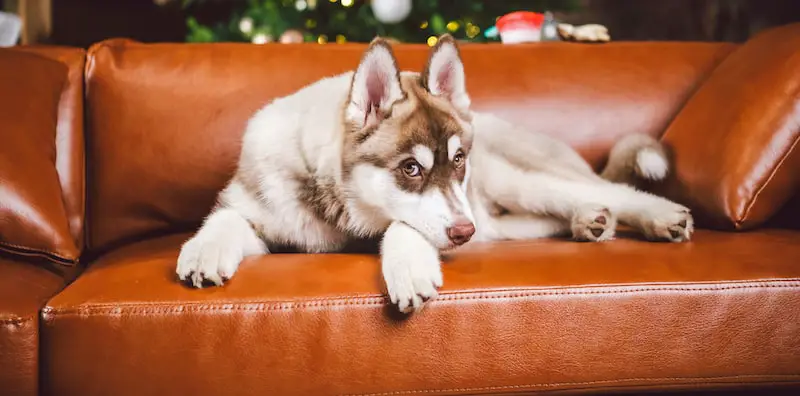 Related reading: Leather Couch with Dogs - Yay or Nay?
Pro Tip !
Ordering online is becoming more popular with furniture. With good reviews and detailed product descriptions, you can certainly find the perfect pieces of furniture and then just have them delivered to your door.
Buying online is easy and usually successful if you do your homework first. Also, make sure you're using a well-known company with good return policies, customer service, and warranties.
Now that you know which factors to look for, let's have a look at some of our favorite (and highly popular) leather couches you can have easily delivered to your doorstep.
Best Leather Sofa for Dogs –
Our Top Picks
Luxury, comfort, and style with genuine leather upholstery and down filling. The top choice for homes with dogs.
          Key features
Genuine leather upholstery
Cushions filled with luxurious down
Simple and elegant, yet comfy design
Available in two sizes
Solid hardwood frame
Reversible seat cushions
Easy to wipe clean
Why we like this couch:
This highly popular sofa has a modern and sleek look that looks good with almost any furniture and style. It also stands time very well – not just the material but the overall design as well. It's soft and comfy while also firm and not saggy. You can combine it with a living room chair or ottoman if you're looking for a full set.
The seat height is lowish, and the seat depth is deep. The seat lean is also relaxed, so this is a perfect sofa for lounging and getting comfortable.
There are two beautiful colors of leather available, and the materials are soft but thick and durable. The frame is made of hardwood, which is the ideal choice if you're looking for a couch that's made to last. Also, the plush cushions are filled with lavish goose down.
This sofa is also a safe choice since your get 30 days for free returns and a 3-year warranty.
Dimensions

:
Small: 73.6''W x 44.9" D x 37.4"H
Large: 89.4''W x 44.9" D x 37.4"H
Seat height 18.5"
Seat depth 25"
Seating capacity: 2/3
A stylish and formal yet comfortable sofa with genuine leather upholstery and foam filling.
          Key features
Top grain leather upholstery
Solid hardwood frame
Foam padding
Easy to keep clean
Stylish design combined with comfort
Available in different sizes
Back cushions are reversible
Why we like this couch:
This is another highly-liked sofa with a mid-century look. A bit more formal with a tufted one-piece seat cushion, but still a contemporary feel to the overall design – with a pet-friendly build, of course.
The cushioning is quite firm, with a medium seat height and lean. Compared to the Stone & Beam couch, this is more of a formal sofa but still comfortable to relax in.
The material is, of course, top-grain leather, with a foam filling in the cushions. The frame is sturdy and made of hardwood with tapered wood legs that give the sofa a light appearance. It comes in three colors you can choose from, and you can get a matching living room chair or ottoman if you like.
Another thing we love about this product is, of course, the 30-day free returns policy, which allows you to change your mind, and the 1-year guarantee that ensures you're getting the quality you pay for.
Dimensions

:
Sofa: 86.6" W x 36.2" D x 30.3" H
Sectional: 86" W x 37" D x 33" H
Loveseat: 74'' W x 36.2" D x 30.3" H
Seat Height: 17.7"
Seat Depth: 23.2
Seating capacity: 2/3
Cozy modern sofa with mid-century touches made with genuine leather and foam-filled cushions.
          Key features
Genuine leather upholstery
Foam-filled cushions
Solid hardwood frame
Available in two sizes
Plush and comfortable
Easy to keep clean by wiping or vacuuming
Why we like this couch:
This genuine leather sofa comes with a sophisticated look that combines modern simplicity with mid-century features like hand-tufted cushions. The overall look is light because of the simple design and tapered legs that give the sofa a light effect.
The seat height and seat lean are medium, with a fairly deep seat depth. Combined with the cushions' medium firmness, this sofa is a perfect combination of cozy comfort and smart elegance.
The cushions are upholstered with high-quality genuine leather and filled with foam, while the sturdy frame is built with hardwood – a perfect build for a leather couch for dog homes.
Again, we applaud the 30-day free returns policy and 1-year guarantee, which give you peace of mind.
Dimensions

:
Sofa: 71.7"W x 33.9"D x 35.4"H
Loveseat: 56.3"W x 33.8"D x 35.4"H
Seat height 18.5"
Seat depth 20.86"
Seating capacity: 2/3
Are Leather Couches Good for Dogs -

5 Factors to Consider