Last Updated By Matt Clayton 4 Weeks Ago
Best Carpet Cleaner for Pets
Top 5 & Buying Guide
We select and review all products independently; however, we may earn a small commission on purchases made through our links. Learn more.
If you're a pet owner and you have a home with wall-to-wall carpeting or large area rugs, you're probably already familiar with the problem. Pets have accidents on your carpets, and they drag in dirt from outside.
With pets in the house, your carpets can quickly become stained and start having a nasty odor.
It's expensive to get your carpets professionally cleaned, and with new stains showing up every day, you need to have an easier solution.
We're very happy to say that we can help you with this problem. All you need is a high-quality carpet cleaner designed for pet homes.
First, we'll introduce you to the best carpet cleaners for pets that will keep your carpets fresh and spotless. Then, we'll go into more detail in our comprehensive buying guide for carpet shampooers. Let's get started.
Add a header to begin generating the table of contents
*star rating by PetHairPatrol
The top 5 -
Best Carpet Cleaner for Pets
 1. Bissell ProHeat 2X Revolution Pet Pro
(Best Overall)

Smart features combined with practical tools and excellent performance. The perfect carpet cleaner for clean and fresh carpets in pet homes. Click here to see the latest price.
Why buy this product: This product is the best and most powerful carpet cleaner from Bissell. It has a Max Clean Mode and 12 rows of rotating Dual Dirt Lifter Power Brushes, which together bring you professional-grade carpet cleaning. Express Clean Mode will have your carpet clean and dry in 30 minutes, and the Clean Shot Pretreater treats the toughest stains with concentrated cleaning solution for the perfect result.
It's lightweight and low-profile to make maneuvering easy, and you get a 2-in-1 Pet Upholstery Tool which is ideal for all those pet-related messes. This machine has all the right features to be the perfect carpet cleaner for pet homes.
With this carpet cleaner, you don't have to worry about your pets making a mess – it will deep clean your carpets, making them spotless and fresh-smelling in no time.
Tank capacity: 1 Gallon
Cord length: 25'
Hose length: 8'
Cleaning path width: 11"
Weight: 17.5
Dimensions: 15 x 12.5 x 43.5 inches
Warranty: 5-year limited warranty
Key Features
1. Pet Pro clean-up system
This Bissell carpet cleaner has the Pet Pro clean-up system, which includes
the CleanShot Pretreater,
2-in-1 Pet Upholstery Tool, and
the EZ Clean Brush Roll Cover.
The CleanShot Pretreater will treat the toughest stains with a concentrated cleaning solution before the Deep Clean Mode powers through the stains. You get a trial size of the Professional Pet Urine Eliminator + Oxy, which is the most potent formula from Bissell for treating those nasty pet pee stains. By pretreating the stains with this solution, you are guaranteed to have the best possible cleaning results.
The package includes the 2-in-1 Pet Upholstery Tool which makes this carpet cleaner incredibly versatile as it enables you to clean not only carpeted floors but above-floor areas as well. You can use this tool with the extension hose to clean carpeted stairs, car seats, and upholstered furniture. Pets don't just make messes on the floor, which is why this attachment combined with a stretch hose is perfect for pet homes.
The 2-in-1 Pet Upholstery Tool works in both wet and dry modes, which makes it highly useful for removing pet hair, stains and odors from your couch and other upholstered furniture. It enables you to have that clean and fresh pet home from floor to ceiling.
But that's not all. Bissell has wanted to make this product not just efficient and functional, but easy to use as well. When thoroughly cleaning carpets in a pet home, some pet hair will get tangled around the brush rolls. To make maintenance quick and easy this carpet cleaner has an EZ Clean Brush Roll Cover which is quickly removed to give you access to the Dual DirtLifter Power Brushes. Another feature ideal for pet owners.
2. Dual DirtLifter Power Brushes Combined With Heatwave Technology
The Bissell ProHeat 2X Revolution Pet Pro has Dual DirtLifter Power Brushes that are incredibly powerful to dig deep into those carpets. Having two sturdy brush rolls enables this machine to lift up all that embedded dirt and pet hair – even if you have those plush high-pile carpets.
While the brush rolls lift up dirt, they also agitate the surface of dense carpets allowing the cleaning solution to be spread evenly throughout the carpet. By doing this, the carpet cleaner ensures it's not just the surface that gets cleaned, but the cleaning power will reach even the base of the carpet.
Another notable feature is the Heatwave Technology, which keeps the water warm while you're cleaning. To get the best cleaning performance, you should add warm water to any carpet cleaner. But the water usually won't stay warm, causing the performance to drop slowly. With the integrated Heatwave Technology heater, this carpet cleaner keeps the temperature of the water – and the performance – up.
The water tank is smallish and may need to be filled up during a cleanup, but this is only a minor downside to an otherwise terrific carpet cleaner. This Bissell device is actually so effective it outcleans the leading rental cleaner with the Deep Clean mode. It even removes skunk smell!
3. Lightweight and low-profile
The Bissell ProHeat 2X Revolution Pet Pro is lightweight at only 17.5 pounds. It is easy to carry around even with the water tank filled up, and according to user experience, it's easily moved across the carpets.
This carpet cleaner also has a low profile, which means it can be pushed under low-built furniture and easily steered around your home. This is an important detail because you don't want to be lugging all of the furniture away from your living room when you just want to do a quick cleanup under the coffee table.
4. Express Clean Mode
Another feature we love about the Bissell ProHeat 2X Revolution Pet Pro is the Express Clean Mode. With pets, you often have the need to do a quick cleanup. Maybe your cat urinated on the carpet or your dog dashed inside with muddy paws. With the guests coming over, you don't have time for a deep clean, but you don't want smelly and stained carpet in your living room.
With the Express Clean Mode, you will have clean and dry carpets in just 30 minutes! This feature is perfect for those quick cleanups when you need a clean carpet, and you need it fast.
What We Like
+ Lightweight and easily maneuvered
+ 8-foot extension hose
+ Better cleaning than the leading rental carpet cleaner
+ Low-profile foot to reach under furniture
+ Very powerful Dual DirtLifter Power Brushes
+ Edge Sweep Brushes to clean edges
+ Heatwave Technology to keep the water heated
+ CleanShot Pretreater for tough stains
+ EZ Clean Brush Roll Cover for easy maintenance
+ Express Clean Mode to get clean and dry carpets in 30 minutes
+ 2-in-1 Pet Upholstery Tool for furniture, car seats and carpeted stairs
+ The amazing 5-year limited warranty
 2. Hoover Smartwash Automatic Carpet Cleaner
An incredibly easy to use and efficient carpet cleaner with automated functions and a highly useful pet tool. Carpet cleaning doesn't get any easier! Click here to check the latest price.
Why buy this product: This Hoover Smartwash Automatic Carpet Cleaner is incredibly easy to use with the Automatic cleaning technology. No multiple buttons or triggers – just push to wash and pull back to dry.
The FlexForce PowerBrushes dig deep into carpets giving them a thorough cleanup, while the Auto Dry HeatForce technology dries your carpets quickly. With Dual Tank System and Auto Mix feature, you don't have to worry about measuring and mixing the cleaning solution – the vacuum does that too!
To make it ideal for pet owners, Hoover has added the 2-in-1 Antimicrobial Pet Tool you can use to deep clean upholstered furniture, car seats and carpeted stairs. This carpet cleaner combines well-known Hoover quality with functional features making it an excellent carpet cleaner for pet homes.
Tank capacity: 1 Gallon
Cord length: 22'
Hose length: 8'
Cleaning path width: 12"
Weight: 18.5 lbs
Dimensions: 18.9 x 13 x 43.5 inches
Warranty: 2-year limited warranty
Key Features
1. Automatic Cleaning Technology
The Automatic Cleaning Technology from Hoover makes carpet cleaning just as easy as vacuuming. You don't have to use multiple buttons for washing and drying, because the automated system does all that work for you. You simply push the carpet cleaner forward to wash and pull it back to dry. It won't get any easier!
You also don't have to worry about measuring and mixing the cleaning solution, because the Hoover Smartwash Automatic carpet cleaner does that for you. It has separate tanks for the cleaning solution and water, and the Auto Mix feature mixes and dispenses the solution automatically to get the optimal cleaning results.
2. 2-in-1 Antimicrobial Pet Tool
The 2-in-1 Antimicrobial Pet Tool on this vacuum allows you to apply that deep cleaning power to more than just your carpet. With this powerful tool, you can use the machine to clean above-floor areas like upholstered furniture, car seats, and carpeted stairs.
This a great feature for pet owners, since pet-related messes are not just found on your carpeted floors and having a versatile carpet cleaner makes sure you can tackle those messes where ever they are.
3. FlexForce PowerBrushes
The FlexForce PowerBrushes are two rotating brush rolls which firmly scrub the surface to lift up any dirt, dust and pet hair lodged into the carpet. The stiff bristles engage and agitate the surface to get the cleaning solution deep into the carpet. With these brush rolls, the cleaning power reaches all the way through the carpet, not just the surface.
These FlexForce PowerBrushes make sure your carpets get that deep clean they often need in homes with messy pets. Because the carpets are thoroughly cleaned, any smells won't be left lingering, and stains will be removed entirely leaving the carpet bright and stain-free.
4. Auto Dry HeatForce
This Hoover carpet cleaner uses heat and suction to dry your carpets faster. When you pull the vacuum back, it not only picks up the moisture by using the powerful suction, it also applies heated air to make the process quicker. The machine pushes down warm air which will lift the moisture leaving your carpets drier right after cleaning.
5. Lightweight design and low-profile
Because of the lightweight design, the Hoover Smartwash is easy to maneuver between furniture and other obstacles.
It also has a carry handle, which makes carrying of the machine more comfortable when you have more than one floor in your home.
The design is low-profile, which allows you to effortlessly push the carpet cleaner under furniture when you don't want to move it all out of the way for a quick cleanup.
What We Like
+ Powerful FlexForce PowerBrushes
+ Automatic Triggerless Design
+ Auto Dry HeatForce dries the carpets quickly
+ Automated cleaning technology for easy use
+ Lightweight design and low profile foot
+ 1-Step Removable Nozzle for easy maintenance
+ Auto Mix feature automatically mixes and dispenses the cleaning solution
+ 2-in-1 Antimicrobial Pet Tool for furniture, car seats and carpeted stairs
+ Dual Tank System is easy to fill and empty
+ Carry handle for comfortable carrying
What We Dislike
- The power cord could be a bit longer
- Smallish water tank
3. Bissell Pet Stain Eraser PowerBrush
Lightweight and powerful cordless carpet cleaner for quickly cleaning up all kinds of pet messes. Check the latest price.
Why buy this product: In pet homes, accidents are bound to happen. They often involve urine, feces, and vomit, and you will want to have something at hand you can use to clean them up before the stains and odors are embedded in the carpets and rugs. This Bissell Pet Stain Eraser PowerBrush is a lightweight and easily portable carpet cleaner with a rotating brush that can handle tough stains.
It is not only excellent on carpets and rugs but stairs, upholstery, and the car interior as well. And not only pet messes but spilled drinks and food too. Because it's cordless and uses a ready-to-go formula for cleaning, it is always ready to tackle a stain when an accident occurs.
Tank capacity: 8 oz.
Dirt cup capacity: 8 oz.
Charge time: 4.5 Hours
Run time: 20 min
Cleaning path width: 3"
Weight: 4.4 lbs
Dimensions: 18.25 x 10 x 7 inches
Warranty: 2-year limited warranty
Key Features
1. Grab & Go Cordless Cleaning
What we love about this product is that because it's cordless, you can take it anywhere. It cleans your carpets and rugs, the stairs, your car seats – anywhere you can imagine your pet having an accident.
It's very convenient with a 20-minute run time that's more than enough for those urine accidents, spilled drinks, or other messes that need a quick cleanup. Just grab the tool, spray the solution on the stain and let the machine lift the stain.
Many pet owners with carpets use an enzyme cleaner and try to scrub off stains. And every so often, they pay for a deeper cleanup done by a professional company. But if you're a pet owner (or you have kids), you know that the stains are common and need to be removed before they settle and make your carpet look nasty.
This is the perfect lightweight solution for having your own carpet cleaner that quickly and easily removes all those everyday stains. 
2 DirtLifter PowerBrush
The spinning brush is what makes this machine excellent for carpets and rugs. The Bissell DirtLifter PowerBrush spins at 2000 rpm digging deep into the surface and lifting up stains from between the fibers. The brush ensures that even stains that have been embedded deep into the carpet get removed thoroughly.
The spinning brush works on many types of surfaces, from low-pile and high-pile carpets to car interiors and furniture. The only surface that we don't recommend this tool for is shaggy rugs. The brush is quite powerful, so some delicate surfaces and very thick carpets might not be ideal for working on. Still, on most surfaces, we found that the Bissell Pet Stain Eraser PowerBrush did an excellent job.
3. Stationary Pet Tool
In addition to the spinning brush, this carpet washer also comes with a Stationary Pet Tool for more delicate surfaces. It is designed to effectively lift up and remove the stains from surfaces that the powerful brush roll can be too robust for.
This second tool adds even more convenience and allows you to use this carpet cleaner on so many more surfaces than just your carpets. Did your pet have an accident on your expensive couch? No worries, this tool will carefully remove the stain and leave the furniture spotless.
4. Ready-to-Use Formula and Easy Maintenance
The carpet cleaner uses ready-to-go formula, so you don't have to worry about mixing it with water. Just pour the BISSELL PRO OXY Spot & Stain Formula in the tank, spray the solution on the stain, and let the suction and tools do their job. It comes with two trial-size bottles of cleaning solution, so you're ready to go straight away.
A small downside is that since this is quite a small tool, it doesn't have the suction power needed to dry the surface thoroughly. It does pick up the stains, but most surfaces need some time to dry out completely. However, this is very understandable considering that even professional carpet cleaning machines will not leave a carpet thoroughly dry. 
We also love that all the parts like the brush roll and tank come off easily and quickly. They can be cleaned under running water which makes maintenance effortless.
All in all, this is a very user-friendly and helpful tool in all pet homes where accidents are just waiting to happen.
What We Like
+ Cordless and portable
+ Lightweight with a 20-minute run time
+ Can tackle many kinds of messes
+ Suitable for different surfaces, including carpets, rugs, and furniture
+ DirtLifter PowerBrush works on tough stains
+ Easy to take apart for cleaning
+ Every purchase helps save homeless pets
What We Dislike
- It leaves the carpets a little damp
- Not for shaggy carpets
 4. Hoover PowerDash Pet Carpet Cleaner
A compact yet powerful carpet cleaner with reasonable pricing. This product has high user ratings, and it offers excellent cleaning results. Check the latest price.
Why buy this product:The Hoover PowerDash carpet cleaner is a highly popular product with excellent ratings and numerous satisfied users. It is a powerful and efficient yet reasonably priced option for those looking for an affordable carpet cleaner.
At this price level, it may not have all the bells and whistles, but it is still a sturdy and capable machine with excellent cleaning power.
Being compact and lightweight it is a perfect choice for smaller homes, while the PowerSpin Pet Brush Roll guarantees pet owners will love the cleaning results. This carpet cleaner is easy to use, and it cleans your carpets thoroughly – two excellent reasons to make it one of our top picks.
Tank capacity: 0.5 gallons
Cord length: 20'
Hose length: -
Weight: 13 lbs
Dimensions: 15.2 x 10.1 x 43.5 inches
Warranty: limited 2-year warranty
Key Features
1. Powerspin Pet Brush Roll
The Powerspin Pet Brush Roll is a sturdy spinning brush bar with bristles that dig deep into your carpets. It offers powerful cleaning with antimicrobial protection to keep your pet home thoroughly clean.
This product is actually marketed as having 2x more cleaning power than the leading lightweight carpet cleaner, and it really does offer excellent cleaning results for such a lightweight carpet cleaner.
Often pets shed a lot of hair and dander which gets embedded into your carpets. They may also have accidents involving urine and vomit which quickly get absorbed into your carpet - not to mention prints left by muddy paws or sticky stains from chew treats.
In pet homes, carpets usually need a thorough cleanup every once in a while to keep them spotless and smelling fresh. And to give you that level of deep clean, you need a powerful brush roll like the Powerspin Pet Brush Roll. It digs up all that embedded dirt and fully cleans your carpets.
2. HeatForce feature
The Hoover Powerdash carpet cleaner pulls up moisture using its powerful suction, but it also uses heated air to dry the carpet further. This feature cuts down the drying time enabling you to deal with any messes quickly and efficiently at any time. Even if your guests are already pulling up into the driveway when your pet has an accident on your living room carpet, you will still have time to deal with the mess and welcome your guest to a clean and fresh home.
3. Lightweight and compact design
The Hoover Powerdash Pet carpet cleaner is perfect for small spaces because of its smart design. It is only 13 pounds, which makes it easy to steer and maneuver between furniture and in tight spaces. Also, the design is compact, which makes it perfect for convenient storage and easy to handle.
The foot of the carpet cleaner has a low profile which allows it to be pushed under low-built furniture. This is an excellent detail when you want to make sure you have a practical carpet cleaner that can quickly deal with unexpected messes. You don't have to move all the furniture out of the way if you spot a mess under your coffee table. Just get out your Powerdash, and your carpet will be spotless in a few minutes.
4. Dual Tank System
The Dual Tank System keeps the clean and dirty water separate making it easy for you to fill up and empty the water tanks. Just fill up the clean water tank before you start cleaning, and empty and rinse the dirty water tank after you're done. It's quick and simple, and you can avoid the hassle with massive water tanks.
Another nice feature is the removable nozzle which allows you to easily clean the brush roll from any hair or other gunk that might gather around it.
What We Like
+ Powerspin Pet Brush Roll offers a thorough cleanup
+ HeatForce feature enables carpets to dry up faster
+ Lightweight for easy maneuvering
+ Compact size for small spaces
+ Low-profile foot to reach under furniture
+ Dual tank system makes it easy to fill and empty
What We Dislike
- No hose for above-floor cleaning
 5. Bissell SpotClean Professional Portable Carpet Cleaner
Why buy this product: If you're looking for a portable spot cleaner to clean up messes left behind by your pet, then this is the one to get.
The SpotClean Professional is the most powerful spot cleaner from Bissell. It is compact and portable, and it gives you professional-level cleaning results. This carpet cleaner combines cleaning formula, warm water, scrubbing, and strong suction to get the best cleaning result possible. Foams and sprays will only clean the surface, but for a deep clean and fresh smell, you need a carpet cleaner.
If you don't need a full-sized machine, but you want to get those vomit, urine and mud stains off your carpets and furniture, then this product is ideal for you.
Tank capacity: 3/4 Gallon
Cord length: 22'
Hose length: 5'
Weight: 13 lbs
Dimensions: 10 x 14 x 14 inches
Warranty: 2-year limited warranty
Key Features
1. Lightweight and portable
The SpotClean Professional from Bissell weighs only 13 pounds, and it's easy to carry around with the carry handle. Because it's lightweight, you can easily take it where ever you need to.
Dog vomit on the couch, muddy paw prints on the stairs, spilled pet food in the living room? Don't worry; the SpotClean carpet cleaner is compact, so it will easily fit in your kitchen closet, and it's always ready when there's a mess to clean up.
2. Large capacity tank
The size of the water tank is ¾ gallons, which is adequate for a small carpet cleaner like this. If you're cleaning a large area, you might have to fill up the tank to finish the job, but having a larger tank would make the appliance heavier.
3. Professional cleaning results
Some pet owners use sprays or foams for spot cleaning when their pets make a mess. These solutions might clean the surface of the carpet, but they won't reach deep down to clean it thoroughly. Doing this will result is lingering smells and the carpet eventually getting a nasty overall look with light stains here and there.
If you really want a thoroughly cleaned and nice smelling carpet, you need to have a spot cleaner. The cleaning solution only gets you so far, but adding warm water, scrubbing and suction will give the deep clean you're looking for.
4. Extra reach in hard-to-reach areas
With the 5-foot hose and a portable appliance, you can reach anything. This spot cleaner will clean your car, furniture, stairs and other hard-to-reach areas that tend to get that nasty dirty look over time.
If you don't have carpets covering your floors, you may not need a full-sized carpet cleaner. But to thoroughly clean those pet-related messes like vomit, pee and paw prints, you will need this.
BONUS! Compatible with BARKBATH Dog Grooming Tool
This Bissell portable spot cleaner is compatible withthe Bissell BARKBATH Dog Grooming Tool that allows you to wash your dog without going through the trouble of setting up a bath. The attachment sprays your dog's fur with water while instantly sucking it up, leaving your pet's coat only a little moist meaning that there is no dirty water splashed on the floor.
The tool is a bit loud, so make sure to introduce your pet to being washed this way slowly, but after you both get used to the Barkbath it is an incredibly quick and mess-free way to bathe your pet!
And it's not only the Barkbath. Bissell has many useful add-ons you can buy separately to make your carpet cleaner even more versatile. They also manufacture professional-grade cleaning solutions, so just pick the one that fits your cleaning needs and you're sure to have a sparkling home.
Pros
+ Lightweight and portable
+ Large water tank
+ Professional level cleaning
+ Long extension hose for extra reach
+ Compatible with many useful add-ons
+ Two efficient attachments
Cons
- The hose could be more durable (but spare parts are available)
What We Like
+ Lightweight and portable
+ Large water tank
+ Professional level cleaning
+ Long extension hose for extra reach
+ Compatible with many useful add-ons
+ Two efficient attachments
What We Dislike
- The hose could be more durable (but spare parts are available)
How does a carpet cleaner work?
(And why you need one)
If your pet has left some unwanted stains and odors on your carpet, you may be wondering how to clean it up. Keeping your carpets fresh, clean and unstained can be challenging in a household with animals, but it can be done.
Many homeowners are used to calling a carpet cleaning company once or twice a year. But getting your carpets professionally cleaned can be expensive, and the stains and smells are embedded into the carpets while you wait for the next big cleanup.
Although professional carpet cleaning solutions and machines can do a pretty good job, they won't be able to completely get out dog vomit or cat pee that has had the chance to settle in the carpet for a few weeks or months. The best thing you can do is to get those messes cleaned up straight away before they get ground in.
But how does a carpet cleaner work and can you do the cleaning yourself to get better results at a lower cost?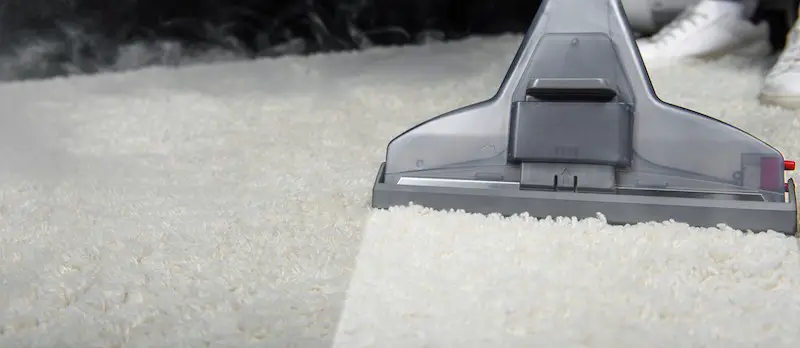 First of all, the answer to the second question is yes. Yes, you can most definitely clean your carpets yourself. We actually recommend it for pet owners, since pets often make messes you need to remove as quickly as possible to prevent persistent staining and foul smells. With a carpet cleaner in your closet, you are ready to tackle those messes when the accident happens. Your carpets will always be clean and they will always smell fresh and nice.
This leads us to the number one rule of working a carpet cleaner: always clean messes when they are fresh to get the best results.
Another pro tip is to use cleaning solutions that are designed for homes with pets. These products are tested not to be harmful to animals and they will be effective with stains like urine, vomit or dirt that has been tracked in.
Carpet cleaners actually use a combination of
cleaning solution
brush rolls
powerful suction
to clean carpets.
The solution is sprayed on the carpet with water to attack those tough stains. The brush roll then engages the surface digging deep into the carpets and pulling up the dirt. Finally, the suction pulls in the remaining water, cleaning solution and dirt.
For the carpet cleaner to be effective it not only needs a high-quality cleaning solution mixed in with water, but it also needs a sturdy brush roll and a strong suction. The revolving brush needs to be powerful enough to be able to dig into the surface of dense carpets while the suction needs to be strong enough to pull up all the excess moisture. A weak suction may lead to the carpet drying up too slowly, which may cause nasty smells and even mildew.
Some carpet cleaners heat up the water to provide better cleaning results, and other use steam to more thoroughly clean and dry the carpet. Other features that affect the performance of a carpet cleaner are:
Great attachments enable spot cleaning or cleaning above-floor surfaces, furniture, and stairs
The length of the power cord determines whether you will be able to reach even the furthest corners
Width of the cleaning path; a wide cleaning path allows you to clean more surface area with fewer passes
Power modes allow you to adjust the suction and brush roll according to the surface
Weight, profile, and maneuverability determine how well and easily you will be able to use the machine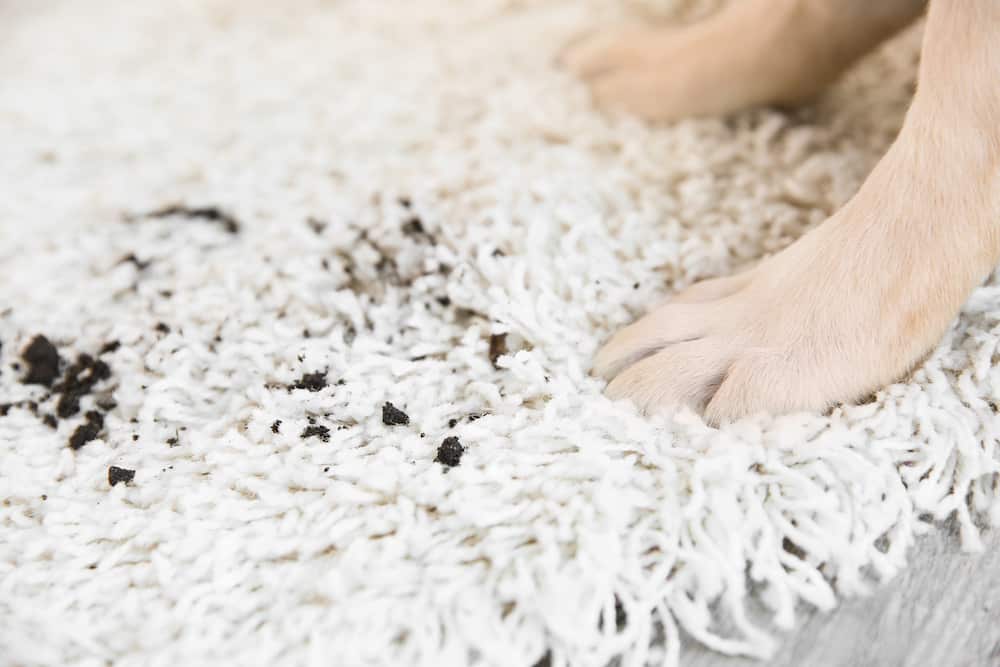 Since these features have an effect on the cleaning performance of the carpet cleaner, they are the features you should be on the lookout for when buying one.
The reason we are talking about buying a carpet cleaner instead of renting one is the fact, that it will save pet owners time and money. Professional rentals used to out-perform carpet cleaners that were geared towards residential use, but nowadays you can find a well-performing carpet cleaner with reasonable prices. Having a carpet cleaner at hand allows to you tackle messes when they are fresh without having to constantly lug home a rental.
Now you understand how a carpet cleaner works, why you should get one, and what you need to know when choosing one. The next step is to check out the reviews above to find the perfect one for you home, and you're on your way to a spotless and odor-free home with perfectly clean carpets!
Your carpet cleaner does not necessarily need to be specifically designed for pets if you make sure it has all the qualities we mentioned above.
Often products designed specifically for pets have some tools that you may find useful if you're a pet owner. These attachments include things like motorized brush roll tools for furniture which often come handy in homes with shedding pets.
The name of the product doesn't need to say pet, but if you want to get the most use out of your purchase, you should find a product with the best features and attachments. You will find the top products in the top section of this page.
Carpet cleaners may be available for rent at your nearest home center or hardware store. The rent is usually something around 20-30US per day, but that only gets you one day to do the cleaning.
If you have pets, we recommend you get a carpet cleaner of your own, because it's always ready when you need it. If you let pet pee, vomit or muddy paw prints sit there, they will harder to remove. If you have your own carpet cleaner, you can take care of the mess there and then, when it's still fresh and easy to remove.
Also, efficient and functional carpet cleaners are not that expensive anymore. If you divide the cost by the many years you will be using this machine, the price is actually very reasonable compared to going through the trouble of renting one every time your carpets need a cleanup.
Another thing you should consider is that rented carpet cleaners can be worn out, and they might do more damage than good. If the machine has not been properly maintained, you might even destroy your carpet.
When trying to find the best carpet cleaner for pets, you should keep your eye on a few critical features.
First of all, the carpet cleaner has to have a sturdy spinning brush bar with robust bristles. When you combine a brush roll like this to a powerful suction, the carpet cleaner has what it takes to dig that pet hair up from the carpets and to remove allergens, urine, vomit, and other stains thoroughly. A powerful suction and heating technology not only help you remove stains, but they also enable the carpet to dry faster, preventing mold and nasty smells.
In addition to these critical features, you will also want to make sure the carpet cleaner has a large water tank, long power cord, long extension hose, and attachments that are designed to handle pet-related messes.
Our top 5 recommendations for the best home carpet cleaner for pets can be found above. These powerful machines are the best carpet cleaners for pet homes.
Yes, you can undoubtedly remove dog urine from carpets by using a carpet cleaner and a cleaning solution that is targeted for urine stains. If you have a pet, we advise you to get a carpet cleaner of your own. Urine, vomit, feces, and other such messes pets may cause are best treated when they are fresh.
If you let these stains sit there until it's time for your bi-annual carpet cleaning, the stains and odors will be significantly more challenging to remove. If, on the other hand, you have a carpet cleaner at home, you can whip it out there and then when the accident happens, and it is much more likely that you can remove the stain without a trace.
It depends on your preferences. Both brands manufacture products that are effective and reliable. Both also manufacture products in different price ranges.
To find the perfect carpet cleaner for your needs, you should look at our reviews. When you read about the features, and you compare the pros and cons, which machine feels like something you would be comfortable using.
Since they are all capable of cleaning your carpets, it is only up to you actually make that happen. If you choose the product you're most comfortable with, you will happily take out the carpet cleaner every time your pet makes a mess.
The best way to remove pet odor from carpets is to keep them clean. We recommend having a carpet cleaner of your own because it allows you to clean your carpet regularly – which is the trick to having a home that smells nice.
A carpet cleaner combined with a suitable cleaning solution will dig deep into the carpets, sucking up everything that leads to that nasty pet smell. Pet hair, dust, dirt, and even drool and sweat slowly accumulate into your carpets, giving them that musty smell and gradually making them look stained.
By regularly cleaning your carpet, you will make sure it is stain- and odor-free – making your home smell beautiful too.
A carpet may smell worse after cleaning if it hasn't dried quickly enough after the last cleanup. Many carpet cleaners have a powerful suction combined with a heating technology to make sure that carpets dry up faster.
However, if your carpet has been left moist and the weather hasn't allowed proper ventilation, moisture may have been trapped under the carpet in the underlying padding causing mildew and a nasty smell. This smell can then be lifted up when you apply warm water to the carpet the next time you clean it.
What you need to do is to make sure the carpet is thoroughly washed and dried. Take care of proper ventilation after the cleanup, or even use space heaters to soak up the humidity.