Last Updated on January 29th, 2020
* PetHairPatrol strives to be a valuable resource for pet owners. We select and review all products independently; however, we may earn affiliate commissions when you buy through links on our site.
Here's the deal: You may have done a complete cleaning, vacuuming, and wiping of your home or a thorough cleaning and bathing of your furry family member—it doesn't matter: Every time your dog gets up and shakes itself, a huge amount of pet hair, dust, and dander are wafted in the air.
So even if you clean meticulously, if you own a pet, chances are there is plenty of hair, dander, and other small particles in the indoor air you breathe.
And not only is the hair and dander causing issues with cleanliness, but they can also make your nose itch and your eyes water.
What if you could get cleaner air and get rid of some of that pet hair, dander and odors at the same time? Having an effective air purifier guarantees clean and fresh air while saving you a ton of cleaning.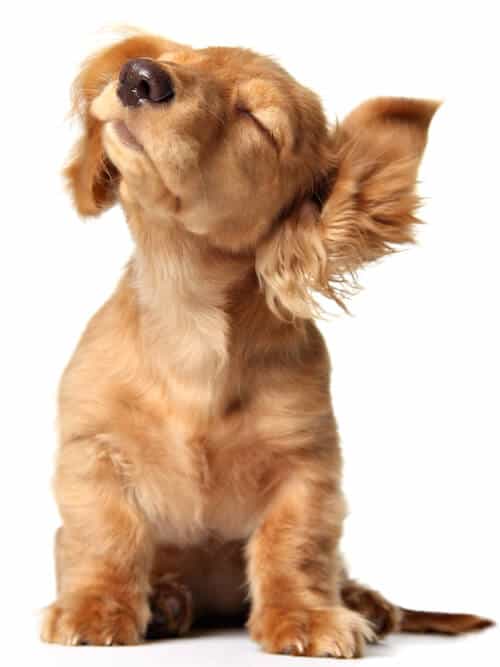 Next, we'll take you through everything you'll need to know when investing in an air purifier for pet hair. From the various features that are included a quality air purifier to comparing our top three choices, you can find all the facts, technical specs and essential information in this article. We will answer all your questions about air purifiers for pet owners. Let's dive in!
Top 5 air purifiers for pets - comparison chart
5 best air purifiers for dog and cat hair
Coway AP-1512HH Mighty Air Purifier
With a three-year warranty, an air quality indicator and a filter change indicator, this is an excellent choice for any dog owner looking for an efficient air purifier. Click here to see the latest price.
Key Features
4 Stage Filtration System (Pre, Carbon, True HEPA, Vital Ion)
Air Quality Indicator
Auto Mode
Eco Mode
3 Speed Air Flow Control
Timer 1/4/8 hours
Filter Replacement Indicator
Quiet Operation
Covers up to 528 ft²
Certification:
-  AHAM CADR: 233 (smoke), 246 (dust), 240 (pollen).
-  Energy Star
Coway first began devoting research and development processes to environmental solutions back in 1989. Their aim to enhance general living standards also mixes with their desire to produce and provide a visually appealing product with powerful performance to make your life easier.
Size and Coverage
Since the Coway Mighty air purifier is compact by design, it can comfortably fit into any home and room, but it's also perfect for a big space—it can clean up rooms that are up 528 square feet (about the size of a 3-car garage) in one go.
Filtration
With its four-stage filtration system (Pre-Filter, Carbon(Odor) Filter, True HEPA Filter, and Ionizer) you will definitely get cleaner than clean air.
The micro-mesh pre-filter will catch larger particles and lengthen the lifetime of the other filtering parts, and the carbon filter will take care of all those nasty smells.
To effectively eliminate dander, pollutants and other small particles the Coway AP-1512HH Mighty Air Purifier then uses a HEPA-filter and finally an ionizer to catch anything that wasn't caught by the three previous filters. And if you don't want to use the ionizer to be environmentally friendly, you can always turn it off when it is not needed.
The indicators alert the owner when it's time to change the filter—so you don't have to worry about whether the filter is full or not. It comes with a replacement filter pack—one package that comes with two carbon pre-filters and a replacement HEPA filter, leaving you good to go for about a year.
Settings
This Coway air purifier uses the Eco Mode to save energy when the Air Quality Indicator has not detected pollution for 30 minutes. On the other hand, the indicator uses particle sensor technology to monitor the air quality and kicks the fan to high gear when needed. It has 3-speed settings, auto mode, and eco mode.
The Mighty Air Purifier also can be set on a timer, from one to four- to eight-hour increments, which can help you time it during the night.
Noise level
Although you don't have to worry about it being noisy either, with quiet operation, this purifier is a silent killer of air-borne pet hair.
Pros
+ Extremely effective with its four-stage filtration system
+ Filters out pet hair
+ Smart-energy consumption system to save energy
+ Air Quality Indicator monitor air quality
+ Automatically adjusts airflow based on air quality
+ Filter Replacement Indicator tells you when to replace the filter
+ Quiet when operating
+ Covers a large area
Cons
- It raises the temperature in the room slightly and heats up the area around it while functioning.
Summed up



The Coway AP-1512HH Mighty Air Purifier is easy to use, effective and quiet, with all the features and functions you need from an air purifier; at a reasonable price compared to what you get.
It is perfect for large spaces, and the 4-stage filtration mechanisms remove airborne pollutants, hair, dander and all kinds of particles to make the air fresh and clean. It's an excellent choice for any dog owner looking to remove pet hair from the indoor air.
Honeywell 50250-S True HEPA Air Purifier
If you're looking for a capable, mid-range air purifier for a household with dogs or cats, this could be the one for you. It is doctor-recommended for allergy reduction, and it cleans out all kinds of particles from hair and dander to odors and bacteria. This Honeywell air purifier gets excellent user reviews and ratings, and it is one of the bestselling air purifier products on Amazon. Click here to learn more about the Honeywell 50250-S True HEPA Air Purifier.
Key Features
Patented 360-degree air intake
SurroundSeal Technology
Three air cleaning levels
Activated carbon pre-filter
True HEPA Air Purifier filter
Intelli-Check™ Electronic Filter Change Indicator
Covers up to 390 sq. ft.
Certification:
- AHAM CADR: 250 (smoke),
250 (dust), 250 (pollen).
Honeywell is a Fortune 100 company that has over $40.5B in sales and uses its platform to offer solutions that improve quality of life for people around the globe. Focusing on generating clean, healthy energy, and using it more efficiently, the company has products that help clean the world around them.
Size and coverage
Dimensions: 18.03 x 18.03 x 19.57 in
Coverage: In smaller rooms up to 80 sq.ft. in size the air is circulated up to 23 times every hour and in larger rooms up to 390 sq.ft. in size up to 5 times every hour. The power and efficiency of this machine will guarantee you fresh and clean air at all times.
Settings
This air purifier has 3 air cleaning levels (1, 2 and 3).
The Honeywell 50250-S True HEPA Air Purifier has a patented 360-degree air intake which is backed by SurroundSeal Technology which minimizes the number of air leaks of unfiltered air getting back into the room.
The powerful fan with the 360-degree air intake maximizes the airflow and the efficiency of the air purifier and allows you to place it in any part of the room.
Filtration
The filtering is excellent capturing up to 99.97% of microscopic allergens as small as 0.3 microns in size.
First, the activated carbon pre-filter captures larger particles while eliminating foul smells; then the air is guided through the True HEPA Air Purifier filter, which filters out even the smallest particles up to PM (particulate matter) 2.5.
With light indicators, the filter tells you when something needs to be changed, requiring absolutely no "memory-maintenance" for you. The filter is extremely easy to replace, with a filter light indicating when it needs to be changed, and with the simple process that requires absolutely no tools from you—and no head scratching either.
Noise level
Somewhat noisy on level 3.
Pros
+  Powerful and efficient
+  Filters out pet hair
+  Easy to maintain and change filters
+  The purifier uses little power.
+  When it's on low-setting, it is extremely quiet
+  Prefilter is inexpensive, and you can clean it with a vacuum
Cons
-  When it's on high-power, it is somewhat noisy.
-  No timer
Summed up



For a "set-it-and-forget-it" air purifier, this model is great—especially for a large area, and can be left on all day.
It is a fairly basic but yet effective and powerful air purifier for any pet owner wanting to purify the indoor air at their home and looking for an efficient mid-range machine to do the job.
Winix WAC9500 Ultimate Pet True HEPA Air Cleaner with PlasmaWave Technology
With its two operation options—control panel and convenient remote control, high-quality filtration, air quality indicator and filter change indicator, and up to four different settings, this is a perfect purifier for the pet-owner who wants excellent quality, ease of use and clean air with no pet hair, dander or nasty pet smells. Click here to see the latest prices and more information.
Key Features
Washable pre-filter traps pet hair and large particles
Nano Silver Mesh neutralizes bacteria and viruses
Washable Carbon Filter for advanced odor control
True HEPA Filtration
PlasmaWave Technology attacks pollutants at the molecular level
3-Smart Sensors for dust, odor, and light for set-and-forget operation
Remote control
Dim feature for nights
Filter Change Indicator
Covers a room up to 283 sq ft
Winix, a brand established and set in motion over 40 years ago in 1973, they have focused their products on providing clean air and water through next-generation technology and high-quality engineering.
They strive to design each of their products to be as aesthetically-pleasing yet productive as possible. Each of their designs is user-friendly and powerfully effective.
Size and coverage
Dimensions: 16.5 x 9.9 x 21.9 inches
Coverage: 283sq.ft.
Settings
With four different settings that you can choose from, this purifier gives you exactly what you're looking for to get the job done. From Low, Medium, High to Turbo, you can either set it at your convenience or use the "set and forget" feature, leaving it on with its automatic speed adjustment.
This Winix air purifier is technologically advanced with 3 Smart Sensors to control the functions in Auto-Mode. When using this mode, the purifier recognizes odor, dust, and light, and automatically adjusts the air cleaner settings to adapt to the changes in the environment to give you the cleanest of cleans.
Filtration
The Winix Ultimate Pet True HEPA Air Cleaner promises high-quality filtration, with 5-stage air cleaning and superior control of pet hair.
This air purifier has a washable pre-filter, True HEPA-filtration, anti-bacterial treatment, and advanced odor control with a washable carbon filter.
The carbon filter also sets it apart from other brands on the market—efficiently eliminating pet smells as well as other odors that are usually found around the house (from cooking and smoking, for example).
To top everything up, the specific PlasmaWave Technology targets and attacks pollutants at a molecular level to neutralize bacteria, odors, and gases in the indoor air.
Noise Level
Quiet, especially in Auto-mode.
Pros
+  Highly-advanced sensors that sense and display the air quality
+  Handheld remote control for convenience
+  The automatic mode works flawlessly
+  Washable pre-filter to capture pet hair
+  Carbon filter for those nasty smells
+  True HEPA filter
+  PlasmaWave Technology attacks even viruses
+  Extremely quiet in Auto-mode
+  The design is attractive and sleek.
Cons
-  The high-quality replacement filters are somewhat expensive
Summed up



The Winix WAC9500 Ultimate Pet True HEPA Air Cleaner with PlasmaWave Technology is a high-quality air purifier with all the features you need. You could buy a more expensive one with more bells and whistles, but this air purifier offers everything you need it to have.
It gets praising reviews on its capability to remove pet hair from the air, and it is easy to maintain. With the remote control, three advanced sensors, and great filtration, this product really does deserve its place on our top three air purifiers for dog hair.
LEVOIT LV-PUR131 Air Purifier
A popular and well-performing air purifier with excellent 3-stage filtration including a True HEPA filter and an activated carbon filter. Check the latest price.
Key Features
Coverage up to 322 sq. ft.
3-stage filtration
Air quality monitor
True HEPA filter
Activated carbon filter
Auto-mode and sleep mode
Easy-to-use LED display
Energy Star
2-Year Warranty
CADR Rated 135+ CFM(233m³/h)
This LEVOIT Air Purifier has been designed in California. It is 100% ozone free, and it does not use UV or ions to clean the air.
Size and Coverage
This is not the smallest of air purifiers, but it does cover up 322 square feet and will purify a large room of that size in just 10 minutes.
If you need an air purifier that can cover a larger area, Levoit has a similar large room air purifier that can cover up to 710 sq ft. Although the design is different, the features are similar and we can recommend it for pet homes as well. You can find this air purifier for larger areas here.
Filtration
The 3-stage filtration system consists of a pre-filter, True HEPA filter and an activated carbon filter. The pre-filter will capture larger particles like pet hair and protect the HEPA filter from being clogged.
The HEPA filter captures 99.97% of particles as small as 0.3 microns, which means it will clear the air of allergens like pollen, mold spores, and pet dander. An air purifier with a HEPA filter is an excellent choice for pet homes because it will significantly reduce the amount of pet dander floating in the air causing your eyes to itch and your nose to run. Especially if you have family members that have a sensitivity towards some of the most common allergens, an air purifier with a HEPA filter should be your choice. In addition, we love the fact that this is a True HEPA filter meaning that the filtration system is sealed and won't leak nasty particles back into the air before they have been removed by the filters.
The third filter is an activated carbon filter which will eliminate the nasty smells you might notice in your home. Pet owners may find an odor eliminating filter especially useful since pets can produce all kinds of unpleasant smells from the cat pee smell to the musty odor wafted into the air by your wet dog.
With this 3-stage filtration system, the air in your home will be fresh and clean.
Settings
The automatic sensors and air quality indicator will inform you about the surrounding air quality so that you can adjust your machine accordingly.
You can adjust the speed of the fan manually, but this Levoit air purifier also has a smart, automated mode which will automatically adjust the fan speed to purify your air faster when it detects impurities.
You also have a sleep mode which is slower and quieter but will ensure you get a restful nights sleep with the air in your bedroom being clean and fresh. You can turn on the auto-off timer if you wish, although many users prefer to keep the air purifier quietly running through the night. After all, you do spend 7-9 hours in the bed every night, and clean air will help you sleep better.
If you want to control the air purifier with your smartphone, there is also an updated version of this air purifier with a Wi-Fi connection. It will allow you to control the air purifier using the free VeSync application. You can even use scheduling and customize how your air purifier runs.
Noise level
This air purifier is very quiet with the noise being only 28dB on the lowest setting. This means that you can easily use it during the night to guarantee you fresh air and a good nights sleep. The humming sound of this machine is also pleasant, and users feel it does not disturb them during the day even with the automatic setting.
Pros
+ Good coverage
+ 100% Ozone free
+ Air quality sensors
+ Automatic mode and sleep mode
+ 3-stage filtration with True HEPA and activated carbon filters
+ Eliminates allergens, pollen, airborne bacteria and odors
+ Quiet at only 28 dB on the lowest setting
+ Wi-Fi connectivity available
Cons
- Does not detect odors well
- No remote
Summed up



This popular Levoit air purifier has gained excellent ratings form many satisfied users. It is not a highly advanced model, but if you are looking for something that is moderately priced and cleans the air efficiently, this air purifier is a great choice. It is easy to use, effective and it has an excellent filtration system that removes even the smallest particles and odors.
If you're looking for an air purifier for a pet home to help you deal with pet hair, allergens and pet-related odors amongst other things, then this air purifier is one of the top choices.
Pure Enrichment PureZone 3-in-1 True HEPA Air Purifier
A compact air purifier with modern design and efficient filtration. A fairly basic but very functional bestselling product. See the latest price here.
Key Features
Coverage 200 sq ft
Compact and modern design
True HEPA filter
Activated carbon filter
UV-C light to eliminate viruses and bacteria
Three speed settings
Auto Off Timer for 2,4 and 8 hours
Noise level 30dB
5-year limited warranty
CADR: 80 cfm
This popular air purifier is manufactured by Pure Enrichment, who are dedicated to producing sleek premium products that enrich your everyday life. They aim at building carefully designed products that last for many years.
Size and Coverage
The Pure Enrichment PureZone 3-in-1 True HEPA Air Purifier can cover rooms up to 200 square feet in size. It is not suitable for more massive rooms or homes, but that makes sense as when it comes to size the product is pretty compact. It has a sleek and modern design, and with the whisper-quiet operation, it will blend right in.
Filtration
The PureZone 3-in-1 air purifier has a three-stage cleaning system with three filters: pre-filter, activated carbon filter, and a HEPA filter.
A HEPA filter can filter out 99.97% of particles as small as 0.3 microns. That means it can remove dust, pollen, pet dander, smoke and mold spores among other nasty particles you wouldn't want in your indoor air. Since the filter is a True HEPA filter, the system is sealed preventing unfiltered air from leaking out before it travels through the filtration system and gets cleaned.
The second filter is an activated carbon filter which can filter out many household odors like the smell of cooking or pets. It is a great way to guarantee a nice smelling home even if you have a cat litter box or dogs that have that musty smell when their fur gets wet.
The machine also uses UV-C light to safely destroy any viruses, bacteria or fungi in the air it filters. It is a great way to prevent germs from spreading through the air you breathe in your home.
Settings
The PureZone air purifier has three speed settings you can control manually. The highest speed setting is great if you want to clean stuffy air quickly while the medium setting is the best choice for continuous purification.
The lowest setting, on the other hand, is what you want to use if you're going to use the air purifier during the night because it is the quietest while still keeping the air in your bedroom fresh. The automatic timer can be set to shut off the air purifier after 2, 4 or 8 hours for energy efficiency.
Noise level
The noise level of this PureZone air purifier is only 30dB at the lowest setting and 50dB on the highest. Even on the fastest fan speed, the sound the machine makes is a quiet humming, and with the lowest setting, you can comfortably sleep with the air purifier next to your bed.
Pros
+ True HEPA filter to reduce allergens
+ Activated carbon filter to eliminate smells
+ UV-C light to destroy bacteria and viruses
+ Tree speed settings
+ Quiet with a noise level of 30dB
+ Automatic timer for energy efficiency
+ Sleek design
Cons
- Not suitable for large rooms
- Does not have an air quality indicator
Summed up



This is a fairly basic but efficient air purifier for small to medium-sized rooms. It is an excellent option if you're looking for something compact and moderately priced. The filtration system is capable, and it will guarantee you fresh and clean air free of dust, dander, pet hair and even germs.
Why do you need an air purifier for pet hair?
There are many ways to remove pet hair from the air - one of them is by using an air purifier. Although these air purifiers won't completely 100 percent get rid of all pet hair in the air, it will do a pretty good job at it.
After tackling the couch and thick carpet with the vacuum, you can rely on the air purifier to take care of all the dog hair wafted into the air by your cleaning efforts.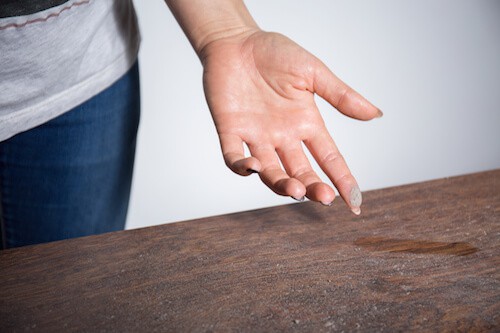 Without an air purifier, once the dust settles, it settles. And it settles as dander and hair back on the floor which you then need to mop or vacuum again.
For starters, consider this fact for a moment:
More than 50 million Americans experience various types of allergies each year, according to the Asthma and Allergy Foundation of America, with cat and dog dander being the most common triggers.
That means that there are a lot of Americans suffering from pet allergies that can be eliminated or reduced with the proper care and maintenance. Although air purifiers don't completely eliminate the possibility of your allergies acting up, they can definitely make a difference in clearing the air—of dog hair and dander that is.
How does an air purifier for dog or cat hair work?
Many efficient air purifiers have enough power to circulate the indoor air and capture the pet hair floating around. You just have to pick one that suits the room size or the size of your house or apartment. When the air is circulating through the air purifier, it will also catch the dog and cat hair.
But, it's not just about the hair when you have a pet in the house. Your dog can carry all kinds pollutants inside in its fur, and if you have seen a dog shake itself in direct sunlight, you know their coating is full of dust and other small particles which are wafted into the indoor air. Moreover, of course, there is the dander.
To get the best chance of getting all that dog dander out of the air in your home, you should invest in a purifier with a HEPA-type or true-HEPA filter. These filters are responsible for trapping particles in its system that are down to 2-4 microns in size. Fortunately, dander is 2-3 microns.
This filter will then capture and retain the animal dander, dust, and other pollutants, thus lowering the possibility of you or your family's allergies acting up.
To be fair, these air purifiers can only reach the hairs floating around in the air—not settled in your sofa or on your shirt. It would be pretty dangerous if it were powerful enough to suck up pet hair embedded in your couch - if it were that powerful, it might suck in your pet as well!
You still need to vacuum; however, it can definitely help to leave less pet hair floating in the air than before, and reduce sneezing down to a minimum.
Fortunately, most dog hair will stay in the air before it settles, so the air purifier will take care of that floating hair before it goes out of bounds and out of play—for the purifier, that is (you can still tackle it with a lint roller or a vacuum).

Factors That Will Affect Your Choice
It's essential for you to realize a few things about pet hair and dander before you invest in an air purifier.
Pet hair is not the culprit behind your allergies acting up—it's the pet dander that's attached to the hair that causes you to sneeze, your eyes to water, and your nose to get stuffy.
If it's just pet hair you're worried about any "HEPA-type" filter should work sufficiently enough to remove the pesky hair floating around. However, if you have allergies, you should invest in a "true" HEPA filter, which will eliminate the dander floating in the air and causing your allergies to act up.
You should aim for a pre-filter or a filter screen that is separate and can be removed and cleaned, which will lengthen the lifetime of the HEPA-filter.
If you're looking to eliminate pet odors as well as hair and dander, you should invest in an activated carbon filter which will reduce all kinds of foul smells your pet leaves behind. Also, you may want to check out our article focusing especially on air purifiers for odor elimination.
Buying guide - how to choose the best air purifier for pet hair?
Pets: A part of our family. Our best friends. A great source of joy and love and affection.
But also—foul-smelling, gas-passing fur balls who shed hair and dander into the air of our homes.
Although the cute outweighs the shedding and bad smells, having a pet can actually decrease the indoor air quality quite dramatically.
If you have allergies or sensitivities, pet dander is likely to cause your allergies to act up, and even if you don't have diagnosed allergies, you probably enjoy breathing clean, fresh and odorless air without dander, dust, pet hair and other nasty particles.
It is therefore essential to invest in a good quality air purifier which has the ability to remove pet dander, hair, and odor in the air.
You also might want to invest in a purifier to filter dust, smoke, fumes and any other particles that may cause air congestion in your home.
Pet Dander vs. Pet Hair -

Understanding the differences
As a pet owner, it is important for you to understand the differences between pet dander and hair, and understand how both affect your health. This information will help you in deciding the best air purifier to meet your specific needs.
Studies have shown that people who own pets are likely to experience pet allergy symptoms, including a runny nose, itchy watery eyes, sneezing, congestion, and having difficulty when breathing.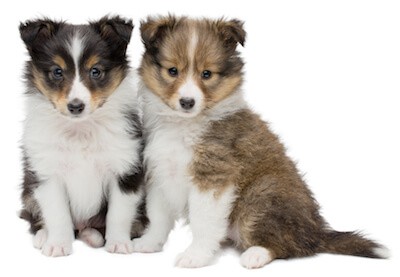 Most people will think that these allergies are caused by breathing in their pet's hair, but that is not the case.
Pet allergies are actually caused by the microscopic dander shed by the pets.
Pet dander is the tiny flecks of the skin that peels off with the pet's hair, feathers or fur during shedding. Pet dander not only comes from dogs and cats but also other pet animals for example guinea pigs, hamsters, ferrets, and birds, which cause allergies in humans.
On the other hand, pet hair is simply the hair or fur of your pet, just as how the name suggests.
Coming in contact with pet hair does not cause any allergic reactions in humans. The only problem with pet hair is that they make a mess on the furniture and collect on the floor or stick to your clothes.
Important Features

for Air Purifiers in Pet Homes
If anyone in your household experiences allergic reactions from pets, including cats, dogs or birds, be sure to purchase the best air purifier for pet dander in the market.
The best product will be one with a True HEPA filter.

This is because this air purifier is the only one certified to remove allergens up to 99.97% which includes pet dander from any animal, not just cats, and dogs. You will not need to purchase a specific air purifier for cat allergies and dog allergies—this filter does all the work.
By pulling the pet dander and enclosing them in the True HEPA filter, the purifier works best running 24/7 to rid the air of dander and keep it clean.
A simple, HEPA-type filter is a bit cheaper than the True HEPA filter and only has one major difference—its capability of trapping particles between 2-4 microns. This means that this air filter for pet hair is capable of removing pet hair from the air making it one the best air purifiers for cat hair or dog hair (and a little more affordable than the True filter).
If you want to get rid of pet odor in your home using an air purifier, the most important feature to look for in an air purifier is one that comes with an Activated Carbon filter. This is a type of filter designed to absorb the smell produced by pets in your home. You can find our listing of best air purifiers for odor elimination here.
Other Types of

Pet Air Purifiers
Apart from the above air purifiers for pets that have air filters as their main features, here are some other models:
Ionizers: This type of air purifier electrically charges the air surrounding it so that all the particles within its range are negatively charged. The particles are then attracted to a collecting plate which is positively charged. Sometimes, the particles attach themselves to surfaces and walls. This type of air purifier is good at inactivating bacteria and viruses, but not effective in eliminating pet dander and odor.
UV purifiers: This type of air purifier uses UV-C light to kill allergens and germs and inactivate other particles in the air.
Ozone purifiers: These air purifiers are known to use the process of oxidation in damaging the membranes of bacteria and other organisms, inactivating them. Unfortunately, they are not effective in removing pet odor and dander.
4 other Essential Features of

a Good Pet Air Purifier
These are the 4 other essential features that an air purifier for pets must have:

Sensors for Air Quality

: This is basically the brain of the air purifier. It monitors the air quality in your home continuously and consistently. If there are any changes in air quality, the sensors are responsible for adjusting the speed of the air cleaning properties of the purifier, in order to bring back the air quality back to the desired levels.

Anti-bacterial Coating

: Not all the air purifiers will have this feature. However, there are filtration systems that have an additional layer of coating with antibacterial properties. This means that the particles filtered will come in contact with the anti-bacterial coating, making them ineffective.

Purifying capacity

: You can know the purifying capacity of your purifier by checking the Clean Air Delivery Rate (CADR). The CADR shows the efficiency of the air purifier in eliminating contaminated air particles within a given period of time and space occupied. The higher the CADR, the better the purifier is in cleaning the air. However, before you buy, take into consideration the size of the room and the CADR ratings.

Security features

such as child-lock: Especially if you have young ones in your home, (and they are particularly curious) precautions taken with the purifier are highly important. You should be setting the program and then being sure that it won't be altered in any way (due to a wandering child).
Air Purifiers with

Washable Filters
Most air purifiers use filters that last for 3-6 months and need to be replaced since they are clogged with dirt, which discourages them from working properly.
Fortunately, the best air purifiers with washable filters in the market will have minimum maintenance. These filters are reusable and you don't need to replace them since you can just wash them and put them back in the purifier.
Air Purifiers for

Removing Dust
It is recommended to remove dust particles from the air in your home as they can cause allergies and asthma.
Investing in an air purifier to remove dust is the best way to ensure that the air you and your loved ones breathe is cleaner, safer, and dust free.